Monday, March 23rd, 2020
Dream Team
Wildcats' Wolf, Indians' Gann take top awards
By Gary R. Rasberry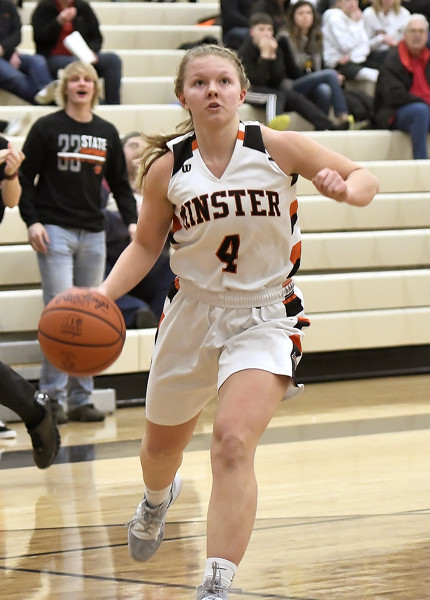 Photo by Nick Wenning/The Daily Standard
Ivy Wolf's play on the basketball court has led to plenty of success for Minster the past several seasons.
Holly Gann's drive has started Fort Recovery's resurgence to being one of the dominant girls basketball teams in the area.
For those reasons, Wolf and Gann are our selections for The Daily Standard's Girls Basketball Dream Team Player and Coach of the Year, respectively, for the 2019-20 season.
Wolf extends Minster's dominance on the Player of the Year award after Rosie Westerbeck (2017) and current Xavier player Courtney Prenger (2018 and 2019) took the award. Wolf is the fifth Wildcat overall to win the honor, the first being Lauren Shenk in 1998.
From the moment she stepped on the court for a varsity game as a freshman, Wolf's skills were noticeable. The first two seasons, she averaged 9.8 and 13.8 points per game and around three steals per contest.
After winning state titles in 2018 and 2019 and going a combined 54-4 those two seasons, the Wildcats had lost three starters and five seniors that played key minutes on the state title teams.
"We were hearing from the outside about the players that we lost and how we wouldn't get back (to state)," said Wolf. "There was a lot of negative stuff we were hearing that wasn't good for us going into the season. It was important for us to get into that rectangle and not worry about what people are saying and work hard and believe that we could get back."
Wolf knew that she would be called upon to do even more this season. She was comfortable in that role, too.
"Experience was a big thing because we didn't have much at the start of the season," said Wolf. "Having two years under my belt on varsity, I knew I had to be a leader and score at different levels. Eventually, the others would get the experience and pick up at different parts of the game."
Wolf led the area in scoring with 19.1 points during the regular season, including breaking the school's single-game scoring record held since 1994 by Shenk with a 36-point night in just three quarters against New Bremen. A week later, Wolf became just the third Wildcat to reach the 1,000-career point mark in a 24-point effort against Versailles.
It was the all-around game that made Wolf dominant. Wolf averaged five steals per game and dished out 3.5 assists per game as Minster went 17-5 in the regular season and won a third straight regional title to punch its ticket to state again, a road currently delayed due to the postponement of the state tournament due to the coronavirus. Wolf was selected both the MAC and District 8 Player of the Year and earned first-team All-Ohio honors for a second straight season.
"It was nice to see the whole team come together at the end of the season," said Wolf. "I think I learned a lot from this season. We didn't have the regular season like we did in the past. But I think (I realized) a loss is a loss and we learn from it. We avenged a loss during the tournament (beating Marion Local after the Flyers won the regular season meeting) and we made it back to the state tournament. It was important how to improve and learn from our mistakes. Always one step at a time moving forward. I think it really worked out for us."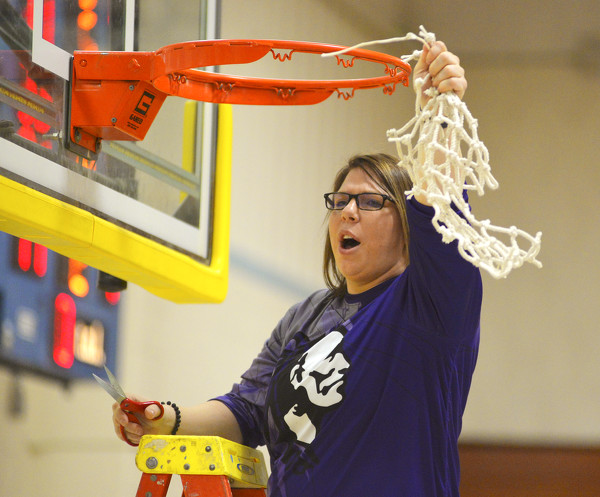 Photo by Dan Melograna/The Daily Standard
Gann gets Indians back to top of MAC
Gann, a standout for the Indians in the mid-2000s, took over at her alma mater after Brian Patch stepped down after recording an 86-34 record over five seasons. While the team was successful, they had not been to the regional since their final four season of 2010-11 and had not won the MAC since 1991, the year the Indians won their second straight state title.
"When I first came in, I stepped back and thought 'What could I bring to the team to take them to the next step?' " said Gann. "I knew I had to create this new culture in which they wanted to part of. I thought I could bring that culture, and we talked early on about what we wanted, we could create that environment that we're looking for to allow us to be successful."
After starting the season 2-2, the Indians began to catch fire by winning seven straight games, including victories over defending state champ Minster and then state-ranked Liberty-Benton in a span of three days. Over their final 11 games, Fort Recovery went 8-3 - falling to state-ranked teams Ottawa-Glandorf and Tri-Village and then to Franklin Monroe, which lost in the district final to top-ranked Fort Loramie.
The big win came Jan. 30 in Maria Stein, when the Indians beat MAC leader Marion Local 58-39 to claim a share of the conference lead. The Indians survived tough battles with St. Henry and New Bremen to claim a co-championship.
"That was the beautiful thing about the team. If we can get all these people working in the same direction, we're going to be tough to beat. Our goal was to win the MAC and we had a lot of people doubting us," said Gann, who in addition to earning MAC co-Coach of the Year was named District 8 and OPSWA Northwest District co-Coach of the Year. "They were saying 'You were barely .500 last year (12-12).' Well, that was a whole year and we got better and grew. It was a whole year where everybody got better. Going into (big games), they were doubting themselves and I told them 'People already think we're going to lose this game, so it doesn't matter. Don't fall into that trap.' We don't have anything to lose."
The group played a truly team-style of basketball. Only Findlay-bound Val Muhlenkamp averaged double-digits for the season at 10 points per game. Players like Brooke Kahlig, Hillsdale-commit Olivia Patch, Paige Fortkamp, Kierra Wendel and Alli Vaughn were able to step up offensively and defensively at key times all season.
"We were deep as in we had 6-7 people who could put up (double digits) any given day," said Gann. "That's hard to defend. Also, consistency towards the end of the season allowed us to peak early, maybe a little too early, but that's what we wanted. We obviously wanted to make it further (in the tournament after losing to New Knoxville in the district semifinals)."
Gann is the first Fort Recovery coach to win Girls Coach of the Year since Doug Bihn earned the honor in 2011 and joins Bihn and his sister Lynn Hughes as Indians coaches earning the honor.
Player of the Year:
Ivy Wolf
Minster HS Junior
5-10 Guard
19.1 ppg
5.0 spg
3.5 apg
Coach of the Year:
Holly Gann
Fort Recovery 1st season
18-6 overall, 8-1 MAC
MAC co-champs
2019-20 Daily Standard Girls Basketball Dream Team:
FIRST TEAM
Ivy Wolf, junior, Minster, 19.1 ppg; Lauren Gilliland, senior, Coldwater, 12.9 ppg; Addy Vaughn, senior,
St. Henry, 12.9 ppg; Heidi Rethman, junior, Marion Local, 12.1 ppg; Madison Cordonnier, junior, New
Bremen, 13.0 ppg; Val Muhlenkamp, senior, Fort
Recovery, 10.0 ppg; Janae Hoying, junior, Minster,
10.2 ppg
Player of the Year: Ivy Wolf, Minster
Coach of the Year: Holly Gann, Fort Recovery
HONORABLE MENTION
Celina: Taylor Klingshirn
Coldwater: Annelise Harlamert, Kate Leichty
Fort Recovery: Alli Vaughn, Brooke Kahlig,
Kierra Wendel
Marion Local: Alana Pohlman, Brooke Homan
Minster: Averi Wolf, Mara Schmiesing
New Bremen: Kaylee Freund, Kira Bertke
New Knoxville: Morgan Leffel, Ellie Gabel
Parkway: Gabrielle Stober, Claire Eichler
St. Henry: Alyssa Buschur, Marlee Vaughn,
Nora Vaughn
St. Marys: Carly Caywood, Kendall
Dieringer, Noelle Ruane