Friday, March 27th, 2020
Cooped-up kids go on a bear hunt
Residents put toys, drawings in windows of their homes
By Amy Kronenberger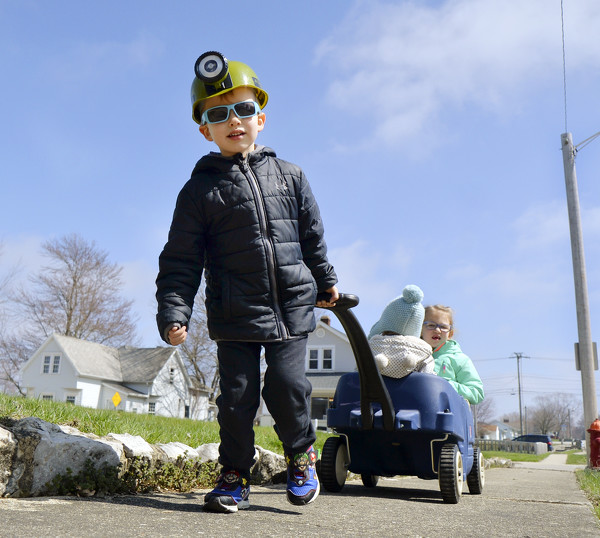 Bears have been popping up all over the area, peeking out of windows and perching on porches, waiting to be discovered by families on the hunt.
Care Bears have invaded Brooke Wente's shop, Lather: A Hair Company for Him and Her in New Bremen, but for her and her three kids, Lucy, 6; Jack, 4; and Olive, 2, the hunt didn't end there. By Wednesday morning, her kids were excited to hit the sidewalks to see just how many bears they could find lurking in the community.
"They're ready," Wente said before their hunt on Wednesday morning. "It was definite motivation: 'When you get your homework done, we'll go on a bear hunt.' "
The idea of a bear hunt emerged from the children's book, "We're Going on a Bear Hunt," by Michael Rosen, Wente explained. Someone posted the idea on Facebook as a fun activity to get families out of the house, get some fresh air and exercise and maybe get a lesson on tallying. One friend shared the post and then another and soon the idea took off.
Participants place a stuffed bear, photo, drawing or some other image in a spot visible from the sidewalk and street. Families can then take a walk or go for a ride and see how many they can find.
People who don't have any bears are placing bunnies and other animals. Even Olaf from "Frozen" has appeared, Wente said. Still others are getting creative and dressing the bears in costumes or creating scenes.
For those wanting to participate but who don't have a stuffed animal or image, Sara Suchland, owner of Sara Paper in Minster, is printing banners of bears and leaving them in a bucket in front of her business at 55 N. Main St. Anyone can pick one up for free.
Wente said she knows of bear hunts taking place not only in New Bremen, Minster, St. Henry, St. Marys and New Knoxville but also in several communities outside the area. Minster mom Megan Willis said she saw that towns as far away as Tennessee and northern Kentucky are conducting similar hunts.
New Bremen mom Jessica Wissman said she had planned to take her kids, Mackenzie, 7; Brantley, 4; and Trevor, 23 months, on Wednesday, but when they placed their own bears on Tuesday, the kids were so excited, she decided to begin the hunt a day early. They found 20 bears and a few bunnies. Mackenzie, who is learning tallying in school, made tally marks for every bear they found, while Brantley was tasked with coloring in squares for every find.
"It's a simple childhood joy, quality family time," she said of the hunt. "What's really neat is the unity in the community."
Willis said she learned of the hunt from a Facebook post of "a friend of a friend" in St. Henry.
"I have been on maternity leave for a few weeks, kids are out of school and my husband is working from home, so needless to say, we needed a way to get out of the house but still be socially responsible. So I thought this idea would be fun to share," she said.
Willis shared the post with some of her neighbors "to just spread some cheer and fun." She made her post public and invited others to spread the word.
"At the time I was just hoping to get about 10 families to participate, and I was just thinking a two- to three-block radius," Willis said. "Well, another Minster resident created a Facebook page for Minster families and shared my post to the page. From there this bear hunt has just blossomed to more than I ever imagined. You can find bears all over town and even in the country. There are stuffed bears, paper bears, big bears, small bears and even non-bears. We've spotted Mickey Mouse and even Winnie the Pooh."
Another Minster mom told Willis she and her kids had found 262 bears on Tuesday morning.
"There have been so many residents comment that additional bears have been added since then," Willis said. "In a few short days, the community has really come together while social distancing to spread some fun and happiness during this pandemic."
On Willis's own hunts with her kids, Corbin, 6; Mason 3; and Declan, 3 weeks, they found 40 bears on one street on Tuesday. On Wednesday they walked about two blocks and found another 30. They plan to go on more bear hunts in other communities.
"It has been so amazing to see how the community has jumped on this idea in a matter of a few days," she said. "My kids have loved this! We put a stuffed bear in our window, as well as colored a few paper bears that we hung in the windows. My kids have loved hunting for bears!"
Wissman noted the fun isn't just for kids. Some elderly residents are forced to isolate, and the interaction they receive from placing an animal and watching families pass by can make a big difference.
"Just seeing the unity, it's simply joy," she said. "It's for young and old. … We really needed this. It's like getting back to our roots."