Thursday, April 30th, 2020
Mother (and family) doing fine
Nurse with COVID-19 gave birth, now home and slowly recovering
By Sydney Albert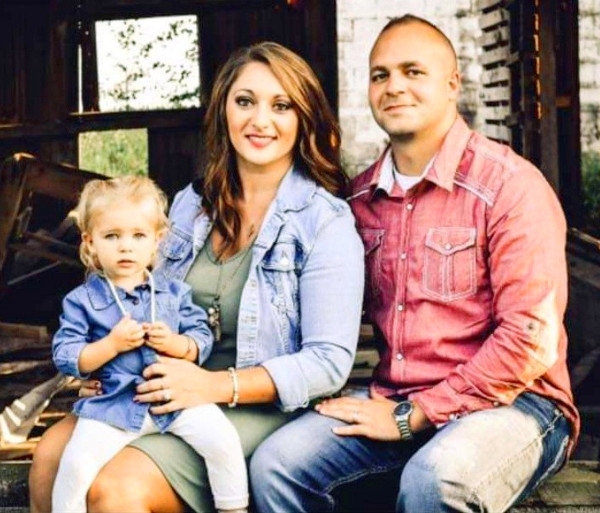 CELINA - Megan Sites, a local nurse and mother who had been hospitalized due to COVID-19, is back home and looking forward to a return to normalcy, though she acknowledged that process will probably take time.
Many in the community have heard Sites' story. She was pregnant when she was diagnosed with COVID-19 and whisked away to Miami Valley Hospital in Dayton. When her condition worsened, she was sedated and had to undergo a cesarean section. While Sites was sent to the University of Cincinnati Medical Center to be placed on an extracorporeal membrane oxygenation, or ECMO, machine, her newborn son remained at Dayton Children's Hospital to fight his own battle.
Now at home, Sites is working to rebuild her strength. She is able to move around and breathe again for the most part, but what happened to her has been a lot to process.
She never thought she would be hospitalized due to coronavirus, she said on Wednesday. She had been trying to take all the proper measures - wiping down surfaces and equipment, using hand sanitizer, even taking vitamins.
Despite her efforts, she noticed she was running a low-grade fever on March 27, and over the next few days, her symptoms worsened. Her fever rose and she began to cough. After an influenza test came back negative, she was tested instead for coronavirus, and the result was positive.
Sites said that when she began having shortness of breath, she knew it was time to go to the hospital. After that, conditions changed quickly. She was transferred from Joint Township District Memorial Hospital in St. Marys to Miami Valley Hospital in Dayton, and for a time, her condition seemed to improve.
The progress didn't last. When her condition began to degrade, health care workers decided to sedate her to help her body get more rest. From that point on, Sites has no memory. Her care was completely out of her hands, she said.
"When I came to, they asked if I knew where I was and I said 'Miami Valley,' and they said no, we had to transfer you to Cincinnati, and so I just kind of stared at them. And they said, 'We had to take the baby,' and so my first reaction was 'What do you mean you had to take the baby?' "
Sites said the doctors had to explain how her condition had worsened, how they'd calculated possible complications and decided the best course of action was to give her an emergency C-section. She asked if her son was OK, and they told her he was.
"Thankfully, a couple of the doctors and staff had printed off some pictures and put them around my room so I could see pictures of him. So that kind of helped put things into perspective. But from that point on it was kind of - not surreal, but it was hard to process everything. It's still kind of hard to process everything," she said.
She slipped into and out of consciousness initially, she said, but eventually when she was able to stay awake, a nurse turned on her phone and held it up to her so she could FaceTime her husband, Don. While she was allowed to have calls with her loved ones, she wouldn't be able to be with them in person until she was discharged on April 21.
From the time she'd been admitted into the hospital until her discharge, she'd gone through the entire process alone, Sites said. When her husband finally came to pick her up, it was an emotional reunion.
"The first thing I did was I cried, as soon as I saw him, and we hugged for a while. It was very strange to be touched, because I had only been poked and prodded and … you know. You're a patient, not a person," Sites said.
Returning home to find that so many people knew of her story and that upward of $30,000 had been raised to support her and her family through their struggle was shocking, she said.
"I can't thank the community enough for all of the love and support that I've gotten, all the prayers I've gotten and all the contributions I've gotten. It's just crazy, especially in a time where there's needs everywhere and people are willing to help me and my family. It's very touching. Very heartwarming."
Along with thanking the community for what they'd done for her family, Sites also wanted to thank her family members. Without their support and prayers, she said, she doesn't believe she would still be here.
Her son, who for a time was referred to simply as "Buddy," has finally been given a proper name with his mother's blessing: Jameson.
Little Jameson has been making huge strides each day, Sites said. He remains in Dayton Children's Hospital for now. While he has tested negative for the coronavirus, he was still born prematurely at 29 weeks of gestation, 11 weeks early When he can be brought home depends on his progress in the coming days, but Sites said the family was probably looking at another three weeks.
Above all, Sites said she would love for things to return to normal. She believes it will be hard at first to return to work at JTDM Hospital, partially because of her own recent long stay in a hospital. She said she'd work her way back there, though, one day at a time.