Saturday, May 2nd, 2020
This brew is sanitized for you
By Leslie Gartrell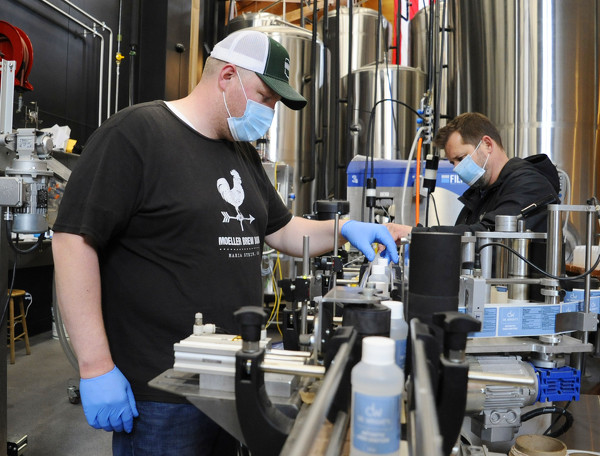 MARIA STEIN - Moeller Brew Barn is brewing up something good by distilling alcohol for hand sanitizer.
Owner and master brewer Nick Moeller had the idea to begin manufacturing hand sanitizer after Gov. Mike DeWine announced a stay-at-home order in mid-March due to the coronavirus pandemic.
Seeing a need in the community, Moeller pursued a distillery license, which would allow him to make hand sanitizer under new U.S. Food and Drug Administration emergency guidelines.
"We had a couple of county EMAs, local and regional hospitals had called and inquired about it," Moeller said. "So that kept us going down that rabbit hole."
Moeller said the Brew Barn has been adapting day by day, using 190 proof alcohol, glycerol, hydrogen peroxide and purified water to make Dr. Wright's Antiseptic Hand Sanitizer.
Named after his wife, Dr. Monica Wright, a pharmacist at Mercer Health, Moeller said the taproom has made roughly 48,000 6-ounce bottles of hand sanitizer. The brewer said the business can make about 4,000 bottles per day, and staff are working about 120 man-hours a day, including weekends, to distill the product.
Moeller said he's looking into getting 4-ounce and 2-ounce bottles and caps for the hand sanitizer, though he said acquiring those materials, including the raw materials required to make the sanitizer, has been difficult.
However, since the demand exists, he'll continue to do what he can to help Ohioans get back to work, he said. Manufacturing the hand sanitizer has allowed the brewer to bring back to work several of the brewery's serving, kitchen and hospitality staff.
The craft brewery has seen busier days, Moeller admitted, but sales of their canned brew and growlers have risen exponentially. While he would rather see customers in the taproom, he's happy they can still pick up cans at grocery stores and carryouts and order growlers for pickup. Moeller believes 2020 will likely be the year of the growler due to its current popularity.
The hand sanitizer is available at several area retailers, Moeller said. Dr. Wright's Antiseptic Hand Sanitizer can also be purchased at Moeller Brew Barn's taproom for $9, according to its website.
Moeller Brew Barn has been in business since May 2015, serving craft beer, brick oven pizzas and appetizers. The owner said he hopes employees can celebrate their five-year anniversary within the coming weeks. Until then, Moeller said he's proud his personal project is doing some good in the community.
"We're just so glad we can help people," he said. "It seemed like it was my due diligence to jump in head first."