Tuesday, May 26th, 2020
Eagle project takes flight
School's Caring Closet provides food, clothes, other items
By Leslie Gartrell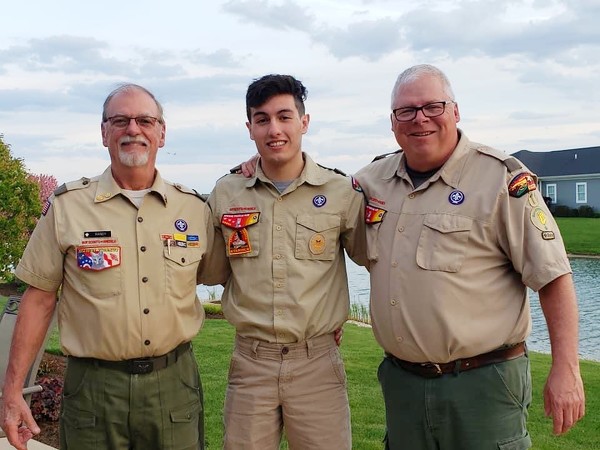 CELINA - Celina High School senior Ethan Ly had all but given up hope for becoming an Eagle Scout.
Yet with the encouragement of his mom and grandfather, Ly was able to achieve his goal and create a Caring Closet at Celina Middle School.
Ly has been with the Boy Scouts of America since he was 12 and was barely a month and a half away from the deadline to become an Eagle Scout.
Through various steps Boy Scouts can climb the ranks, the most elite being Eagle Scout. All Ly needed to reach that top rank was to complete a community service project.
Yet the senior said he struggled to think of a meaningful project and worried he wouldn't succeed.
"I originally didn't think I'd be able to become an Eagle Scout," Ly said. "I thought I'd just age out."
However, Ly said he was supported by his mom, Ann, and grandpa, Randy Engel, who encouraged him to think of a project that could help those in need.
Remembering that the high school had gained a Caring Closet, a school-based food pantry for students in need, Ly decided to start one of his own at the middle school. Students who are in need can take home food so they don't go hungry over the weekend.
Volunteer high school students opened their Caring Closet in November. Students in the sixth grade or younger also can receive food at the primary and elementary schools. However, no such program existed for middle-school students, Ly said, adding he wanted to fill that two-year gap.
He said the biggest difference between the high-school and middle-school pantries is the high school is able to fundraise through the student council to fund the project. With no student council, the middle-school pantry will rely heavily on donations.
Ly said he spent roughly two to three weeks collecting donations and supplies from family, friends, churches and local businesses. He was able to raise $200 to purchase shoes, $100 for food, and additional funds were put under the guidance counselor's purview to purchase future goods.
With the encouragement of his family and friends, Ly was proud to announce he was able to become an Eagle Scout and do something good for the community in the process.
As Ly prepares to go to Bluffton University to run on their track team and study biology, he said he can't help but feel a tinge of concern about the project.
He said he enjoyed putting it together but worries students who need it may not feel comfortable enough to step forward and ask for help.
"I just want the younger kids to know they don't have to be afraid to come to us for help," Ly said.
The pantry accepts clothing, non-perishable food items, hygiene products and more. To donate, Ly suggested contacting the middle school guidance office to see what supplies the pantry needs most.