Saturday, June 13th, 2020
Otten elected to Hall of Fame
Coldwater coach to be inducted in 2021
By Gary R. Rasberry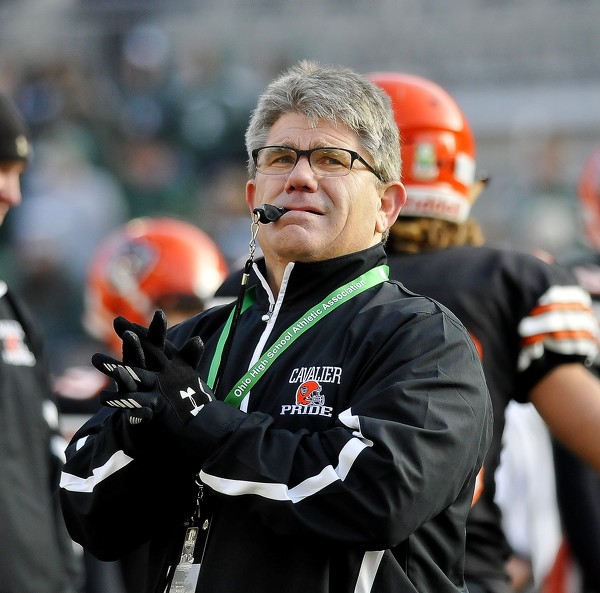 Chip Otten's first 10 seasons as Coldwater's head football coach has been one of the most successful tenures in state high school football history.
Otten will be rewarded for the effort as he was elected to the Ohio High School Football Coaches Association's Hall of Fame on Friday. Otten will formally be inducted in June 11, 2021 during the annual coaches' clinic in Columbus.
"I was nominated last November at our (OHSFCA) region meeting," said Otten via telephone. "You go through the initial process and I didn't hear anything until today.
"(Kenton football coach) Brent Fackler called me this morning. I thought it was about this summer or the game (the regular season opener between the teams) and he said 'Congratulations!' and I was 'What are you talking about?' He said I was in the 2021 class. I was at my daughter and (Coldwater assistant coach) Cory Klenke's house (when the call came). I hadn't really told anybody (about being nominated). I've had about 70 text (messages) since and I hadn't told anybody but (Klenke and his daughter). Then once it hits Twitter, it's all over (the news)."
A Coldwater graduate and quarterback, a standout all-purpose back at Bowling Green State University and former head coach at Middletown, Otten returned to his alma mater in 2002 to serve as an assistant coach for the late John Reed, who was inducted into the hall in 2006. After Reed retired after the 2009 season, Otten took over as head coach.
In his 10 seasons as head coach, Otten is 119-23 and has guided the Cavaliers to three Midwest Athletic Conference titles and a spot in the state football playoffs every season - extending the program's consecutive playoff appearance streak to a state-record 23 straight seasons. Otten's teams have played in seven state championship games, winning state titles in 2012, 2013, 2014 and 2015 and finishing as state runner-up in 2010, 2011 and 2016). Including his six years at Middletown, Otten is 145-57 as a head coach.
The fact the Otten will enter the hall as the coach of his alma mater makes the honor brighter.
"That makes certainly special, being in the right place at the right time and in a community that is so supportive of everything," said Otten. "So many people here that you played (sports) with or grown up with and so many friends whose kids have gone through the program. So many coaches and players you can share (the honor) with. You don't do any of this by yourself. Tim Hoyng (former longtime Cavalier football assistant and head coach) is the one that got me back to Coldwater. I'll have to thank him for a lot of it."