Saturday, July 18th, 2020
More stores make customers mask up
Chief, Walmart, CVS among local retailers
By Sydney Albert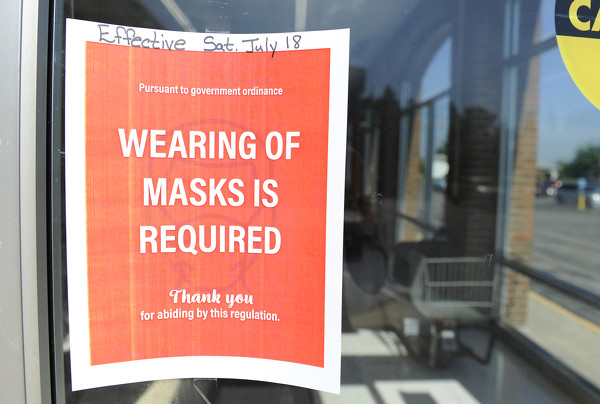 CELINA - Due to recent spikes in coronavirus cases around the country, more business owners have announced they will require customers to wear face masks.
Beginning today, at least two Chief Supermarket locations will require customers to wear masks. Employees at the Celina and Coldwater locations on Friday confirmed customers will be asked to wear masks when shopping at the stores. The employees were unsure if all Chief Supermarket locations will require masks.
Walmart, one of the country's largest retailers, recently announced customers at all Walmart and Sam's Club stores will be required to wear masks starting Monday.
"Currently about 65% of our more than 5,000 stores and clubs are located in areas where there is some form of government mandate on face coverings," a corporate news release reads.
According to the release, Walmart stores also will create a role called "health ambassador." That person will be stationed near entrances to remind customers of the new mask requirements.
"Our ambassadors will receive special training to help make the process as smooth as possible for customers. The ambassadors, identifiable by their black polo shirts, will work with customers who show up at a store without a face covering to try and find a solution," the release reads.
"We know it may not be possible for everyone to wear a face covering. Our associates will be trained on those exceptions to help reduce friction for the shopper and make the process as easy as possible for everyone."
Other big chains have made similar announcements. Kohl's, CVS and Walgreens will also require face masks beginning Monday, and Kroger will require them starting Wednesday.
The announcements have been met with a mixed reception, with reactions on social media varying from support to disappointment to outrage.
Garrett Johnson, store manager of Menards in Celina, said while requiring masks could result in some flak, most people coming into his store had been receptive and understood they were trying to protect customers and staff. Menards has been requiring all customers and employees to wear masks since May.
The Celina-Mercer County Chamber of Commerce hasn't issued a mask recommendation for its member businesses, executive director Stacy Beougher told the newspaper.
"The chamber does not have a policy. That is up to each individual business how they handle it," she said.
Beougher does not know how many member businesses may be requiring masks for their employees and/or patrons.
"At the beginning of the pandemic we would send information that we received from the U.S. chamber on recommendations, but it's really up to each business what they're doing," she said.
Asked if she thinks more local businesses will enact mask policies if the number of COVID-19 cases continues to climb, Beougher again said such a decision rests with each business.
"Really, that is a business decision and each business has to look at what's right for them and what works for them and the kind of customers and clientele they have coming in," she said. "I think we've just kind of got to watch the trends and see how things go and people just need to work hard to protect each other."
The Centers for Disease Control and Prevention reported 72,045 new cases across the country on Friday.
- Reporters William Kincaid and Leslie Gartrell contributed to this story.