Tuesday, July 28th, 2020
Long-awaited park opens in Coldwater
By Georgia Rindler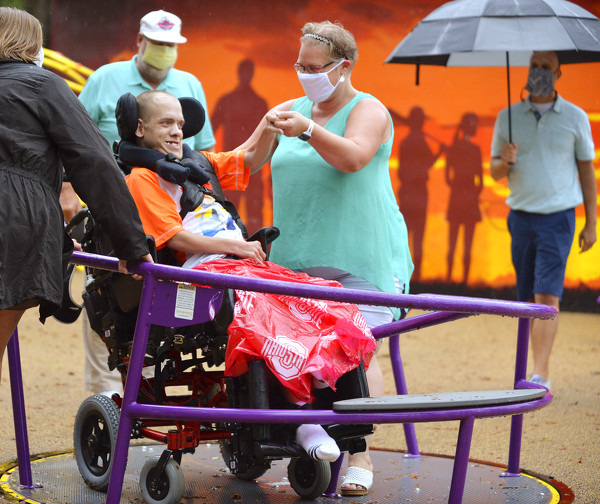 COLDWATER - The long-awaited first phase of a park area that lets virtually all people play was officially opened under threatening skies Monday evening.
Phase 1 of A Park 4 All Abilities in Coldwater Memorial Park was dedicated on Monday evening.
Tyler and Sheila Goins and Jenny Brandon performed the ribbon-cutting to open the park.
The A Park 4 All Abilities project was announced in August 2017 after committee president Jenny Brandon learned children with special needs could not enjoy playground equipment alongside family and friends. She observed children sitting on the sidelines watching others play.
Coldwater Memorial Park is accessible for those with disabilities but is not quite inclusive. Accessible means children can get there and may be able to use parts of the playground. Inclusive means they can play together with everyone involved.
A committee was formed and the all-inclusive park is becoming a reality.
Three areas of Memorial Park are being repurposed into play areas for children and adults of all ages and all abilities to enjoy.
Phase 1 is located at the front of the park behind The Shack, in front of the mural.
Some Phase I equipment geared toward special-needs youth includes,
• an accessible whirl to allow children of all abilities to join in the thrill of spinning.
• activity and sensory panels that provide inclusive play to stimulate senses.
• musical instruments to let children experience the joy and benefits of making music.
• NEOS, which encompasses physical endurance in a full-body gaming approach, helping participants develop agility, coordination, strength and stamina.
• Cozy Cocoon, which is designed for those with autism as an enclosed space to provide an escape when overstimulated.
The overall estimated cost is about $500,000. The project received a $250,000 Land and Water Conservation Fund grant, which requires a local match. The remainder will be paid by the Community Picnic Association and money raised through individual, civic and corporate donations. Brandon said donations are still being accepted to help offset unforeseen expenses and go toward a future maintenance fund. They can be mailed to Mercer County Civic Foundation, c/o A Park 4 All Abilities, 119 W. Fulton St., Celina, OH 45822.
Coldwater village water and street department crews assembled the equipment last winter and installation of first area was completed last week.
Phase II is west of shelter house No. 1 and is expected to be complete by September.
Brandon said they also hope to complete Phase III this fall, but that could be moved to spring if crews are unable to finish this year.
Phase III is on the north side of the park near shelter house No. 4 on Butler Street.
All areas will have poured-in-place rubber surfacing to make the playgrounds easier to navigate for those who use wheelchairs.