Monday, August 17th, 2020
Something special this summer
Pandemic brings ministry's good work close to home
By William Kincaid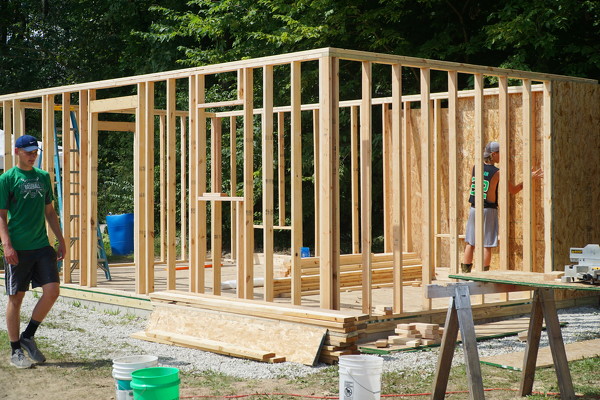 CELINA - This summer would have marked the 50th anniversary of Grand Lake United Methodist Church's participation in the Appalachia Service Project, a Christian ministry that repairs and replaces homes in Central Appalachia.
The milestone was not to be, though, as the COVID-19 pandemic forced the suspension of ASP's summer program.
Not wanting to see the flame of service extinguished, church officials, who had already budgeted money for the ASP project, opted to undertake a local project - building a fifth cabin at Hand Up Village, a place for homeless people to find temporary shelter as they focus on becoming productive, self-reliant community members.
The village is located behind Lord's Abounding Grace Church of Celina. It's a partnership between the church and the Mercer County Homeless Coalition.
"We had talked, probably back in January, that we wanted to do something special this summer. We didn't know what that was going to be for sure," said Robyn Armstrong, a Grand Lake United Methodist Church member and frequent ASP participant.
Then COVID-19 emerged, eventually leading to the cancellation of the ASP program that finds over 16,000 volunteers making homes warmer, safer and drier for families in need in Kentucky, North Carolina, Tennessee, Virginia and West Virginia.
Fellow church member Tammy Barger proposed an alternative project that would harness the same spirit of collaboration and altruism - constructing a homeless cabin. Grand Lake United Methodist Church Pastor Mick Whistler jumped for joy at the prospect and other church members got onboard as well.
A handful of adults in the church and about 18 teenagers stepped forward to see the project through. They've been clocking in long days since Wednesday building the cabin from the ground up, learning construction skills and embracing the ethos of volunteerism.
On Friday Armstrong and her husband, Mark, and her father, Russ Hagar, came to the site to observe the next generation of church volunteers and hopefully ASP participants.
ASP was founded in 1969 by the Rev. Glenn "Tex" Evans, a United Methodist minister who sought to match the energy of youth with the deep needs of the poor, according to ASP. He recruited 50 teenagers and adult volunteers to repair homes in Barbourville, Kentucky.
"His big deal was, 'We accept people right where they are just the way they are," Barger explained.
He would knock on the doors of homes, asking people if they needed any work done to their dwellings, she said.
"They started puttying windows. They started painting the outside," she said.
Evans eventually made his way to Grand Lake United Methodist Church to spread word of his ministry.
"He came up and he preached at both services, and he talked about what they could do in Appalachia to help people," Hagar recalled. "They got a lot of people thinking about it, anyway."
Hagar and his wife, Rosemary, who died in late March, were intrigued at the idea of high school kids volunteering to improve the living conditions of others.
"We didn't have a clue what we'd get into," he said. "We signed up for it."
In the summer of 1971, Russ and Rosemary Hagar and their children Robyn and Tim loaded up the vehicle and made the trek to Barbourville, Kentucky. Since that first journey, Grand Lake United Methodist Church has dispatched volunteers to Appalachia every year except 2020, when COVID-19 triggered its cancellation.
"Probably between 15 and 20 people from the church went that first year," Robyn Armstrong said, adding she was in seventh grade at the time."We've always done things as a family. Dad said we were going to go so we went."
In the early years ASP oversaw the repair of roofs, installation of running water and digging of holes for outhouses, among other activities.
She recounted working on three homes during her maiden trip.
"We did a lot of cleaning stuff then. We moved a junk pile so that it could be more easily accessible to be carried away," she said. "We did some work in (a man's) house. He had a couple of places where there were wasps that had built some nests."
Volunteers had to drive up a dry creek-bed to reach the home of a young family. The chimney had collapsed and created a hole in the floor, which volunteers repaired. They also shored up the front porch with cement blocks to make it safer for the couple and their baby.
Hagar said in the early years volunteers had scant new materials and were often forced to reuse old nails and other items.
"I think a lot of times that we're down there they would like to help us and we let them help us but they just don't have the resources to do it themselves," Robyn's husband, Mark, said.
"We also found that the majority of them dealt with black lung disease because of working in the mines," Barger added. "Many of them were on disabilities. Not that they didn't want to work. They just couldn't work."
Aside from cleaning and building, volunteers also had unpleasant tasks to complete. Bathrooms in some of the homes consisted of a mere hole in the floor.
"That used to be a job and you always crossed your fingers and you hoped you weren't on that crew (to) dig a pit for the outhouse or dig a draining trench," Robyn Armstrong said. "We've done an awful lot of digging over the years."
Hagar, who often built wheelchair ramps during annual week-long trips to Appalachia, spoke of the importance of gaining the trust of the people whom they assisted in the rural and poverty-stricken locales.
"I think once once you get there it's important to talk to the family, if you can," he said. "Get to know them so they know why you're there and everything and maybe tell them about your family a little bit."
Over the years, ASP has grown in size and stature and assigns more intensive work such as the replacement of foundations, roofs and sidewalls, Mark Armstrong said.
Barger agreed, calling it an impressive organization that now coordinates with government agencies.
"People actually apply and they today have waiting lists and these people are waiting years to be able to have ASP come in and work on their homes. It is totally different from the beginning," she said.
According to ASP, since 1969, 3936,643 volunteers from across the nation have repaired 17,866 homes and, "in the process, Appalachian families, volunteers and staff have been immeasurably blessed."
Barger underscored one of the pillars of ASP founder Evans' core philosophy - that participants take the practice of volunteerism back to their communities after serving a week in Appalachia.
"So many of our kids in church have gone on to be missionaries, to be pastors, a life of service," Barger said.
"Lots of people have taken the ASP vision and mission into their own church," Robyn Armstrong added.
And the ongoing construction of the homeless cabin outside Lord's Abounding Grace Church of Celina dovetails perfectly with Evan's message, Barger said.
"The work days, dress codes, meals, sleeping arrangements, showers are a lot different than ASP but some things are the same such as … camaraderie, learning new skills, getting to know each other better and learning to accept people right where they are, just as they are," Barger said.