Friday, August 28th, 2020
Going the distance
Some students learn from home during pandemic
By Sydney Albert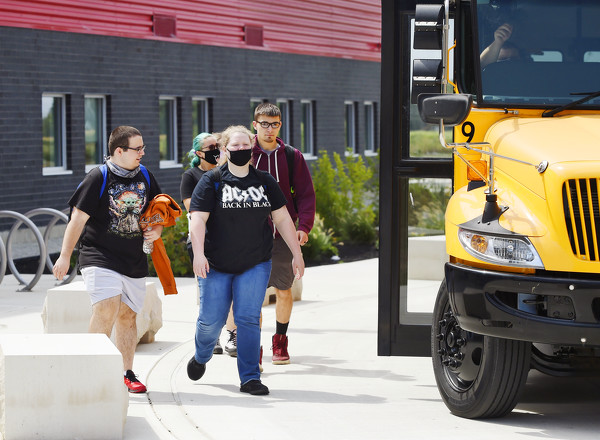 Some local school districts have seen more than 10% of their student body opt for online or remote learning due to the coronavirus pandemic and have also seen a slight increase in numbers of home-schooled students.
Some enrollment details are still in flux as not all districts have begun classes, but many families have settled on a learning plan for their children for now. While some districts have seen just a few students sign up for remote options, others have seen sizeable portions of the student body opting to learn form home.
St. Marys City Schools superintendent Bill Ruane said some families were still switching around, but close to 300 students - about 15% of the district's total of about 2,000 - remained signed up for the district's remote-learning option as of Thursday. About 40 students are signed up for home schooling as of Thursday, about the same number as last year's 41.
Celina City Schools is close behind with its remote learning ratio. Superintendent Ken Schmiesing wrote in an email that 308 students are signed up for the online learning option, which equals about 11% of overall enrollment. He noted that 38 seniors have elected to take their schooling remotely, the largest number at any grade level. The district also saw an increase in home-schooled student numbers, with 98 students being home-schooled compared with 87 in the year before.
Coldwater Exempted Village Schools has about 1,300 students in the district, according to superintendent Jason Wood. Of those students, 53 have chosen to take their first semester remotely. The district's home-school population has stayed about the same as in the previous year with eight students. Only two students are signed up for home schooling for coronavirus-related reasons.
Parkway Local Schools Superintendent Jeanne Osterfeld said roughly 80 students have opted for remote learning and 20 have chosen to home-school out of the district's 1,004 total students.
Only 1% of St. Henry Consolidated Local Schools' student population of 955 is using remote courses, according to superintendent Julie Garke.
Fort Recovery Local Schools superintendent Larry Brown said 34 students are taking remote classes this year out of the district's 939 students.
Minster Local Schools' total student population is 877. Eleven students have elected to take online instruction through the district, and another five are signed up as charter students with the Ohio Virtual Academy. Eleven students are also being home-schooled this year, according to superintendent Brenda Boeke.
According to New Bremen's website, about 875 students are enrolled in the district. Superintendent Jason Schrader reported 18 students across all grades are enrolled in the district's online learning program.
Marion Local Schools' total student population is about 880 students, according to superintendent Mike Pohlman, but only one student is signed up for remote learning.
Some districts face staffing concerns and others don't, depending on how officials have chosen to handle remote learning. Several districts have essentially bought the license to an online curriculum for their students to use and are taking a more hands-off approach, shifting responsibilities to the students. Others are providing additional aid from their own staff.
In St. Marys, middle and high school students studying online will learn independently through a separate curriculum with only some supplemental aid from district staff. Younger students will have more materials from teachers to ensure they are getting the educational foundation officials think is necessary.
Celina City Schools planned for online and in-person instruction, so officials had no need to hire additional staff, except to meet needs for special-education students, Schmiesing said. Hours have also been added for non-teaching staff members to allow extra efforts to sanitize and disinfect buildings.
- Reporters William Kincaid and Leslie Gartrell contributed to this report.
| | | | |
| --- | --- | --- | --- |
| School district | Total Students | Remote Learning | Home School |
| Celina | 2800 | 308 | 98 |
| Coldwater | 1300 | 53 | 8 |
| Fort Recovery | 939 | 34 | N/A |
| Marion Local | 880 | 1* | N/A |
| Minster | 877 | 16 | 11 |
| New Bremen | 875 | 18 | N/A |
| Parkway | 1004 | 80 | 20 |
| St. Henry | 910 | 1%** | |
| St. Marys | 2000 | 300 | 40 |
* 11 through district's online coarse, 5 in online charter school
** 1% of enrolement