Wednesday, September 2nd, 2020
Suspect captured after manhunt
Law enforcement called to a report of shots fired
By Sydney Albert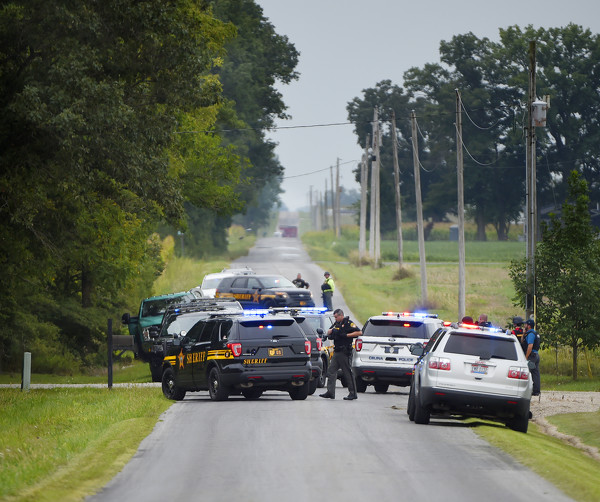 LIBERTY TOWNSHIP - A Liberty Township man was taken into custody on Tuesday evening after a four-hour manhunt for a reported shooter between Frahm Pike and Oregon Road along the state line.
Law enforcement swept the farmland surrounding 8796 State Line Road, blocking roads and warning residents to stay in their homes shortly after receiving a report of multiple shots fired in the area, kicking off a manhunt that would last until sundown. By the end, Rick A. Bult, 59, was being held in the Mercer County jail after being talked out of a culvert by law enforcement.
Initially, a Mercer County Sheriff's deputy responded to Bult's home at that address at 3:38 p.m. A caller reported that a family member had hung a note on a tree indicating that he was suicidal before walking into the woods surrounding the house. When a deputy arrived at the scene, Bult was in the woods near an abandoned refrigerator, according to Mercer County Sheriff Jeff Grey.
Bult reportedly fired two rounds, but Grey said he doesn't believe he was shooting at the deputy. The deputy did not return fire because he did not think he was a target, Grey continued.
Backup units, including some from the Celina Police Department, quickly arrived at the scene. At some point, with the additional officers present, Bult reportedly came out from behind the refrigerator with his gun in his hand, and a Celina police officer fired multiple rounds at him, Grey said. The number of shots fired by the officer was estimated to be two or three.
Several other law enforcement agencies also assisted at the scene. The Special Response Team from the Auglaize County Sheriff's Office, deputies from the Van Wert County and Adams County Sheriff's offices and units from the Indiana State Police responded. K-9 units from the Celina Police Department and Mercer County Sheriff's Office also were used in the search.
An Ohio State Highway Patrol helicopter equipped with thermal imaging technology flew up from Columbus and arrived around 6:41 p.m., circling over the fields and wooded areas before sweeping over the cornfields north of the property. A Grand Lake Task Force drone equipped with thermal imaging technology was also brought on scene at about 7:18 p.m.
Shortly after 8 p.m., Bult was reportedly found in a culvert, about 5 feet in diameter, that ran under a roadway. Law enforcement reportedly managed to talk him peacefully out of the culvert and take him into custody without further incident. It was the best possible outcome, Grey said.
Whether Bult would need a mental health evaluation is still to be determined, Grey said, and the case will be presented to Mercer County Prosecutor Matthew Fox for possible charges.
As of Tuesday night, Grey said Bult faced "at minimum" inducing panic charges.
While Mercer County is small and the sheriff's office is a small agency, Grey said they still had the resources to protect the people of the county through partnerships with surrounding agencies.
"People don't realize how much the smaller agencies work with each other and help each other," Grey said.
The Celina Fire Department and EMS personnel were also on standby, assisting with traffic control at the scene. Lakefield Airport also served as a refueling station for the patrol helicopter.