Saturday, September 12th, 2020
Signs, signs, everywhere signs
Somebody's stealing political signs
By Sydney Albert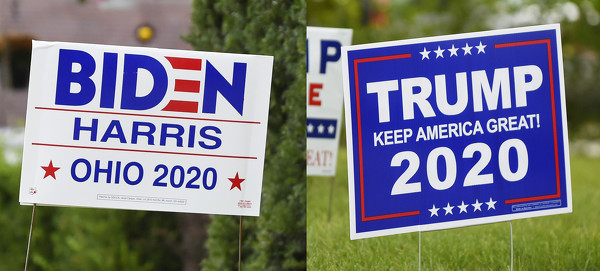 CELINA - Showing support for a political candidate or issue is a right many choose to express with yard signs, bumper stickers or flags leading up to an election, but several local people have complained lately that their political paraphernalia has been vandalized or even stolen.
In late August, the Mercer County Democrats reported about 35-45 signs supporting Democratic presidential candidate Joe Biden and running mate Kamala Harris had been stolen or vandalized around the county. Party officials in a social media post promised to replace each missing sign with two new ones.
Mercer County Republican chairman Richard Delzeith said members of his party had also heard complaints of stolen political paraphernalia.
"Unfortunately, we have been experiencing this on both sides almost every presidential election cycle. We, the Republican Party, have also had numerous complaints of stolen Trump flags and signs," Delzeith said. "I don't believe either of our local political parties condone these actions."
Mercer County Sheriff Jeff Grey confirmed his office had started receiving "a lot" of calls on the issue. Callers typically don't want to file a report but instead request extra patrols, he said.
While stolen political gear can be an issue before every election, it seems to happen more often during presidential election years than in others, Grey said, adding he expects the problem likely to get worse as the November election draws closer.
"It's sad that people do that. We should be allowed to express our views on who we're supporting. If my neighbor supports someone different, we should still be able to get along," Grey said.
Despite an apparent increase in political tension, the issue seems to be on par with what Grey has seen in previous presidential years. However, the election is still months out, he noted, and that could change in the coming weeks.
Frustration seems to have been building up on both sides of the political spectrum, which people then take out on each other, he said. Instead of getting frustrated, Grey encouraged people to "just do the right thing: vote."
"In this country, that's how we're supposed to make our voices heard," he said.
Grey also said if law enforcement officers catch people stealing or vandalizing political paraphernalia, perpetrators could be charged with theft or criminal mischief if the property owner presses charges.
Democratic officials did not return messages left for comment by press time.