Monday, September 14th, 2020
Groups get residents' support
By Leslie Gartrell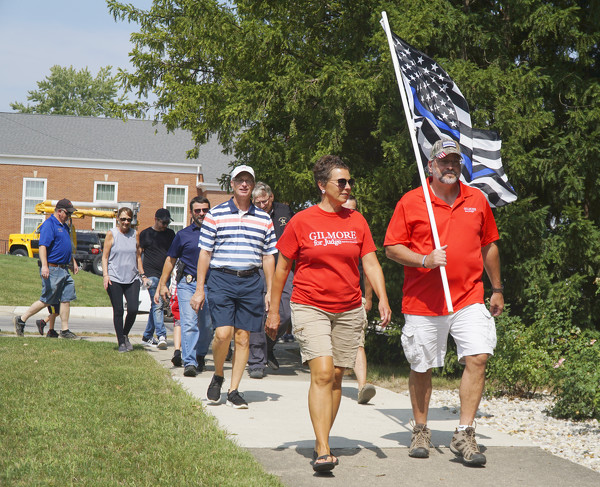 CELINA - Dozens of of Mercer County residents turned out on Saturday in a salute honoring first responders.
The demonstration and walk, sponsored by the Mercer County Republican Party, was created to show support for local law enforcement, fire services, disaster relief personnel, emergency medical personnel and more, regardless of political affiliation.
Organizer Lyle Kittle, a member of the executive committee for the county Republican Party, said he thought of the idea in July after a Trump parade was held in Celina. Kittle said they chose to hold the event on Saturday in honor of 9/11.
"That was the date that really brought the term 'first responder' to everyone's awareness," he said.
Kittle said he also thought back to the Memorial Day tornado that struck Celina in 2019, noting that nearly every first responder in the county stepped up to the plate.
"It's a natural thing for this area" to help other people, he added.
Dozens of Mercer County residents showed up to the salute to local first responders, donning patriotic gear, waving flags and carrying signs praising first responders and law enforcement.
Mercer County Sheriff Jeff Grey, who helped promote the event, said he thought it was a great idea to show support for first responders throughout the county.
"There's community support for first responders," Grey said. "I really think the vast majority of Mercer County supports us."
First responders have been an invaluable resource since the beginning of the COVID-19 pandemic, Grey said. However, other first responders, such as law enforcement, have also been the center of controversy and conversation throughout the U.S. in recent months in light of the Black Lives Matter movement and a contentious election season.
Celina Police Chief Tom Wale said he believes there's been a decline in support for law enforcement in recent years, even intense hatred in some places in the country. But in Mercer County, Wale said that's not the case.
"Things like this and your support makes me really glad I stayed here," Wale said. "I truly do thank you for your support."
Grey said Mercer County is the best place in the country to be involved law enforcement. The sheriff's department works for the community, he said, and encouraged residents to contact them if they ever need help and to let them know how the department is doing.
"We work for you," Grey said. "So please, don't ever be afraid to call us. Don't ever be afraid to ask for something."
"When a member of the community comes up and tells us they think we're doing a good job, that's our boss telling us that they think we're doing a good job," he continued.
Grey said showing support for first responders can be as simple as sending a card or making a phone call to show appreciation. If a person sees a law enforcement officer or first responder out and about, the sheriff said even a quick "thank you" can make that person's day.