Saturday, September 19th, 2020
Cavs cruise past Cards
By Dave Stilwell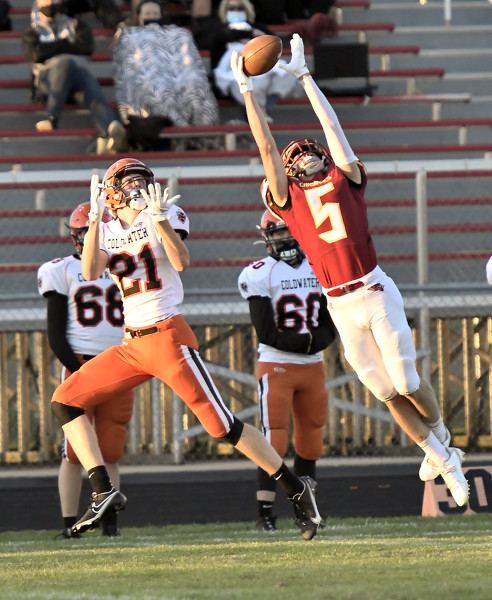 NEW BREMEN - Coldwater shook off some early adversity and scored the game's final 24 points to roll to a 24-7 victory over New Bremen Friday night at Cardinal Stadium.
After giving up a long scoring drive to start the game, Coldwater's first two possessions ended on a fourth-down sack inside the New Bremen 15-yard line and an interception.
But after falling behind 7-0, the Cavalier defense was lights out.
New Bremen drove 88 yards on its first possession, picking up four first downs and scoring on a 58-yard pass from quarterback Mitchell Hays to Kyle Tenkman four minutes into the game.
However, the next seven Cardinal possessions netted just one first down and 49 yards.
"After that first drive our defense was stellar," Coldwater coach Chip Otten said. "We had a few scoring opportunities that we didn't take advantage of, which is disappointing, but they (New Bremen) have a heckuva defense. I tell ya, that's the best defense we played so far this year."
Coldwater took advantage of a short field to tie the game early in the second quarter.
A high punt snap resulted in a sacked New Bremen punter at the Cardinal 11-yard line. Four plays later Myles Blasingame scored on a 1-yard run.
A 28-yard completion to Jesse Meyer set up a 6-yard touchdown pass from Blasingame to Jay Muhlenkamp to give the Cavs a 14-7 lead with 5:17 left in the half.
New Bremen was stopped on fourth down near midfield on its ensuing possession. Coldwater again took advantage of the short field and Brady Klingshirn converted a 25-yard field goal in the closing seconds of the half to put the Cavs up 17-7.
New Bremen came up with a couple fourth down stops in the third quarter, but the Cardinal defense eventually wore down. Blasingame capped a 67-yard scoring drive midway through the fourth quarter with a 3-yard touchdown pass to his younger brother Marcel.
"With our defense, I thought the effort was great tonight," New Bremen coach Chris Schmidt said, "but when you're on the field that much against Coldwater, it's usually going to burn you. Offense is the area we have to grow the most. We need to find some consistency and execute at a higher level."
Blasingame accounted for the bulk of the Cavalier offense with 143 yards rushing on 26 carries. He also connected on 11 of 19 passes for 129 yards and two touchdowns. Jesse Meyer had five catches for 95 yards.
"I thought we spread the wealth tonight and everyone contributed," Otten said. "But Myles is a tough kid. This is high school football, and he likes to run the ball so I don't mind giving it to him a bunch of times."
Both teams are on the road next Friday. Coldwater (4-0) travels to Delphos St. John's and New Bremen (2-2) will be at Anna.