Tuesday, October 13th, 2020
1 killed in massive explosion
Blast could be seen, felt for several miles
By Sydney Albert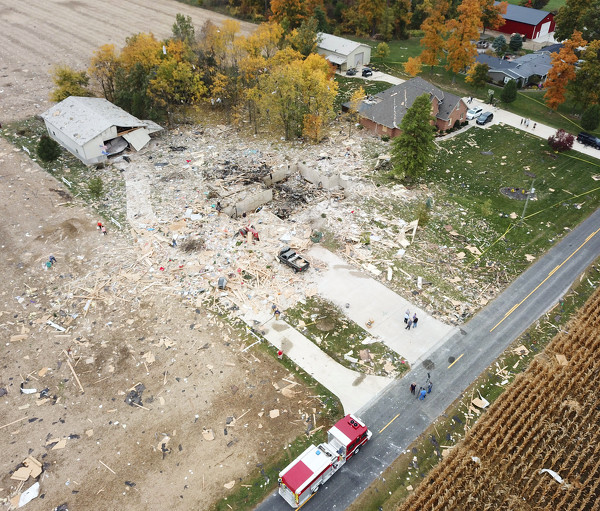 CHICKASAW - A woman died Sunday night after an explosion destroyed her home and rocked the surrounding area north of Chickasaw.
Rosella McClurg was declared missing for hours Sunday after her home at 3741 County Road 716A was leveled by a blast. The cause is under investigation by the State Fire Marshal's Division. First responders were dispatched to the scene at approximately 5:50 p.m., and McClurg's body was found about four hours later around 9:45 p.m., according to Montezuma Fire Chief Lee Braun.
The other resident of the house, Edward McClurg, had not been transported for injuries Sunday night. Braun said McClurg was staying with family members.
Nothing aside from a large debris field remains of the home, and the area remained sectioned off with caution tape on Monday. Braun said the property was still very dangerous for anyone to enter, in part because of the debris field with sharp objects and nails. A rear outbuilding had also been heavily damaged by the explosion. While still standing, it was unstable, Braun said.
A crew of first responders kept vigil at the scene through the night until investigators from the State Fire Marshal's Division returned Monday morning after an initial investigation on Sunday, Braun continued. Fire marshal investigators reportedly visited the scene Monday morning to conduct a preliminary investigation and take photographs.
Brian Bonhert, a marshal's spokesperson, said the investigation was still in its early stages, but investigators had examined the scene.
People at the scene on Sunday night reported smelling natural gas in the area.
As of Monday afternoon, the property had been turned over to the homeowner's insurance company for evaluation, according to Braun. The area will remain cordoned off until the insurance company clears it, he said.
After the explosion, the dark smoke plumes could be seen for miles, and people as far away as Coldwater and Rockford reported hearing the blast. When first responders arrived, the remains of the structure were reportedly engulfed by heavy flames.
Braun had reported on Sunday night the address of the destroyed home was 3751 County Road 716A, but that address actually belonged to a neighboring home, from which the initial emergency call had come.
That neighboring house sustained significant exterior damage as a result of the explosion but was still intact and had reportedly not caught fire. The windows of that house had been blown out, but Braun said none of the neighbors was injured.