Wednesday, October 14th, 2020
Big Battle
Rangers beat top-ranked Cardinals to clinch share of MAC title
By Gary R. Rasberry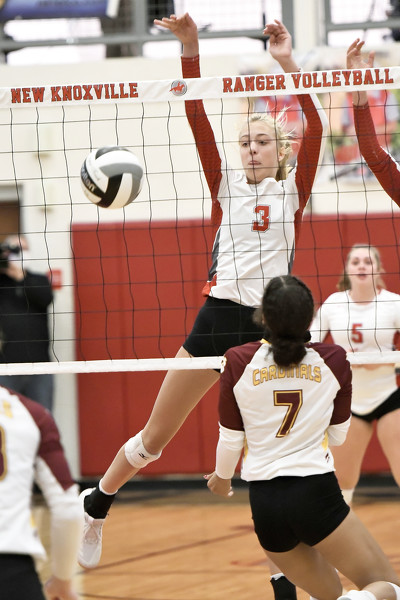 NEW KNOXVILLE - Tuesday's New Bremen-New Knoxville volleyball match could have easily gone the distance.
But the Rangers were bound and determined to win it in three sets.
New Knoxville got solid defense and timely hitting as the Division IV second-ranked Rangers swept the top-ranked Cardinals 25-22, 26-24, 25-22 at Ranger Gymnasium to take sole possession of first place in the Midwest Athletic Conference.
The Rangers (18-0, 8-0 MAC) clinch at least a share of the program's first conference title since 2005. A win at fifth-ranked Marion Local (18-3, 6-2 MAC) on Thursday would give the team its first-ever outright title. New Bremen (19-2, 7-1 MAC) travels to sixth-ranked Fort Recovery (17-3, 7-1 MAC) on Thursday. If the Flyers beat the Rangers, the winner of the Cardinals-Indians match would claim a share of the MAC.
"They just do not give up," said New Knoxville coach Meg Lageman. "In the Fort Loramie game, they didn't give up when they were down two sets. I give them credit for that. They didn't want to lose."
"They served better than us, passed better than us and attacked better than us," said Cardinals coach Diana Kramer. "When you get outplayed in almost every aspect, you're not going to beat a good team."
The Rangers jumped out early in the first set, going up 18-9 as the defense kept the Cardinals from dominating on the attack and Ranger Carsyn Henschen had several big kills as part of a seven-point serving run by Avery Henschen.
New Bremen found a way to come back as Josie Reinhart, Elli Roetgerman and Ellie Tangeman began to find the open spots. The Cardinals got to within two at 23-21, but the Rangers were able to hold on.
The second set showed how much the Rangers were determined to keep the match to three sets. New Bremen led 6-1 early but New Knoxville was able to tie the set at 11-all and knotted the set at 12-, 16- and 17-all before Claire Pape served up three straight points to make it 23-18. New Knoxville got a point back, but could not keep the serve as the Cardinals were at set point at 24-19. A hitting error gave the Rangers the serve and Avery Henschen went back to try and keep the Rangers in the set. Kills by the Henschens quickly got the score to 24-23 and a Cardinal hitting error tied the set at 24-all. Carsyn Henschen wrapped up the set with back-to-back kills to get the win and go up 2-0.
"They just work really really hard," said Lageman. "That's what comes with defense. Work hard and not let a ball drop. That's what they do."
"When you're up 24-19, everybody expects you to win," said Kramer. "Problem was, our mentality was we were going to play not to lose instead to play to win. We'll learn from that."
The third set was back and forth with the teams tying the set seven times up to 13-all when Avery Henschen went back to serve. The junior served eight straight points, four points coming on Cardinal errors, another on an ace and then kills by Avery Henschen and Ellie Gabel to make the score 22-13.
The Cardinals came back to challenge again as Chloe Bornhorst serve up five straight points with kills from Tangeman and Roetgerman and a block by Kaylee Freund to get New Bremen to within two at 22-20. The Cardinals looked to get within one on the next serve, but were called for a net violation to give the Rangers a 23-20 lead. A Cardinal hitting error put the Rangers at match point, but Freund got a block to get the point. Reinhart got another kill to cut it to 24-22 before another hitting error closed out the match for New Knoxville.
"Credit to New Knoxville," said Kramer. "Their players and coaches were ready to play. They responded to mistakes and made big plays at the big moments."
Carsyn Henschen had 15 kills for New Knoxville with Morgan Leffel adding 10 kills and Gabel dishing out 27 assists.
Reinhart led New Bremen with 14 kills. Roetgerman added 11 kills. Pape added 33 assists.