Friday, October 23rd, 2020
Church designer gets monument
Johann Goehr the architect of unique Minster church
By Sydney Albert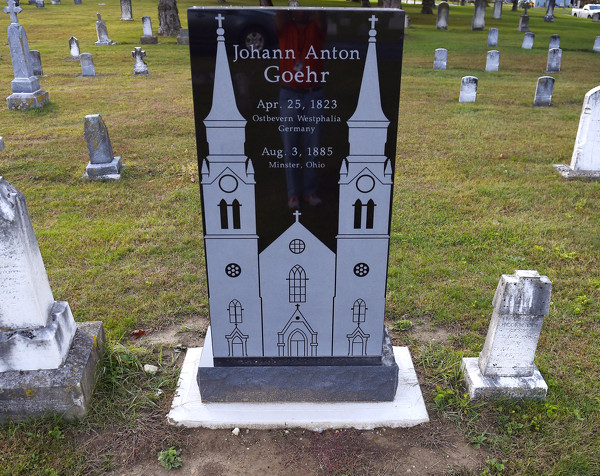 MINSTER - The twin steeples of St. Augustine Catholic Church are a landmark for Minster natives, a sign that lets them know, day or night, they're home.
Now, a few blocks away in the St. Augustine Cemetery, the man who designed that monument has a new memorial himself.
Johann Anton Goehr, an architect who helped construct at least 28 churches or church features in the "Land of the Cross-Tipped Churches," has a shiny new monument recognizing his contributions to the area, and a public dedication ceremony is scheduled for 2 p.m. Sunday.
During the brief ceremony, the Rev. Frankline Rayappa will bless the monument, located near the chapel in the cemetery. The Rev. David Hoying, a retired priest and Precious Blood historian, will also say a few words.
Goehr previously had a wooden monument designed and built by his son in the cemetery that had been topped with a cross and featured a Bible near its base. Though reportedly well built, it required multiple repairs in the first century of its existence.
In 2005, the Minster Historical Society engaged a local craftsman to replicate the structure and mount the new one on the original foundation. The original wooden monument is preserved at the society's museum.
This new monument is made of black granite, according to historian Nancy Jay. She and others involved in the project believed it was important to continue Goehr's legacy and ensure people were aware of the history he helped to create, she said. Though many may not know his name, chances are that if they attend a Catholic church in the area, he had a hand in creating their place of worship.
Goehr spent most of his life working on Catholic churches, mostly in Ohio, Jay said. Born in April 1823, Goehr and his family immigrated from Germany to the United States when he was 10 years old, eventually settling in Stallostown - known today as Minster.
He learned carpentry from his father, working alongside him as the first log church in Minster was built in 1835 and during the creation of another log church in Maria Stein in 1837.
After the death of his father, Goehr continued his work, expanding his skillset to include architectural design and construction. According to the 1982 book "Pilgrims All" by Louis A. Hoying, Rita Hoying and the Rev. David A. Hoying, Goehr also built Immaculate Conception in Celina, Our Lady of the Holy Rosary in St. Marys, as well as dozens of other churches in whole or in part.
The Precious Blood church building he helped build in Chickasaw has since been destroyed, but many of the other structures still stand today, Jay said. They can be found in St. Henry, North Star, Fort Recovery, Osgood, Carthagena, Egypt, Fort Loramie, and several other towns and cities.
Still, for Minster residents, the spires he helped bring to the town have a special meaning to them.
"The moment you get a glimpse of the twin spires, you get a feeling of home," Jay said.
Goehr no doubt helped create the "Land of the Cross-Tipped Churches," and those interested in saying thank you can visit the monument, which has a view of one of his most cherished works, St. Augustine.