Wednesday, October 28th, 2020
Indians, Flyers advance
By Tom Haines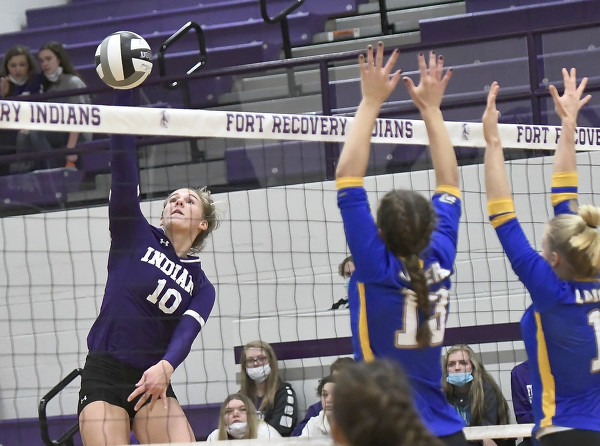 By TOM HAINES
thaines@dailystandard.com
FORT RECOVERY - The two top-seeded teams took care of business Tuesday night at the Division IV district volleyball tournament at Fort Site Fieldhouse.
Fort Recovery outlasted Lincolnview in a hard-fought first set and dropped the third before recovering for a 25-22, 25-13, 20-25, 25-16 win.
In the second match, Marion Local coasted through the first two sets and held on in the third on its way to a 25-14, 25-15, 25-20 victory over St. Henry.
The Indians (20-3) and the Flyers (18-4) will face off on Thursday in the district finals, also at Fort Site.

Fort Recovery 3, Lincolnview 1
The first set was a nail-biter, with neither team able to establish a firm lead. Fort Recovery got out to an 8-4 lead after a service run by Aubrey Knapke, but the Lancers went on a 9-2 run to earn a 13-10 advantage. The Indians battled back, tying the set at 16, 17 and 18 before taking the lead with a service run from Paige Fortkamp. Lincolnview's Madison Williams got a kill with Fort Recovery at set point, but Whitley Rammel earned a kill on the next point with a shot that just barely stayed in.
"It was a huge boost," Fort Recovery coach Travis Guggenbiller said. "I think it showed in the second set that we came out strong. We really gave it to them."
The second set was all Fort Recovery, despite a stretch of six consecutive serves broken between the two teams. A run from Hope Wendel turned a 10-7 lead into a 14-7 lead, and the Lancers never got closer than six points the rest of the way.
But Lincolnview wasn't done yet. This time, a hard-fought third set went the Lancers' way, as Kendall Bollenbacher racked up eight kills and closed out the set with a four-point service run to forestall the Indians' victory. That would take another set, and after early service runs from Marissa Gaerke and Knapke, Fort Recovery had a lead that proved unassailable.
"The third set, we got a little comfortable and they kept firing," Guggenbiller said. "We knew they were going to, they're a great team and well coached over there. I'm proud of the girls and how they responded in the fourth."
Fortkamp led the Indians with 20 kills, while Hope Wendel added 28 assists and Kierra Wendel had 20 digs. Rammel earned 18 kills and two blocks while also scoring four of the final seven points to close out Lincolnview. For the Lancers, Bollenbacher led the way with 10 kills.
Marion Local 3,
St. Henry 0
Marion Local handled its match with St. Henry, commanding the match until a late push from the Redskins early in the third set.
"Yeah, they're better than us," St. Henry coach Tricia Rosenbeck said. "They played better than us in about every aspect of the game."
Nora Eckstein helped the Flyers get started, taking the ball with a 2-1 lead and stretching it to 6-2. Marion got out to a 10-3 lead and only stretched it from there, as St. Henry was unable to cut the deficit below six the rest of the set.
The second set was more of the same, although the Redskins stayed close longer. St. Henry got its only lead of the first two sets at 1-0, but stayed within striking distance until a long service run by Reagan Kremer, who forced the Redskins into two receiving errors on the way to a commanding 19-11 lead.
"The girls hit their targets tonight, and they hit them with some momentum too," Marion coach Anthony Chappel said. "That took them right out of system, that's what we want."
It wasn't until the third set that Marion had a fight on its hands. The two teams traded a few points before St. Henry went on a run starting at 6-6. The Redskins got a 12-6 lead on Lauren Beyke's service run and managed to keep the lead to 17-16. But the momentum dissipated, Marion took over, and the Flyers went on a 9-3 run with kills from Heidi Rethman and Alana Pohlman finishing it off.
"There's a lot of great players there," Chappel said. "There's some seniors, but it's pretty much a young team, so you can kind of see some lightbulbs turning on. I told Trish before the game, if you could have those lightbulbs turn on next year and not in this game, that would be great."
Pohlman earned nine kills, while Kremer earned three aces and Heidi Rethman added 23 assists. Brianna Siefring had 10 kills for the Redskins, with Lydia Werling adding 11 assists.