Friday, December 4th, 2020
Rangers take down Flyers
By Tom Haines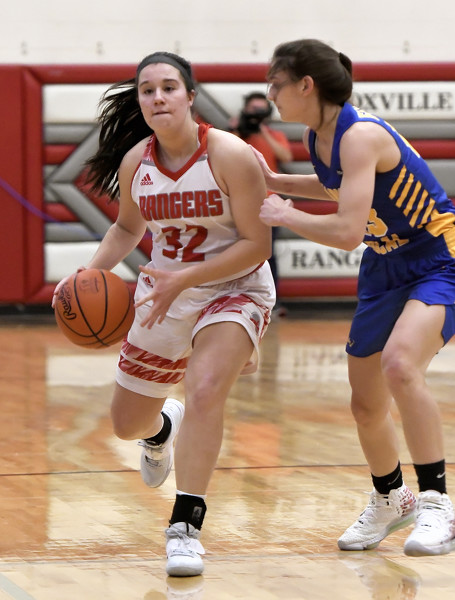 NEW KNOXVILLE - Once New Knoxville got the lead, it never looked back.
The Rangers trailed Marion Local after the first quarter, but tied the game on an and-one by Avery Henschen and took their first lead midway through the second. From there, New Knoxville pulled away to an eight-point halftime lead and a 51-44 Midwest Athletic Conference girls basketball victory at Ranger Gymnasium.
"It was a typical MAC battle," Marion coach Beth Streib said. "Very physical, back and forth at times. Teams had a couple good quarters, a couple bad quarters. Pretty much just a typical MAC team, you know what you're going to get when you come to Knoxville. They're going to play fundamentally sound and very hard and physical."
The Flyers (2-2, 0-1 MAC) were down by 14 at the end of the third quarter, but managed to make things interesting in the fourth with timely defense. New Knoxville (2-0, 1-0 MAC) turned the ball over six times in the final frame, allowing Marion to cut the lead to seven with just under two minutes left.
That was where it would stay, though, as the Flyers couldn't find key baskets late and the Rangers stifled their last-gasp effort.
"When you're down hard, you have to use all that energy to exert on defense," Streib said. "It's hard to convert on offense sometimes because your legs are tired. But we can't dig ourselves that hole, because it's harder to play from behind."
New Knoxville also struggled with turnovers early on, committing five in the first quarter before tightening up in the second. The ball-control issues gave Marion a chance to jump out to an early lead, and the Flyers matched a late three by Ellie Gabel with one from Lindsey Koenig to take a 12-9 lead.
Coach Tim Hegemier wasn't concerned with the first-quarter struggles.
"It always takes us four or five minutes to get going," Hegemier said. "Once we get going, it just takes somebody to hit a couple shots and everybody gains confidence."
But once the Rangers did find their stride, they took control. New Knoxville outscored the Flyers 17-8 in the second quarter and 16-8 in the third, a lead that withstood all Marion's attempts at a comeback.
"They switched to that zone a little bit, which kind of slowed us down on offense," Streib said. "Plus we had a couple girls in foul trouble, that hurt us too. But we just didn't have the ball movement offensively to get good open looks, and they were getting good open looks. Our defensive positioning was not the best."
Marion's Heidi Rethman led both teams with 18 points, while Alana Pohlman notched three steals and Rethman, Stella Huelsman and Sammy Hoelscher each added two. Ellie Gabel topped the Rangers with 16 points.
New Knoxville makes the short trek to St. Marys on Saturday to face the Roughriders in an Auglaize County battle. Marion Local will look to rebound next Thursday as the Flyers host St. Henry in MAC play.