Saturday, January 9th, 2021
Finishing strong
Wildcats pull away to defeat Panthers in MAC play
By Tom Haines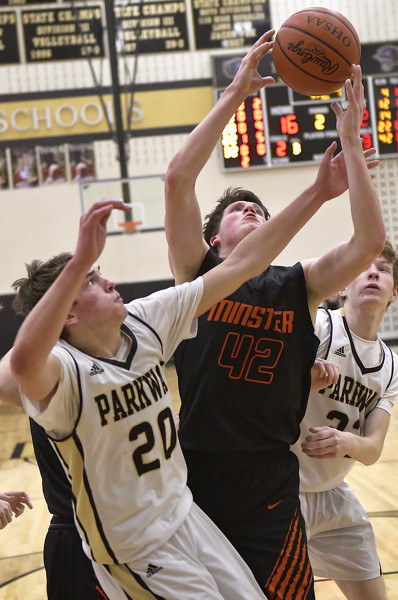 ROCKFORD - Minster got a 13-point lead midway through the first quarter, beat back a Parkway comeback in the second, then pulled away for good in the third on the way to a 59-47 win over last year's regional finalists in a Midwest Athletic Conference boys basketball game at Panther Gymnasium on Thursday.
"We did a great job of battling back and getting back in the game," Parkway coach Doug Hughes said. "We felt really good at halftime, and what happens? We come out, we run a 1-3-1, they shoot it and they get the backside rebound, the next possession they get another rebound, and they go on another run and put us right back in another hole."
The Wildcats were only up by four at halftime, but scored the first four points of the third to take a 35-27 lead. Dylan Hughes converted an and-one for Parkway to make it five, but Eric Schmidt responded with a three on the ensuing possession to keep the Panthers at bay.
After trading baskets the rest of the third, Schmidt scored two quick baskets to start the fourth to make it a 15-point lead, and Parkway couldn't find a way to battle back.
"I think we're pretty good against the zone because we pass it so well," Minster coach Michael McClurg said. "We have a lot of kids that see the floor well, so we're just able to find a lot of open guys."
The Panthers had been looking for ways to battle back from the start, when Minster (7-3, 4-0 MAC) came out firing on all cylinders. Despite two early layups from Hughes, the Wildcats jumped out to a 7-4 lead before ripping off a 10-point run, capped by a three from Bryan Falk to make it 17-4.
Caden Slusher answered with a three to stop the bleeding and the Panthers cut the deficit to six at the end of the first, but Minster kept the edge.
"Bryan hit a few shots early, things were clicking offensively," McClurg said. "They were in man at that time and we were kind of getting anything we wanted."
But Parkway didn't go away, and after Johnny Nixon stretched the lead back to 10 with 5:02 left in the second, the Panthers found another gear. Slusher and Hughes combined for the next seven points to get Parkway within three less than two minutes later.
"We started playing with some emotion and some fire and some energy," Hughes said. "I didn't think that was evident there to begin the game. But I thought there in the second quarter we played very well after they got out to a big lead in the first."
Josh Niekamp stopped the run with a three for Minster, Hughes answered, and Nixon hit a layup to get the Wildcats some breathing room and a four-point lead going into the half.
It wasn't until the start of the third that Minster started to pull away for good.
"The first half we really struggled to keep Hughes out of the lane," McClurg said. "We knew that coming in, we just had to get used it a little bit, I guess. We did a better job keeping him out of the lane in the second half. I was pretty excited about that, how we guarded, and then that just fueled our offensive side of the ball."
Minster had four players in double digits, with Johnny Nixon in front with 14. Schmidt scored 14, while Justin Nixon earned a double-double with 13 points to go along with his 14 rebounds. Falk added 10 for the Wildcats.
For the Panthers, only four players scored. Hughes was nearly the entire offense, finishing with a game-high 31 points.
"We're continuing to work, continuing to watch film to see what more we can do offensively, to get the offense taken care of and moving in the right direction," Hughes said. "We'll keep getting better. We're a young team, and these guys are very resilient."
Minster, which was ranked 18th in Division IV this week, returns home to face Fort Loramie tonight. Parkway hosts Ridgemont on Tuesday.