Saturday, January 23rd, 2021
COVID vaccine clinics
By Daily Standard Staff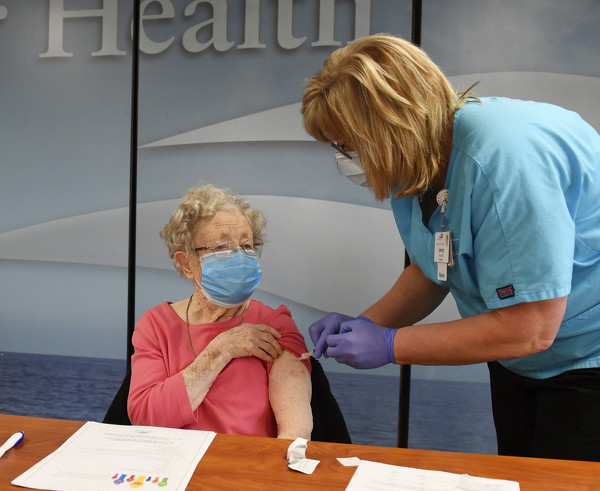 Eligibility for vaccines starting Jan. 25: Adults 75 and older and people with a developmental or intellectual disability and have a severe congenital, developmental, or early-onset medical disorder. See story for details.
Mercer County
The Mercer County Health District and Mercer Health are the only vaccine providers in the county. Only register at one location. All clinic dates and times are subject to change depending on weather and vaccine availability.
Mercer County Health District
What: Weekly drive-thru COVID-19 vaccine clinics are Wednesdays.
Communication: MCHD will announce information each Monday on social media, www.mchdohio.org and traditional media.
To register: Sign up online through Eventbrite or by calling the health district at 567-890-2619. Registration opens at noon on Tuesdays. Online registration stays open until appointments are filled. Health district staff will assist with phone registration from noon-3 p.m.
Where: Mercer County Fairgrounds. Enter at the main entrance.
Forms to bring: A completed registration form, available online at https://mchdohio.org/wp-content/uploads/2021/01/Blank-COVID-19-insurance-screening-form.pdf.
No appointments will be made before noon on Tuesdays. Do not call to register ahead of time. Do not arrive earlier than 15 minutes before the scheduled appointment. All contracted private insurance, Medicaid and Medicare will be billed for administration fees. No out-of-pocket payment will be collected.
Mercer Health
What: Vaccine clinics are Thursdays and Fridays.
Communication: Information will be released each Wednesday about vaccination clinics for the upcoming week.
To register: Call 567-890-7188. Registration for the next week's clinic opens from 9 a.m.-5 p.m. on Thursday and Friday each week. The number is only available during the registration signup period. Registration for the week of Jan. 25 is closed as all signup times have been filled.
Information for vaccine clinics the week of Feb. 1 will be provided on Wednesday.
Where: Mercer County Community Hospital, 800 W. Main St., Coldwater.
Parking: West parking lot/parking lot 3. Enter at the west entrance 3.
Details: Allow one hour for an appointment. All vaccine recipients will sign a consent form. Do not arrive earlier than 15 minutes before the scheduled time. People may be asked to wait in their car until their time. No guests or visitors can accompany individuals receiving vaccines. Drivers or other guests must wait outside. Vaccination is free, but administration fees may be billed to insurance.
Auglaize County
Grand Lake Health System
What: Vaccine appointments.
Communication: The hospital will use the health system website, patient portal and social media to provide information on vaccine clinics.
To register: Visit www.grandlakehealth.org to complete an appointment request form or call 419-300-1132. Eligible patients will receive a call to schedule their appointment.
Details: If an individual has completed the online form or called and left a message, the information has been received. Do not complete additional forms or leave additional messages. Patients are encouraged to enroll in the portal and follow the website and social media.
Kroger
What: Vaccine appointments.
How to register: Visit www.kroger.com/ohiocovidvaccine or call the COVID-19 vaccine helpline at 866-211-5320 to schedule an appointment. All COVID-19 vaccines will require an appointment via the website or phone number once vaccines are available.
Auglaize County Health Department
What: COVID-19 vaccine clinics.
Communication: Visit the health department's website at www.auglaizehealth.org for more information.
To register: All COVID-19 vaccine clinics are fully booked until Jan. 29. Scheduling is anticipated to resume on Jan. 28 for the week of Feb. 1. Scheduling availability will depend on the amount of vaccine received. When scheduling resumes, eligible recipients can call 419-738-3410 to schedule an appointment.