Monday, February 8th, 2021
Wildcats snap St. Marys' streak
By Dave Stilwell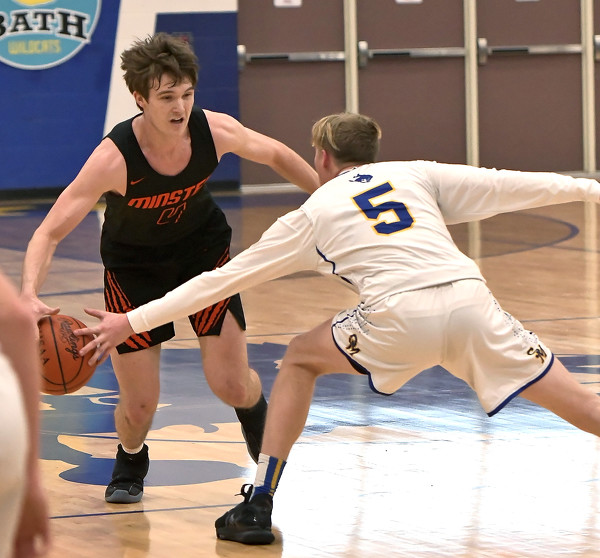 ST. MARYS - According to Minster coach Michael McClurg, the game plan coming in was, "just guard 'em."
And guard 'em they did.
The Wildcats held a St. Marys offense that was averaging just under 70 points in its last five games to a season-low 32 in a 35-32 victory over the Roughriders Saturday evening on the Grand Lake Health Care System Court. The win extends Minster's win streak to six games as the Roughriders have a six-game win streak snapped.
"I though we did a really good job of guarding the post," McClurg said. "When Justin (Nixon) got in foul trouble, his brother (Johnny Nixon) stepped in, and then I thought Brady Hoelscher did a really nice job on (LeTrey) Williams, and made him take a lot of tough shots. We guarded well tonight."
The Roughriders struggled to find any kind of offensive rhythm, and did not make their first 3-point shot until there was a minute left in the third quarter.
"I told our guys before we started, 'Minster, they do an outstanding job in the man-to-man,' and they showed it today," St. Marys coach Dan Hegemier said. "We came out tentative. We tried to jam the ball in to (Austin) Parks just a little too much, and couldn't ever really get into a flow, and that's to Minster's credit."
It was the St. Marys defense that had the upper hand early, as Minster was just 2-of-11 from the floor in the first quarter, enabling the Riders to jump out to an 8-4 lead at the end of the opening period.
With Justin Nixon getting into early foul trouble, Minster's 6-5 junior Zach Fortman came off the bench and scored seven points in the final four minutes of the second quarter to give the Wildcats a 15-13 halftime lead.
"We've kind been waiting for him to turn the tide," McClurg said of Fortman. "With St. Marys' length, we thought this was a game we could put him in, and he hit some buckets and really made a difference."
Justin Nixon, who battled early foul troubles and St. Marys' 6-10 Sophomore Austin Parks, opened the second half like a man possessed.
Nixon scored the Wildcats' first 11 points of the third quarter to help the Wildcats build a 29-23 lead going into the fourth quarter.
"I think he was upset because he didn't get to play much in that first half with two quick fouls," McClurg said of his Justin Nixon. "I asked him at halftime, 'Are you ready to play?' And he's like, 'yes.' I think he took it kind of personally that he was sitting on the bench a lot in the first half."
However, Justin Nixon picked up his fourth foul in the opening seconds on the fourth quarter, and as he headed to the bench, you could just feel the momentum being sucked away from the Minster side of the floor.
Parks and Williams combined efforts for a 9-2 St. Marys run, and with four minutes left to play, the Riders had regained a 32-31 lead.
St. Marys had three possessions with chances to build onto its lead, but came up short each time. With 25 seconds left to play, Justin Nixon put Minster up 33-32 with one of his patented drop-step moves in the paint.
The Riders called timeout with 7.6 seconds left, and set up a final play to Parks, who got the ball in the blocks, but could not convert on a little six-foot jumper.
"That was the play we wanted," Hegemier confirmed. "He had three guys hanging on him and we didn't get it.
"It was a hard fought game and a good game to play for us. I wish we could have somehow squeaked it out, but we didn't. We were six of 12 from the free throw line and had way too many turnovers."
Parks and Williams each finished with 14 points each for the Roughriders (13-4). St. Marys travels to Celina on Friday and Fort Loramie on Saturday.
Justin Nixon tallied a game-high 17 points for the Wildcats (16-4). Minster travels to Coldwater Friday, looking to clinch an outright Midwest Athletic Conference title.
"This is a big confidence booster for us," McClurg concluded. "To get a win against a well-coached, great team like this on the road is really special for our guys."