Friday, February 19th, 2021
Scholarship honors area lawman
Family starts fund in memory of late deputy, Mark Heinl
By William Kincaid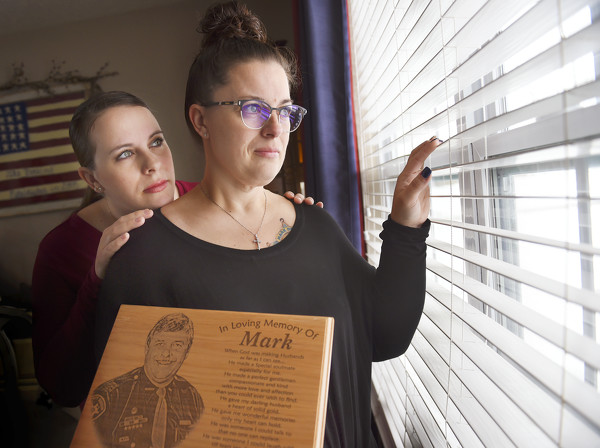 COLDWATER - The family of a veteran lawman known as a kind, caring man who touched countless lives plan to keep his legacy alive by establishing the Mark Heinl Memorial Law Enforcement Scholarship Fund.
Family members plan to have the scholarship cover all expenses for one Wright State University-Lake Campus Police Academy student each year.
Heinl, 60, died Nov. 28. He had retired as a Mercer County Sheriff's Office captain in 2016 but kept busy working as a St. Henry Police Department patrolman, Darke County Sheriff's Office deputy and bus driver for multiple school districts.
His work in law enforcement dates back to his teenage years when he became an Explorer with the Mercer County Sheriff's Office, a Boy Scouts of America-affiliated program that essentially provides law enforcement job shadowing.
His career led him to cross paths with Sandra Barna, who would become his wife.
"My dad was a deputy and my mom was a matron. At that time they were at the small jail, uptown," Sandra Heinl related. "When you were a matron for females you had to stay there all the time, and my mom showed (Mark Heinl) the picture of us three girls - because there's three girls and two boys - and he said, 'I think I'm going to marry one of them,' - and he did! Just crazy."
Heinl wound up working for police departments, sheriff's offices, fire departments and Emergency Medical Services squads.
In addition to his wife, he left behind four adult children, Ashlee Heinl-Botkin, Mark Heinl II, Cassandra Helentjaris and Spencer Heinl; and several grandchildren.
Heinl's wife and children sat down this week to talk about the establishment of the scholarship and the life of a man who was known for his warmth, kindness and dedication, not only to his family and law enforcement but also the community at large. They flipped through a scrapbook containing news clippings and other items documenting his accomplishments.
Over the course of his lifetime, Heinl left an indelible mark on his family by the way he carried himself and treated others. Mark Heinl II, who lives in Columbus with his wife, Donita, followed suit and became a police officer. So too did Spencer Heinl, who lives in Coldwater with his wife, Rachel, and is Mercer County Sheriff's Office deputy.
"Spencer was very, very passionate about how everything needed to be, and he really wanted to honor Dad as a deputy in that regard," Ashlee Heinl-Botkin said. "He is the one who insisted that we not only do the scholarship, he is the one who insisted that we put someone through the entire academy every year."
Mark Heinl II said establishing such a scholarship is extremely important in supporting a profession that is facing national scrutiny.
"Creating this in honor of him to show the people that there's good cops - I mean you're going to find bad apples everywhere - is perfect," Heinl II said. "It's a beautiful thing, and he would be extremely proud of it. And to be able to continue helping somebody follow in his footsteps locally or wherever this person may go, I think he would love it."
The siblings spoke of many incidents in which their father threw himself into harm's way to assist those in difficult situations. For instance, several yeas ago he and former deputy Chris Hamberg rescued a woman from raging floodwaters after her car was swept off Tama Road into a flooding field east of U.S. 127.
"Whatever it took, (he) never hesitated. It just never even crossed his mind," Ashlee Heinl-Botkin said, noting her father had tied a rope around his waist and waded into the water to save the woman.
"He wouldn't think about it. He just did it," his wife added.
That concern for others rubbed off on his children, all of whom have taken up causes and volunteer opportunities.
"He taught us to choose what means something to you and support it," Ashlee Heinl-Botkin.
Perhaps most striking about Heinl was the respectful and humane way he approached people, including those whom he was arresting while on duty.
"He didn't judge anyone," Ashlee Heinl-Botkin said.
Cassandra Helentjaris recalled strangers coming up to enthusiastically embrace her father while the family was out shopping. Turns out they were former prisoners who were moved by how nicely he had dealt with them.
Mark Heinl II offered similar anecdotes, revealing the many times he went out to lunch with his father when the lawman would be bombarded with pleasantries from other diners.
"It would be people that were in jail or that he had pulled over or that he had cuffed that would be thanking him. It's not the people he's protecting, necessarily," Heinl II said.
The way in which his father interacted with people proved highly influential on Heinl. Just this week he responded to a call about a car parked in the middle of the street.
"I could have towed it, but instead I helped the homeowner for an hour dig it out so he could pull it in his driveway so he could save a hundred bucks. I'm like, 'That's something Dad would have done,'" he said. "The way he served the people all the time, even when he was not in uniform, he was in uniform, if that makes sense."
Heinl's good nature made him popular throughout the area and beyond. Even on vacations people would call him out by name.
"Just everywhere you went, everyone knew him," Ashlee Heinl-Botkin said.
In his later years with the Darke County Sheriff's Office, his favorite assignment was working races at Eldora Speedway in Rossburg.
"That was what he lived for, was the socializing," Ashlee Heinl-Botkin said.
The Mark Heinl Memorial Law Enforcement Scholarship Fund, based in the Mercer County Civic Foundation, is very much in its infancy.
"This is going to be a big feat. We have to raise a lot of money," Ashlee Heinl-Botkin said. "So we'll put in the work and the time and the effort to make sure we raise that money."
Donations are tax deductible and checks can be made out to the civic foundation in care of Mark Heinl.
Family members are also organizing a June 12 raffle to support the scholarship at McSobers Saloon in Coldwater, Ashlee Heinl-Botkin said. Those interested in donating money or raffle items can contact her via email at ashlee_hb@yahoo.com.