Saturday, February 20th, 2021
Pulling down a win
St. Henry dominates boards in beating Parkway
By Gary R. Rasberry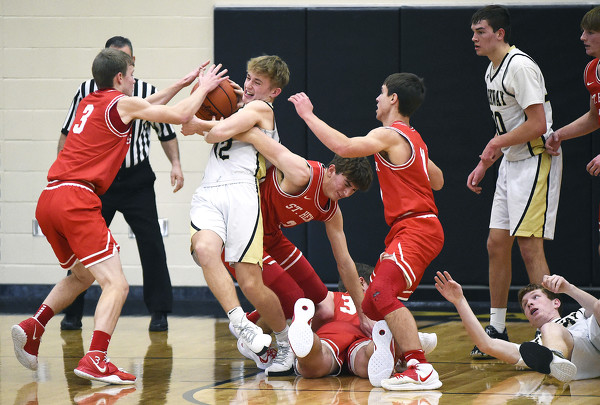 ROCKFORD - One of the fundamental rules of basketball is that the team that gets hot last usually gets the win.
Both St. Henry and Parkway had their turns at hot runs in the Midwest Athletic Conference season finale. But in the end, the Redskins had the final run to break a 53-all tie in the final minute and left Panther Gymnasium with a 56-53 win.
The Redskins can credit much of their success to rebounds, outboarding the Panthers 31-14, including a 12-1 edge on the offensive glass.
St. Henry's biggest offensive carom came with under eight seconds to play, with the Redskins nursing a 54-53 lead and Logan Lefeld on the line shooting a one-and-bonus. Lefeld missed, but Carter Ontrop grabbed the ball and was fouled. Ontrop made both freebies to make it a 3-point game. Parkway's last-chance to tie on a Dylan Hughes 3-pointer was off the mark at the buzzer.
"We called (Ontrop) out a few games ago thinking we can get more out of him and, man, what a response," said St. Henry coach Eric Rosenbeck. "(To get not only) the offensive rebound but hit those free throws, it was awesome."
"They really dominated us on the boards," said Parkway coach Doug Hughes. "It's going to be tough to win if they're going to be bully us (in the paint).
"We couldn't secure enough defensive rebounds. That's the reason they won the basketball game."
The Redskins started out strong with a 7-2 lead and were up 20-7 with under a minute to play in the first quarter. But after a Jaden Lange trey made it 23-9 Redskins with a minute gone in the second quarter, Dylan Hughes began to find his range, scoring 13 of the team's 16 points on a 16-0 run that gave Parkway a 25-23 lead with under four minutes left in the half. Lefeld stopped the run with a bucket that started a 9-0 run to end the half to put St. Henry in front 32-25 at the break.
"At halftime, I really praised the kids for their mental toughness," said Rosenbeck. "(Parkway) was making some difficult shots. Give (Dylan) Hughes credit. He was awesome tonight."
The teams had a tug-of-war in the momentum department to start the third quarter with neither team finding enough to pull away until under 90 seconds to play when Trent Rollins hit a trey to put the Panthers in front 42-40. Lefeld again tied the game seconds later, but Fletcher Smith beat the buzzer with a 3-pointer to give Parkway a 45-42 lead.
Another Rollins bucket made it 47-42 early in the final quarter, but St. Henry countered with seven straight points, taking the lead on a Gels trey and then adding another two-pointer to make it a 51-47 game with 2:53 remaining in regulation. Parkway tried to work its way back and tied the game at 53-all with 62 seconds remaining when Hughes drove the lane and got a hoop-and-harm 3-point play.
"They made a nice run at the end," coach Hughes said of Parkway. "I thought we had nice possessions."
"We were down multiple scores, but again, it was rebounding, guts and effort," said Rosenbeck. "I love this team."
Gels led the Redskins with 17 points. Lefeld had a double-double with 14 points and 10 rebounds with Ontrop adding 10.
Hughes finished his night with 30 points. Slusher and Rollins each had eight.
While St. Henry is off until Tuesday when the Redskins host Temple Christian in the Division IV tournament, Parkway wraps up the regular season with a noon tip today at Van Wert. The Panthers open tourney play on Wednesday at home with Ridgemont, a team the Panthers defeated 59-51 earlier this season.