Monday, February 22nd, 2021
Moving on
Indians beat Cardinals in overtime battle
By Gary R. Rasberry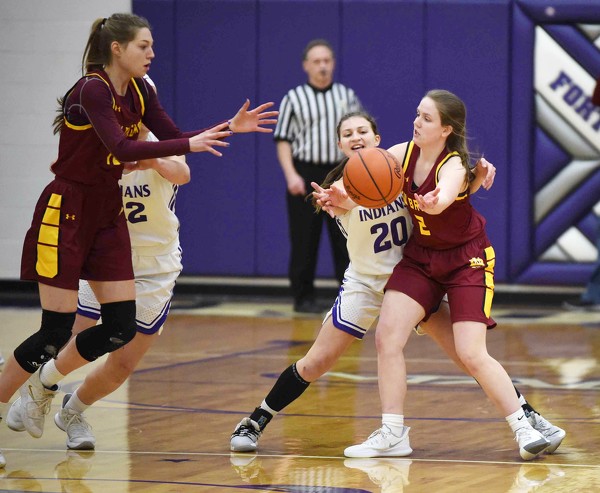 FORT RECOVERY - Holly Gann knew her Fort Recovery squad didn't want to end their season in the sectional final.
The Indians tied the game at 45-all with 45 seconds remaining in a wild fourth quarter, then outscored New Bremen 8-5 in the overtime to claim the Division IV girls basketball sectional title 53-50 on Saturday night at Fort Site Fieldhouse.
The win sends Fort Recovery to the district semifinals at 5:30 p.m. on Thursday at Wapakoneta against defending state champion Minster. The other semifinal in the All-MAC district has Marion Local facing New Knoxville following around 7:30 p.m.
"I told them it's a game of highs and lows and you hope your highs is when the time runs out," said Gann, the Indians' secomd-year coach.
"I just had a feeling that our seniors weren't ready to stop. We weren't done yet," continued Gann "We fought through some hard times and were resilient."
The Cardinals trailed by as many as 12 points in the second quarter before rolling back into contention. Fort Recovery led 24-16 at the half and got the lead back to 10 early in the third quarter before the Cardinals came back.
"We knew coming in that (Fort Recovery) was going to pressure us," said Cardinals coach Chris Burden, whose squad had 19 turnovers. "Our guards did a pretty good job of handling their pressure and trying to get in the spots we wanted to."
The momentum change started when New Bremen's Madison Cordonnier was fouled trying a 3-pointer. Cordonnier made all three to cut the Indians' lead to 34-29 to start the fourth quarter. Elli Roetgerman scored to start the fourth quarter. The Cardinals took the lead for the first time since the first quarter with 4:20 remaining in regulation on a Riley Trentman 3-pointer to make it 39-37. Whitley Rammel tied it back up at 39 a minute later with Alli Vaughn putting the Tribe up 41-39 with 2:50 remaining. The lead changed three more times, the last coming when Aliyah Truman converted on the hoop-and-harm 3-point play with 1:57 remaining. A minute came off the clock before the Indians were able to tie when Rammel knocked down a pair of free throws with 41.9 seconds left. Both teams were unable to score on their final possessions of regulation, sending the game to overtime.
The Indians struck quickly in the four-minute extra session as Vaughn buried a trey from the top of the arc 11 seconds in. Both teams connected on a free throw before Cordonnier got the Cardinals to with one at 49-48 with 1:42 remaining. Kierra Wendel, exceptional all night on defense, made one of two big offensive plays for Fort Recovery in OT with a driving layup to make it a three-point game. After Roetgerman scored to make it a one-point game again, the Cardinals fouled Wendel with 23.3 seconds to play. Wendel missed both tosses, but Paige Fortkamp pulled down the board and scored with 19 seconds left to make it a three-point game. The Cardinals had one chance to tie, but the 3-pointer fell short of the hoop as the horn sounded.
"We come out (in overtime) and Alli hits a big 3. Sets a precedent right away that we're not backing down," said Gann. "Paige gets the rebound and putback."
"Credit to Fort Recovery and to our girls. What a sectional final!" said Burden. "This is what you dream of. We were down 12 in the first (half), chipped away and got the lead. Fort Recovery answered and it was all the matter of making the plays."
Wendel finished with 17 points for Fort Recovery. Vaughn added 13 and Rammel had a double-double with 10 points and 11 rebounds.
Cordonnier had 17 to lead New Bremen with Roetgerman adding 15.