Saturday, March 6th, 2021
Healing on hooves
Celina teen with apraxia benefits from riding
By Sydney Albert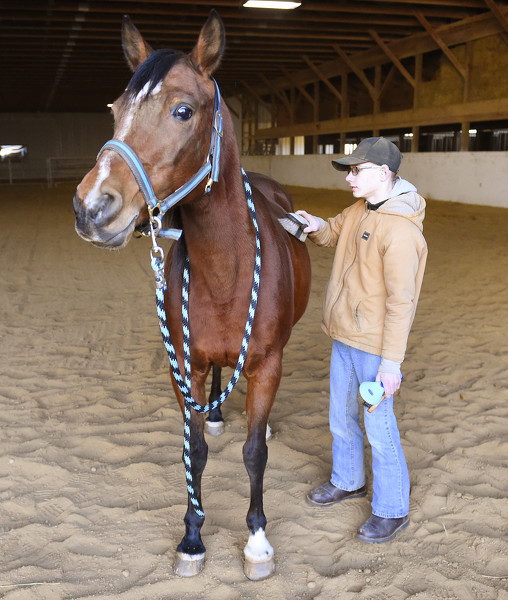 When William Wenning was a baby, medical experts told his parents he would never be able to walk or talk. Fifteen years later, William is capable of both and more, thanks to his own hard work, the support of his family and his equine partners.
A spectator watching William Wenning ride his horse, Suzie, might never guess the challenges he's faced, or what it means that he's able to ride at all.
William Wenning, who lives in Celina, was born with a partially deleted fifteenth chromosome. As an infant, he didn't jabber as many babies do, and his low muscle tone made it more challenging for him to reach certain milestones. His parents started him in speech, physical and occupational therapy when he was seven months old, but it was believed he would never be capable of full mobility or speech.
Now, he dutifully cares for two of his own horses every day after school at Broken K Boarding in Portland, Indiana, and has found a "barn family" in his equine club Rhinestones and Wranglers.
"For him to be doing any of this is a miracle," said Jodi Wenning, William Wenning's mother, as he trotted bareback in circles at the arena on Friday.
Jodi Wenning said as a child, her son used to frequent the pony rides at the Mercer County Fair. One year, a man from Virginia who worked with special needs children saw him and said he could ride as many times a day as he wanted free of charge. He knew riding the ponies was like therapy for William Wenning, and Jodi Wenning said that was the beginning of her son's equine journey.
When his family would take rides with him, the youngster always had to ride double with someone else. Riding was so relaxing that he would fall asleep or have trouble remaining upright, his mom said. When he was seven, they noticed he could ride on his own for about 30 minutes.
Now, his mother estimates he rides about two hours every day, made possible by the indoor arena at Broken K Boarding. No matter the weather, William Wenning can come take care of his horses, Smoky and Suzie, and all three can get some exercise.
Mucking out stalls, bringing the horses hay and other aspects of their care are good physical activities, and horseback riding itself works core muscles.
Suzie, the teenager's newer horse, is an Arabian. She moves differently and more quickly than Smoky. When he first started walking her, he told his mom he could feel the difference in his sides. It hurt because he was using muscles he hadn't before to stay balanced. Now he feels comfortable loping along on Suzie while bareback, which takes even more muscle. With no saddle, it's completely up to the rider to maintain his or her balance and grip while the horse moves.
His time with horses has been so successful, he no longer needs to attend physical therapy sessions.
"This is therapy for him, basically," Jodi Wenning said.
He still deals with apraxia of speech, a condition in which a person has difficulty forming the right oral movements when speaking, but he is able to talk with the other kids as they circle the arena on horseback.
William Wenning also deals with hearing loss due to an enlarged vestibular aqueduct, said Jodi Wenning. The vestibular aqueduct is a bony canal that travels from the inner ear to deep inside the skull. This can present a safety concern around the horses, but the youth has learned to be more aware of his surroundings said Darcy Homan, the riding club's adviser.
His extended barn family helps look out for him, too.
Homan said the kids want each other to succeed, and without being told to, the other 4-H members took William Wenning under their wings.
There's a chance he may go completely deaf, Jodi Wenning said, but they won't know unless it happens; her son is learning sign language just in case.
With how much horses have done for the youth, it's almost no surprise that he wants to share them with others.
Jodi Wenning said that when her son gets older, he wants to own his own barn full of horses, and work with children with special needs.