Monday, April 12th, 2021
Celina fighter wins TV match
By Tom Haines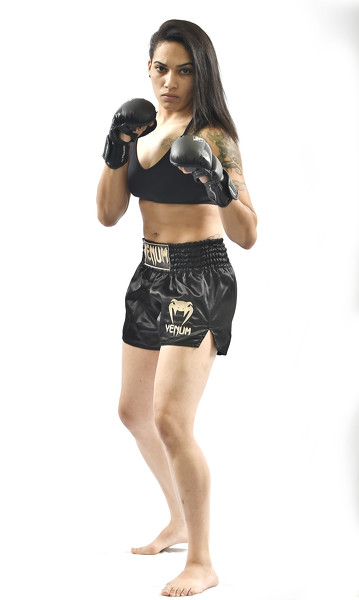 Entering her first mixed martial arts fight in over two years, Celina's Diamond Long was ready to go from the moment she and Sarah Cook touched gloves.
"What I mainly remember is, she was staring me down a lot," Long said. "She was tense, and I was just in the moment."
Two minutes and 26 seconds later, Long had Cook in a chokehold and Cook tapped out, giving Long a win Saturday in Premier MMA Championship 16 at the Hits Entertainment Complex in Covington, Kentucky.
After both fighters had traded blows, Cook started to go on the offensive, trying to force Long to the cage as Long circled out and moved back toward the center. With just over a minute left in the first round, Long connected twice with her right, and after the second one Cook fell to the mat.
"In that moment when I dropped her, it seemed like it was slow motion," Long said. "I was like, 'Oh yeah, this is the part when I should get on top.' I got on top and let my hands flow."
From there it was all but over. Cook tried to get away with no success, and 30 seconds later Long had her in a rear naked chokehold. There were still 34 seconds left in the first round when she tapped out.
Long had been feeling confident, even as Cook landed blows, because she had been able to keep her positioning. She stayed largely on the defensive, but comfortably fended off each attack.
"She did throw a good leg kick as I was moving, so that was really good, but then I immediately countered and got her pretty good," Long said. "She tried to grab me, to get me against the cage or take down, but my footwork was on point and I didn't allow her to take me down."
After the fight, she got to celebrate over video chat with her kids, who had watched live on PPV in Celina after a late schedule change.
"They were all going wild," she said. "They sent me text messages afterwards, it was awesome. They were all wearing all the t-shirts and everything, they were so proud of me."
With her comeback off to a victorious start, she is still waiting to figure out her next fight with nothing currently scheduled. But she'd like to fight for Premier again when Premier 17 rolls around, and there are likely to be opportunities there as well as with other promoters.
"Monday's a new day," she said. "I can't wait to get back in training mode. 'No time off,' is what I told my coach."