Friday, April 16th, 2021
Rally for the W
Late run lifts Minster past Parkway
By Dave Stilwell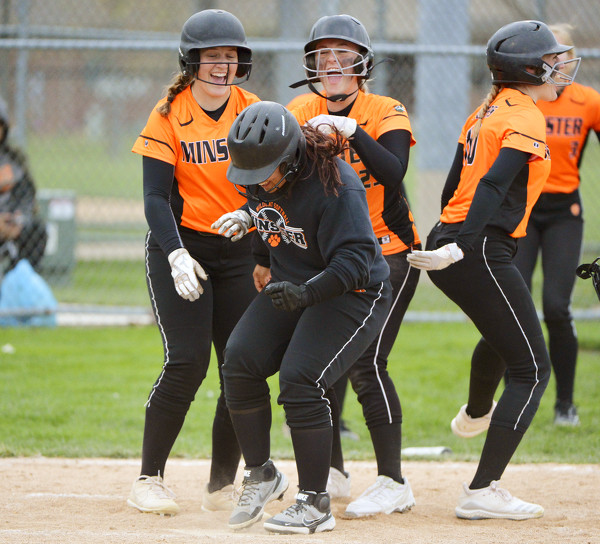 MINSTER - With things looking bleak, Minster softball coach Robb Hemmelgarn was looking for a defining moment. And with one swing of the bat, Alexis Bishop delivered.
Bishop slugged a three-run homer in the bottom of the fifth that helped Minster rally from a 7-2 deficit and post an 8-7 victory over Parkway Thursday at Four Seasons Park.
Hemmelgarn knew that digging a hole against the perennial MAC power Panthers would be hard to climb out of.
"Claire Langenkamp is an outstanding pitcher. They have an outstanding tradition and culture, great coaching, and we knew it was going to be a battle," Hemmelgarn said. "I'll be honest, we got down five and we needed a defining moment to see what our team is made of."
Parkway made the most of two first-inning walks and some aggressive base-running to take a 2-0 lead in the top of the first. The Panthers made it 4-0 with a two-run single by Madison Louth in the third.
Langenkamp retired the first seven Wildcats she faced before giving up a solo home run to Mikaela Hoskins, who took advantage of the wind blowing out to right field. Minster tacked on one more run in the bottom of the third when Savanah Bergman reached on an error and eventually crossed the plate on a wild pitch.
The Panthers appeared to blow the game open with a two-out rally in the fourth. After the first two batters were retired, Langenkamp, McKayla Sites and Paige Stephenson loaded the bases with back-to-back-to-back singles. All three girls eventually scored on wild pitches for a 7-2 Parkway lead.
Minster chipped away with a pair of runs in the bottom of the fourth. Emma Goubeaux singled and scored, while Hoskins knocked in another run with a single.
In the fifth, Hannah Oldiges and Goubeaux delivered one-out singles to set the stage for Bishop. The Minster senior crushed an 0-2 pitch deep over the fence in right center to tie the score at 7-7.
"That was huge," Hemmelgarn said. "It really put a spark in us, and I also think it deflated them a little bit."
"The homer did hurt, but we had three or four mental errors before that kind of compounded things," Parkway coach Trey Stover said. "The home run does not bother me as much as the mental errors."
The Wildcats plated what proved to be the winning run in the bottom of the sixth.
With two outs, Bergman stretched a single into a double when she slid in under the tag at second base. Lyndi Hemmelgarn followed with a solid single in the gap in right-center to score Bergman for an 8-7 lead.
Hoskins came on in relief of Minster starter Rachel Hoying in the fourth inning. After giving up the three singles and three wild pitches, she settled down and retired 10 of the last 11 batters she faced.
After collecting nine hits in the first four innings, the Panthers were held hitless in their last three at-bats.
"It's like I just told the girls out there, I feel like they got a little complacent when we got the lead," Stover said. "They need to have that killer instinct. When you get somebody down, you have to go for it, and I don't think they did that tonight."
Danielle Huff, came on in relief of Langenkamp in the seventh and ended up suffering the loss. Stephenson collected three hits and two RBI for the Panthers, who fell to 6-2 overall and 1-2 in the MAC. Parkway is back in action tonight, hosting Riverside.
Minster improved to 2-0 in the MAC and 8-3 overall. The Wildcats hosts Spencerville tonight and travel to Fort Loramie for a doubleheader on Saturday.