Thursday, April 29th, 2021
Lured by Competition
$10K in prizes at tournament this weekend
By Tom Haines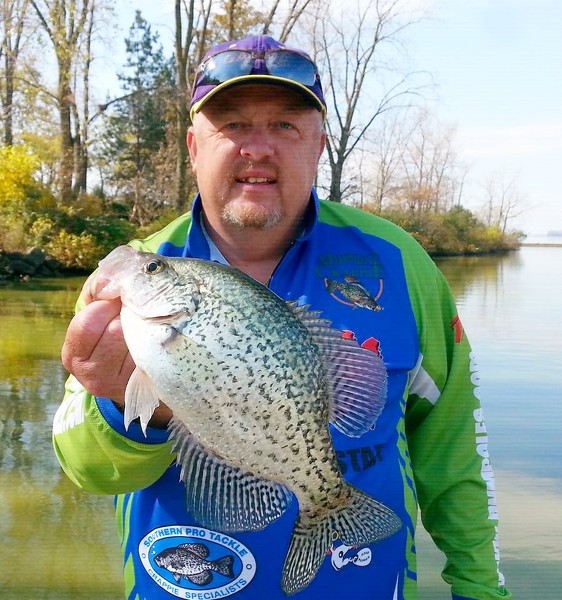 In 2019, BrushPile Fishing and Crappie USA hosted an annual crappie tournament on Grand Lake in less than ideal conditions. Heavy rains and near-flood conditions drove a number of anglers to back out at the last minute, and BrushPile closed out the event with a Facebook post that read, in part, "We look forward to ordering up better weather for the 2020 event."
When the date rolled around in 2020 and the COVID-19 pandemic hit, weather was the last thing on anyone's mind.
On Friday and Saturday, Crappie USA returns to Grand Lake for the first time since that wet weekend in 2019, with a kids' rodeo on Saturday for those ages 12 and under.
"For the last four or five years, Grand Lake St. Marys has been on fire for crappie fishing, and that's both numbers of fish and the quality of fish," said Russ Bailey of St. Marys, the host of BrushPile Fishing's TV show produced by NKTelco. "So if the weather straightens out, which it looks like it's going to, we could have some real big weigh-ins. I think everybody will have a blast fishing it."
The tournament will have two divisions, pro and amateur. Teams will have the chance to weigh in seven fish at the end of the two days, with the heaviest total weights winning prizes. Teams also have the option to enter the big fish competition, which pays out for the biggest single fish caught.
The big fish competition on Grand Lake sees some impressive weights, with anglers murmuring about the potential for crappies to weigh in at two pounds or more.
"Everyone who goes out and fishes here says, 'Oh, I caught a two-pounder,' but that's pretty rare," Bailey said. "But I know a pound and three-quarters this time of year is very realistic."
Crappie USA guarantees total prizes of $10,000. The exact amounts for the top finishers will be determined by the number of contestants signed up when registration closes. Late registration is still available online until 7 tonight at
https://www.crappieusa.com/Tournament_Registration.cfm
. Contestants also can register in person at a seminar at 5 p.m. today at the Celina American Legion, with a captains' meeting following at 7. The public is welcome to attend the seminar.
The Grand Lake tournament is one of three "super events" on Crappie USA's national trail. The top five teams in each division will qualify to advance to the Crappie USA Classic on Lake Hartwell in South Carolina in October. The national tournament will have more than $165,000 in prize money.
The tournament brings in visitors from around the country to the Grand Lake region, including teams from New York, Alabama and Pennsylvania. This translates into more local tourism revenue.
"I know we're blessed in the area that we're at to have Grand Lake St. Marys, to have great fishing, not only crappie but several species and great businesses around it too," said Marcus Borgerding of New Knoxville, a sales manager at NKTelco who helps produce BrushPile Fishing. "So a lot of positive things are going on, so it's good to see and very exciting for us to just be a small piece of it."
As for the kids rodeo on Saturday, all youth who participate get prizes, and the event helps Crappie USA raise money for scholarships.
For Borgerding, who has five-year old twins, introducing them to fishing has given him another thing to share with them.
"Anytime I try to go out, I bring their poles with us, and usually I'm tending to their poles more than my own," Borgerding said. "But hopefully I'll have plenty more opportunities to fish as they get older, and that's what they'll want to do in our free time, or here and there."
Although Crappie USA has only been hosting tournaments on Grand Lake for a few years, the event hearkens back to the Crappie-thon tournament that was held on the lake for many years. That tournament had up to $65,000 in prizes, but was canceled in 2000 due to waning interest.
BrushPile Fishing thought a new tournament would help bring people back to the lake after blue-green algal blooms stifled tourism to the lake. Local efforts to improve the lake and water quality testing done in recent years shows lower algae counts.
"A lot of the P.R. attention that came to the lake was negative due to the algae bloom, and the threats and the concerns that were associated with that," Borgerding said. "So our general manager, Preston Meyer, he was fishing some tournaments himself, and he talked to Crappie USA and he said, 'Hey, I would like to have a big tournament to bring some positive P.R. to the lake and to the area, (to show) that people can still be on the water and fish, you don't have to be scared of it.'"
Bailey, who as the host of BrushPile Fishing tries to deliver tips from the best crappie fishermen in the country, said Grand Lake as a man-made lake is a unique place to fish.
"We had a team from the South come in, and they said, 'Hey, we can't find a good map of this lake, we're looking for drop-offs and ledges and stuff,'" Bailey said. "Well, guess what, we don't have those up here, with this being hand-dug. I just tell people, go into the bays, go into the coves and the channels, and just start fishing shallow water."