Saturday, May 1st, 2021
Life in the fast lane
Celina man returns to instructing at Mid-Ohio Sports Car Course
By William Kincaid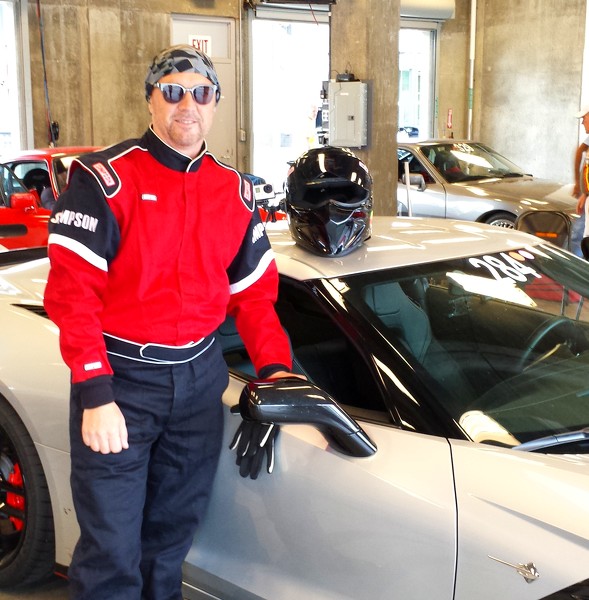 CELINA - After an 18-month hiatus, Ken Bigham, Celina, found himself back in the saddle at Mid-Ohio Sports Car Course in Lexington, Ohio, a few weekends ago, instructing and driving with Mid-Ohio Region-Porsche Club of America.
"I'd taken time off for COVID. I didn't coach last year. So I was thrown to the wolves," Bigham, 63, told the newspaper. "The first run session I was like, 'Oh my god, I'm getting run over.' But it came back to (me), and by the second and third session, I was back in the (zone) and feeling pretty good."
Bigham, a Celina-based field claims superintendent for Cincinnati Insurance Companies and weekend warrior of sorts, did indeed quickly regain his mojo. Driving his personal track car, a Chevrolet Corvette C7 Stingray, Bigham clocked in a personal best lap time of 1 minute 42.2 seconds at the 2.5 mile, 13-turn course that hosts Indycar, NASCAR and IMSA WeatherTech racing series.
For more than 15 years, Bigham, a lifelong driving enthusiast and Porsche owner, has been an MORPCA instructor of High Performance Driver Education at Mid-Ohio Sports Car Course. On the weekends beginning in April, Bigham leads a classroom and offers one-on-one coaching to drivers of varying skill levels, ranging in age from 18 to their mid-70s.
Some of the drivers aspire to race competitively while others want nothing more than to improve their lap time. Either way, Bigham ends up in the passenger seat of his students' very expensive high-performance sports cars. Multiple run groups of up to 45 cars are assembled based on experience and pace, Bigham said.
Instructing is a physically daunting task, Bigham said, adding it's hard enough driving at that g-force level, let alone having no steering wheel to hold onto and trying to keep your lunch down.
"We run very close to each other. It's not unusual for instructor groups for us to be maybe a car length, maybe less, occasions well over a 100 mph," he said. "If it's somebody you know, you'll go ahead and close up and be pretty close to them because you know where they're going to brake at."
There are five class levels - green, yellow, blue, red and white, with the later the most-skilled. Bigham said a green-level student usually has no track experience while a blue-level student will quickly transition to solo runs on the track.
"That's the whole goal for each student. That's the carrot that we have on the end of the stick - you crawling out of their car and letting them on the track in their run group, which can be 40-plus cars," he said.
Long before solo runs, Bigham takes time to discern each student's motivation for enrolling.
"My first few minutes with someone new, I'm asking about their past. Where have they driven? Is this their first event? Why are they here?" he asked.
Some are in it for what Bigham calls the hero experience - they've always wanted to drive on a race course, and be captured doing so in pictures or videos. And there's absolutely nothing wrong with that desire, he said.
Then there are those pupils who already have logged a decent amount of track time.
"They know the line on the track. They've put on some sticky tires versus some street tires. They've put on some more aggressive brake pads that aren't going to fade on us after six or seven laps," Bigham explained. "(They're) there to drop a lap time by a second or a second-and-a-half."
Bigham and a student while driving will talk via a communicator in their helmets. But the chatter is limited. His overriding priority in this setting is safety.
"When they get to driving at high speeds, they'll just start to get tunnel vision and they're not paying attention that there's a yellow flag out, or that there's a flag out for debris in the middle of the track, or there's a red flag out which means we need to come to a stop immediately because something bad has happened on the track," he said.
A more detailed evaluation of the student's overall performance occurs when the ride is over.
"I want them processing that and visualizing that before we go out again because that's one of the key things to do so that they can visualize where that car should be the next time out," he said. "And we'll talk about what they didn't quite achieve, but I always try to leave on a couple of positive notes."
Driving runs are scheduled on Fridays, Saturdays and Sundays, with each session lasting between 20 to 40 minutes. Most track days Bigham works with one to three students.
"On a hot July day when you're getting dumped out in hot pits and you're literally running to get in the next car that's waiting for you, those are long days," he confessed. "I've spent seven and eight hours at a time in hot cars being driven by people with all different skill sets, and it's very taxing. It's one of the reasons I try to stay in some sort of shape."
Asked what qualities are required to drive well, Bigham listed curiosity and a willingness to learn.
"The No. 1 thing I tell them is check your ego at the gate. Just check it. Because there's always somebody that's smarter than you, better equipped physically than you - eye-hand coordination is the key. And it requires a certain amount of aggressiveness," he said. "But also situational awareness."
So far, Bigham said he's been lucky not to have been in any accidents on the track.
"I've never had a student not drive their car home," he said. "I've been in some stuff that was pretty close calls but I've never been in a situation where we've hit anything solid or impacted a wall - and I can't say that doesn't happen at the track."
When pressed on rather he'd be in the driver's seat or passenger's seat, Bigham said instruction gives him the greatest satisfaction.
"The real reward is the people that you've helped and you see that enjoyment," he said while tearing up. "I've had guys come out of sessions and call their family because the lightbulb finally came on."
Bigham, who has a wife, Cathy, and three adult children, said his love of driving traces back all the way to when he was a young boy living on a 2 acre spread outside of Rockford.
"I had a go-kart and I had a go-kart track. Every waking moment that I could pour half a gallon of fuel in a fuel tank, I was out there making laps," he recalled. "And my dad (Wesley) ran a garage at the time."
He was always mechanically-inclined and his interests would soon turn to automobiles.
After graduating from Parkway High School in 1975, Bigham got a job with Celina Insurance Group, where his mechanical knowledge came in handy.
"So if someone was talking about a suspension component being broke, I knew the difference between a control arm and a spindle or a ball joint," he said.
In the late 70s, he jointed the Grand Lake Corvette Club. He had a 1972 Chevrolet Corvette Stingray that he drove in autocross, a competitive, low-speed, timed event. Courses were marked with cones. Knocking over a cone resulted in a two-second penalty.
"Not only did you have to be aggressive but you had to be clean," he said. "Those early skillsets of understanding how to make momentum change in something that weighs 3,000 pounds or more, in a few feet to get through a gate or to get into what they would call a garage (a rectangular box) … were developed at autocross - and I still think that that's one of the best things that people can do if they're trying to get into the next stage."
He also read any book he get on the subject of driving, including setup.
"I think that's one of my strengths that's made me successful," he said, "I've done, for the most part, all of my car's setup."
Bigham has been involved with Porsche Club of America for 25 years and was named novice driver of the year and driver of the year in its autocross series, which he calls a good feeder into the High Performance Driver Education.
"After several years of going to various tracks as a student I completed the instructor requirements and have been instructing for over 15 years," he said. "I've also been an instructor mentor for upcoming instructors."