Monday, May 3rd, 2021
Nature preserve joins list of old growth forests
By William Kincaid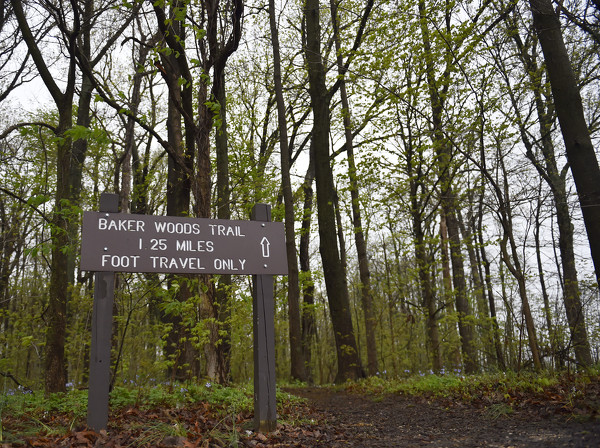 COLDWATER - Baker Woods State Nature Preserve has joined the ranks of the oldest know forests in the nation.
The woods, located at 4316 Saint Anthony Road, is one of four state nature preserves that in April were inducted into the Old Growth Forrest Network, a series of protected native forests where people can experience biodiversity and the beauty of nature. The OGFN organization is based in Easton, Maryland.
"Majestic forests that supported abundant biodiversity were this nation's inheritance. The vast majority of those forests have now been removed or radically altered (average loss is 95% in the west and 99% in the east)," OGFN states.
OGFN seeks to locate and designate at least one protected forest in every county that can sustain one.
"The problem is if we don't manage for old growth, we'll never have it again," Jeff Johnson, Ohio Department of Natural Resources' chief of natural areas and preserves, told the newspaper.
Old-growth forests are increasingly rare and ecologically important environments for a variety of native species, a ODNR news release states.
"The OGFN includes forests with these valuable attributes that are publicly accessible and have formal protection against commercial logging. With this year's induction class, Ohio now has eight state nature preserves in the network," the release states.
The newly bestowed designation of this natural site north of the village of Coldwater is a major recognition of a protected forest, Johnson asserted.
"By dedicating this and putting this is in the network, it gives a little recognition. You've got a site that has older trees," he said. "Some of those trees in there are probably 150-to-200-year-old trees in there. Definitely not the 400-to-500-year-old that you expect in a virgin (tract) of trees but at least it's halfway there. It's on the way."
Moreover, the OGN classification may spur additional interest in Baker Woods, he said.
"Somebody in California that may never ever hear of Baker Woods can get onto this website (oldgrowthforest.net), see that there's 18 sites in Ohio that have been designated, one of them's Baker Woods," he said.
In fact, Ohio has the most forests listed int the OGN, he quickly added.
"Ohio, right now anyhow, is leading the way with recognizing and trying to find these sites," he said.
Baker Woods was donated to the state by Lela Mae Baker in 1992. It comprises 47 acres, of which 42 are considered old-growth, per OGN's website. It contains a 1.3 mile trail or a shorter loop of 0.6 miles for visitors to enjoy.
White and red oaks dominate the drier areas of the woods while the wet areas consist largely of swamp white and burr oaks and an understory of American elm, according to an article written by Michelle Comer, a regional manager of ODNR's Division of Natural Areas and Preserve.
Numerous pawpaw trees that produce a tropical fruit that tastes much like a mango also grow along the trail in wetter areas of the woods.
"In the spring, the forest awakens with a carpet of spring wildflowers. In the summer, a cloud of mosquitoes will faithfully follow you on your ramble," she wrote. "If you can tolerate them, it's worth it. The fall, with its blaze of color and rich woodsy smell, will astonish you. Winter brings a beauty all its own - the quiet solitude of a sleeping forest with just footprints in the snow."
Baker Woods, like other state natural areas and preserves, is intended for passive recreation, natural observation, research and education and is open to the public one-half hour before sunrise to one-half hour after sunset, according to the state.
Visitors are required to stay on the trails and picnicking is permitted only in areas immediately adjacent to the parking lot.
Vehicles, bicycles, roller blades, skateboards and pets all are prohibited.