Tuesday, May 18th, 2021
To Mask or Not To Mask
Celina School Board rejects mask motion
By William Kincaid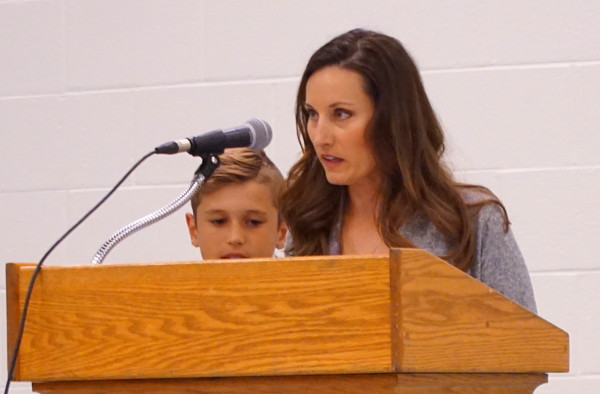 CELINA - Celina City School board members on Monday night voted down a motion to remove immediately the mask mandate in all school buildings and properties, after an animated and at times emotionally charged debate among school officials and parents.
Board member Carl Huber made the motion after hearing from three parents, of which only one has children enrolled in the school district, call for an end to the mandatory mask policy. The motion was defeated with board members Bill Sell, Barbara Vorhees and Craig Flack voting "no," and Huber and Deb Guingrich voting "yes."
Sell, Vorhees and Flack agreed the mask policy should stay in place until June 2, when existing state health orders will be lifted by Ohio Gov. Mike DeWine. The last day of school for students is May 28.
Parent Wendy Irmscher thanked board members, teachers and parents for ensuring that students returned to school buildings this year. However, she believes now is the time to do away with mandatory masks.
"I'm also a parent who's asking you to vote tonight to immediately end the mandatory masking in the Celina City School system, indefinitely," she said. "I will have to look at other options for my children in the fall if we return with masking."
Irmscher said 14 months into the COVID-19 pandemic, it is now known that children aren't super-spreaders. Neither are schools, playgrounds, youth sports, proms or graduations, she claimed.
"We know that masks have little effect if any on the transmission of a virus yet we know the psychological, social and physical effects of masking are obvious and they're detrimental," she claimed. "Absolutely nothing at the state and federal level has been done to protect our children."
Irmscher said it's imperative to make decisions at the local level while keeping national politics out of the discussion.
Her son Boston, a third grader at Celina Elementary, spoke at Monday's school board meeting. He said it was a tough year wearing masks. He said it was hard to communicate with and understand his teachers and friends.
Board members also heard from two other parents, Ashley Lance, who said she has children enrolled at Immaculate Conception School in Celina, and Kim Muhlenkamp, who said she has children enrolled at Coldwater Exempted Village Schools.
Flack, the board president, made it clear that board members have nothing to do with setting polices at Immaculate Conception and Coldwater schools.
"We have been told over and over that children are the least affected by this virus with a 99% survival rate," Lance said. "We have been told that they are not super spreaders or asymptomatic carriers. So the questions becomes, why? Why are we doing this to our children? Why have we let this go on for this long?"
Children's lives were turned upside down. They were no longer able to see the faces of their teachers and friends, she said. She questioned why students have to wear masks when sitting down in class but not when at a restaurant, grocery store, playing contact sports and playing with friends at recess.
"I can tell you that we the parents are done with the masks, and we don't want to do this next year or ever again," Lance said.
Muhlenkamp became emotional when recalling her daughter tell her she can't see the faces of her friends and teachers and hence didn't know if they liked her.
"I want you to put the children first and I want you to consider their social development, their emotional development and what the children need to learn and grow," she said.
Huber said it's a shame that mandated masking has gone on this long.
"I've talked to all you board members already about this. We should have stopped masking months ago," he said.
Sell disagreed.
"Very smart people received a great deal of education to study viruses," he said. "They know way more about it than what I do, and if they - whether they're Republican or Democrat or Independent or Dixiecrat - if they say that masks help and they've got degree after degree in studying not only viruses but epidemiology, epidemics, I've got to trust them somewhat."
Sell said he doesn't believe that health experts have a secret agenda or are pursuing their own agenda.
Moreover, Sell made the case that a student may be at-risk and not even know it. Exposure to a pathogen could be deadly, he said.
"If we get sued, a lot of the same people who are criticizing us for requiring masks will say, 'what's wrong with them for not following the Mercer County Health Department and requiring masks for eight more days," Sell said.
Guingrich said mask-wearing at this point should be a personal decision.
"I'm to the point where I understand why we needed to do something. We're negligent if we don't do something," Guingrich said. "But there gets to be a time where I think we need to be personally responsible and be able to make those decisions for ourselves for what we want for us, for our kids, for our family and what we feel is best for us."
Vorhees said she doesn't disagree with any statement made during the meeting. She believes that wearing a mask is a personal choice but she would like to ride out the year under the status quo.
"We're not done with it yet. They keep saying that. I'm a believer in science. I think we just need to ride it out for a little bit longer … and then go from there," she said.
Superintendent Ken Schmiesing pointed out the district's insurance company indicated school officials could be putting themselves "in a liability situation" if they go away from health district orders.
Mask wearing has resulted in considerably fewer students having to quarantine, Schmiesing continued. If the mask mandate were nixed, some students could be exposed to COVID-19 and miss out on graduation or post season tournament play, he noted.
"That would be a heck of a blow," he said.
Flack approached the issue from a liability standpoint, asking whether voters would rather see the district spending taxpayer dollars to fight a lawsuit or wait a few more days until the state health orders are lifted.
"For all of you that are gathered in here, you know someone equally as passionate about masks that live in our district and sends their kids to this school," he said. "What is to stop them from calling a lawyer and saying, 'my district is now going against the health department?'"