Saturday, May 29th, 2021
A Hero Comes Home
Procession will pass through Celina and Coldwater
By Leslie Gartrell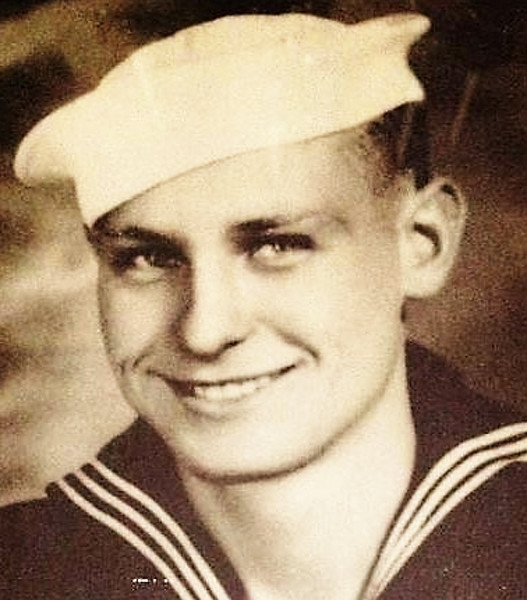 CELINA - Robert Edward Bailey, 21, was waiting for his brother to join him on the USS Oklahoma in Hawaii during the early hours of a day that now lives in infamy.
Bailey had switched places with another Navy officer on the battleship so he could be on board when his older brother Willis arrived.
Not long after, torpedoes bludgeoned the battleship and the USS Oklahoma capsized, taking Bailey and 428 others along with it.
Now, more than 80 years after his death, Bailey is coming home to Celina be laid to rest during a Memorial Day procession in his honor.
The USS Oklahoma Project
It wasn't until January of this year that Bailey's remains were identified by DNA testing. Until Jan. 19, 2021, Bailey had been listed as missing from World War II.
Remains such as Bailey's that could not be identified from the USS Oklahoma were buried at the National Memorial Cemetery of the Pacific in Honolulu, Hawaii.
In 2015, the Department of Defense and the Defense POW/MIA Accounting Agency received authorization to exhume unidentified remains associated with the USS Oklahoma and re-examine them using advances in forensic technology.
The DNA testing was conducted by the DPAA, an agency within the U.S. Department of Defense. The agency's mission is to recover U.S. military personnel who are listed as prisoners of war or missing in action from designated past conflicts from countries around the world, according to the DPAA.
From June through November 2015, DPAA personnel in cooperation with cemetery officials exhumed all remaining caskets associated with the USS Oklahoma at the National Memorial Cemetery of the Pacific and transferred them to DPAA laboratories.
Laboratory analysis and the totality of the circumstantial evidence available established one set of these remains as those of Bailey.
Shipfitter Third Class Bailey
Born July 14, 1920, on a farm off of Younger Road, Robert "Bob" Edward Bailey was the youngest of 10 siblings, niece Marilyn Giere of Celina said.
Bailey was fresh out of high school when he joined the Navy. Willis and another older brother, Grover, both were in the Navy, Giere said, and Bailey enlisted because he wanted to serve alongside them. He was only 19.
With two sons already enlisted, Bailey's father refused to sign the necessary paperwork allowing him to join. His father could sense that war was coming, Giere said, and he didn't want his youngest child anywhere near the action.
However, against his father's wishes, Bailey convinced Grover to sign his paperwork, she said. He was inducted into the U.S. Navy on Nov. 21, 1939, in Cincinnati, and completed his training at the U.S. Naval Training Station in Great Lake, Illinois.
After graduating from boot camp and shipfitter schooling, he was transferred to the USS Oklahoma. As a shipfitter, Bailey was responsible for fabricating, assembling and erecting all structural parts of his ship.
Willis "Willy" Bailey narrowly escaped the same fate as his brother and watched as Pearl Harbor devolved into chaos, Giere said. He was never the same afterward, she said, burdened with the guilt of surviving and the knowledge that his brother was on the ship just to be with him.
Giere said the family had gathered around the radio when the attack came, listening intently for some kind of news regarding Bailey, the baby of the family.
Nellie Bailey Woodruff of Geneva, Ind., Bailey's last surviving sibling among four sisters and six brothers, in a Dec. 1989 article from the Daily Standard said their father knew his youngest wasn't coming home.
"When we received news that the Oklahoma had capsized, my sister Hazel (Houser) fainted," she said in the article. "My father felt that Bob was gone, but we didn't know for sure until the letter from the Navy came."
The aftermath
From December 1941 to June 1944, Navy personnel recovered the remains of the USS Oklahoma crew, which were subsequently interred in the Halawa and Nu'uanu Cemeteries in Honolulu, according to the DPAA.
In September 1947, tasked with recovering and identifying fallen U.S. personnel in the Pacific Theater, members of the American Graves Registration Service disinterred the remains of U.S. casualties from the two cemeteries and transferred them to the Central Identification Laboratory at Schofield Barracks, the DPAA says.
Laboratory staff were only able to confirm the identifications of 35 men from the USS Oklahoma at that time. The AGRS subsequently buried the unidentified remains in 46 plots at the National Memorial Cemetery of the Pacific, known as the Punchbowl, in Honolulu.
In October 1949, the AGRS ruled Bailey, along with those who could not be identified, as unrecoverable.
Bailey was awarded the Purple Heart after his death, which his father accepted on his behalf, Giere said. His family was sent a letter from President Franklin Delano Roosevelt in honor of Bailey, which reported him as "missing following action in the performance of his duty in the service of his country."
Bailey was the first Mercer County resident to die in World War II, according to Charlie Koesters, senior vice commander of the Coldwater Veterans of Foreign War Post 5135. The VFW later was co-named after Bailey and First Lieutenant Luke Schockman, also from Coldwater, who also was killed in action during World War II.
"It's touching that he's truly coming home."
Giere said she and the other nieces and nephews of Bailey all grew up hearing about him and that day. She and her cousins usually get together three or four times a year, and Bailey's name and story always seems to come up somehow.
The family learned of the possibility of identifying his remains about two years ago. They met with Navy personnel in Detroit and were told that they could try to match their DNA with Bailey's to identify his remains.
Giere said it sounded promising and four of the cousins provided their DNA, but they never heard back until recently.
"We're sad but ecstatically happy because our parents lived to the see the day he'd come home, and now it's here," she said, trying to hold back tears. "It's bittersweet, and we know they're all looking down and would be proud we're pulling this together. It's touching that he's truly coming home."
Bailey will be laid to rest alongside his brother Willis and across from his parents, George and Laura Bailey, in Swamp College Cemetery near Celina on Memorial Day.
Procession information
The public is invited to honor Bailey during a funeral procession at 12:30 p.m. Memorial Day. Individuals are encouraged to show up anywhere along the funeral procession route to pay their respects.
The procession will begin at Cisco Funeral Home, 6921 State Route 703, Celina. From Cisco Funeral Home, the procession will travel West on State Route 703/Market Street in Celina.
At Main Street/U.S. Route 127, the procession will turn left on Main Street to Younger Road approximately 3.6 miles and turn right on Younger Road. Younger Road is where Bailey was raised.
The procession will travel west on Younger Road approximately 1.9 miles then turn left onto Fleetfoot Road. At State Route 219 the procession will turn right and enter the city limits of Coldwater on Main Street.
The procession will turn left on State Route 118/Second Street and continue south to Coldwater VFW Post 5135, 3720 State Route 118.
Visitation is scheduled at the VFW from 1-2 p.m. with the funeral service following. After the memorial service, burial will follow at Swamp College Cemetery, 6496 Karch Road, Celina, with full military rites by the United States Navy.
Giere said the family would love to see as many people as possible show up to honor their fallen family member and witness the historic event.
See a a story from Memorial Day, a photo album of the service and a video of the service.