Monday, June 7th, 2021
'Topp' Cats
Minster boys win first-ever state track and field championship
By Tom Haines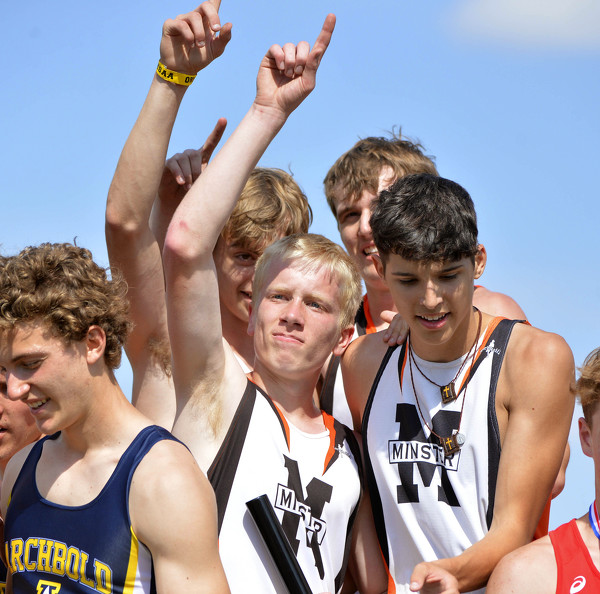 WESTERVILLE - Minster had one last event to pull out its first state title in boys track and field.
Trailing by four heading into the 4x400-meter relay, the Wildcats needed to earn five more points than McDonald, which was also in the race. McDonald ran in the middle of the pack, and Bryan Falk blazed ahead in the final stretch for the win and the Division III state crown at Westerville North High School on Saturday.
"I didn't know if they could improve on what they did yesterday," Wildcats head coach Larry Topp said. "Yesterday was a pretty good day, other than the 4x200, they had a little trouble with one exchange. But everyone was running ridiculous yesterday, and they stepped it up two notches today. We needed every bit of it."
After 35 years of coaching the Minster boys and 40 years of coaching track, Topp finally collected his first trophy as delirious fans chanted his name. After the presentation, the Wildcats gathered in front of the podium and Topp hoisted the trophy and danced around to a roar from the crowd.
"There's nothing they don't think they can do," Topp said. "They're willing to put everything on the line. Some of those finishes, of almost race we were in, those last 100 meters it was insane what they were doing. It was fun to watch. Wow, it was awesome."
Falk delivered almost half of Minster's points. Falk placed fourth in the 100, then turned in a phenomenal race in the 400, coming into the homestretch in sixth place before overtaking four runners to take second.
"That's how I run the 400," he said. "I see where I am in the final 100 and give it all I got."
With the Wildcats needing a win and a weak finish by McDonald to earn the title, Falk came through again.
Nathan Droesch moved up from sixth to second in the second leg and Joseph Slonkosky passed Austin Roth of Archbold on the third leg to set up Falk as McDonald slipped from fourth to fifth. Falk dueled Trey Theobald all the way, with Theobald briefly pulling ahead on the final turn before Falk turned on the jets.
"Just going for the win, because I didn't know where McDonald was," Falk said. "Depended where they were, what we had to get. I felt the guy coming up on me and something kicked in, fueled me for the last 100 meters."
Falk, a senior, had never competed at state track before, because he hadn't competed in track at all before 2021. He played baseball for two years and by his own admission wasn't very good before switching over to track and losing his junior year to the shutdown.
In addition to Falk's 13 individual points, junior Alex Albers ran two events for the Wildcats, finishing third in the 800 and fifth in the 1600 after anchoring the 4x800 relay on the way to a sixth-place finish on Friday. He started out slow in the 1600, stuck in 15th after the first lap and 11th after the second before starting to run down one runner after another.
"I definitely went off a little too conservatively, so I just had to clean up after that," he said. "I was able to do that to a degree, maybe not as good as I wanted to. I just had to make sure I didn't let my start get to me, pick off as many guys as I could to finish strong."
In the 800, Albers was running neck-and-neck with Bluffton's Simon Derstine for the final lap, and even though Derstine pulled away late, the two ran down fading Dalton runner Evan Hodkinson as Albers slid into third.
"I tried to pass (Derstine) on a curve, which is super hard," Albers said. "So we just ended up running beside each other for a super long time. But I think that pushed us both to faster times, keeping us aggressive, and we were able to catch up to the front guys a little bit."
The final piece was Slonkosky, who before his key leg in the 4x400 ran fourth in the 300 hurdles for five more points.
While Slonkosky is a junior, seniors Droesch and Brady Hoelscher joined classmate Falk to form a veteran team for the 4x400, and Albers acknowledged the role that they and the other seniors played in building up a team that could win.
"They missed last year and you can tell," Albers said before the final relay. "They come out with fire every day. It's so supportive - every guy, they'll stop their warmup completely to watch another guy run. I think that's why we've been as successful as we have been so far."
When all was said and done, Falk, Albers, Slonkosky and the two relay teams piled up 41 points and a state title, the first boys title for any Midwest Athletic Conference team.
"There's been some hellacious teams that I had, Versailles, Coldwater have had," Topp said. "You've got to be fortunate when you get down here. We were healthy and lucky."