Wednesday, June 9th, 2021
Expiration Date
Some food bank packages open, food expired
By Leslie Gartrell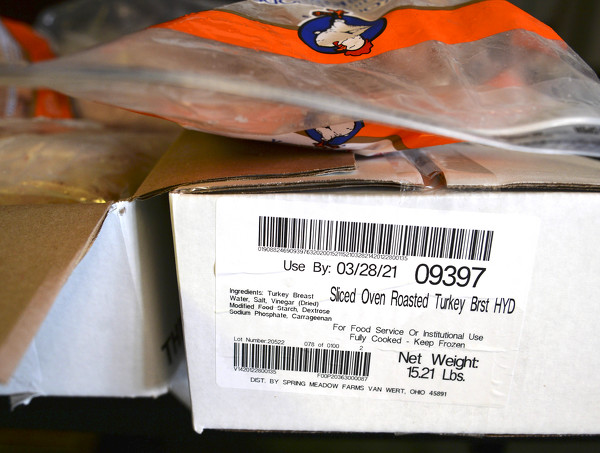 CELINA - A food distribution run by the West Ohio Food Bank on Tuesday provided two Mercer County residents with boxes of meat in plastic bags that were open and past the use- by date.
Rockford residents Bonnie Beougher and Flori Bollenbacher said they had waited for about two hours in the food distribution line outside The Galleria in Celina on Tuesday when they picked up their boxes of food.
Among the food distributed to the women were two boxes of frozen, fully-cooked sliced turkey breast and two bags of frozen chicken breasts, which they said had been sitting in the 82 degree heat - uncovered and unrefrigerated - when they picked up their food.
After they picked up their food, the women said they immediately smelled a strong odor from the boxes and bags of meat. The pair opened one box of sliced turkey breast to discover multiple packs of meat with gaping holes in the plastic bags containing the meat. The meat had thawed and the box was somewhat damp, both women said.
The box of sliced turkey breast the women had opened had a use-by date of May 4, 2021. The second, unopened box of turkey breast had a use-by date of March 28, 2021. The two bags of frozen chicken breasts also had a use by date of May 2, 2021.
According to a pamphlet on the West Ohio Food Bank's website, the use-by date "is the date recommended for use of the product at the best quality according to the manufacturer. If a product has a 'use-by' date, follow that date more closely."
The women brought the two boxes and two bags of meat, as well as some of the other food they received, to the North American Indian Cultural Center to show executive director Lanna Samaniego what they had received. Beougher and Bollenbacher have used the center's services before and wanted to get Samaniego's thoughts on the matter.
The Daily Standard was present as Beougher and Bollenbacher showed the thawed turkey slices from the first package and the two bags of chicken breasts. Cindy Huston, an employee of the North American Indian Cultural Center, opened the second box of turkey meat. Inside the box were several packages of turkey with gaping holes in the plastic packaging.
"It stinks," Huston said as she opened the box. "That's horrible. That's bad smelling."
Huston quickly left to wash her hands in a restroom and could be heard gagging.
When contacted by The Daily Standard, West Ohio Food Bank CEO Tommie Harner said it is not uncommon to receive donations and freeze them to extend the product's shelf life.
However, Samaniego said food banks can't give out food that is out of date. Harner agreed and said the food bank would replace the food if Beougher and Bollenbacher contacted them. Bollenbacher said she had called the West Ohio Food Bank before contacting Samaniego, and said an official instructed her to throw away the food.
The boxes and bags of poultry simply state the use-by date and offer no insight into when the poultry was received by the food bank or how long it had been stored. Even if the meat had been frozen near the use-by date to improve its longevity, at least one box of the deli turkey meat was expired.
According to the U.S. Department of Health and Human Services, opened or unopened deli meat can be frozen for one to two months, making the box of deli meat with a use by date of March 28, 2021, expired by anywhere from nearly two weeks to over one month.
"We appreciate what they (the West Ohio Food Bank) do, but we're not guinea pigs," Beougher said.
Samaniego said she's received multiple calls from other clients over the past few months about food received from West Ohio Food Bank distributions.
This isn't the first time Beougher and Bollenbacher have received food they said was inedible from one of the food bank's distributions, they said.
In April or May, Beougher and Bollenbacher said they received ham hocks that were freezer burned beyond saving and rotten produce. Beougher said she also had received bags of chicken nuggets that were opnened.
Harner said the West Ohio Food Bank has several checks for quality before food is distributed, and volunteers flag and return shipments if packaging has appeared to be tampered with, thawed or has an odor, among other measures.
Volunteers also check boxes for food packaging dates and coded dates, which are the packaging numbers used by the manufacturer.
Harner said volunteers and officials at the food bank do not have the time or resources to open every package of food they are sent to check for damage or tampering.
During warmer months, food at the distributions are usually either covered with thermal tarps or blankets to keep items cold, or keep them in refrigerated trucks until needed, Harner said Tuesday.
Harner emphasized the food bank wants to make things right, and urged clients to contact them to have their food replaced if they ever receive inedible food. She said officials would check their inventory and check with donors to look into the issue further.
"We would never intentionally give out bad food," she said. "We really urge people to reach out to us. We can't fix something if we don't know what's going on."
If clients have had issues with their food, Harner urged them to call the West Ohio Food Bank at 419-222-7946.
According to Harner, the food bank distributed 37,746 pounds of food to 283 families in the county on Tuesday, or 755 individuals.
Each family received approximately 133 pounds of food.