Thursday, June 24th, 2021
Defense, pitching lifts Indians
By Gary R. Rasberry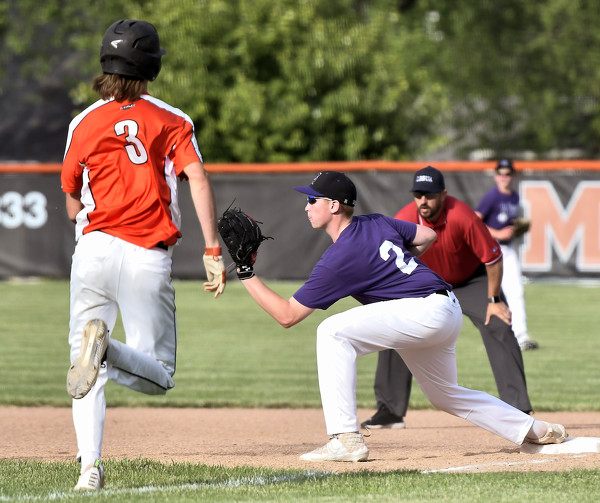 MINSTER - Not only did Daniel Patch shut down Minster from the pitching mound, he did damage with his bat.
The Fort Recovery junior-to-be doubled twice and drove in three of the Indians runs and pitched three innings of no-hit baseball in an 8-2 victory over the Wildcats in Minster in Wednesday night ACME action.
"Daniel certainly came through in clutch," said Kaup. "We were happy to see him make it tonight. He looked fine (pitching). He looked in midseason form."
Patch walked two and struck out five before giving way to Rex Leverette in the fourth inning. Leverette added three more shutout innings before getting into a jam in the seventh as Troy Homan came on to get the final out.
Patch got the offense rolling in the first after Homan walked and stole second. Patch doubled to the fence in left-center to score Homan. In the third, Landon Post walked to lead off the inning. Two outs later, Patch doubled off reliever Chase Couse to center to make it 2-0.
Fort Recovery plated three more in the fourth as errors led to two runs and a Post sacrifice fly made it 5-0. The Indians put up three more in the seventh as Patch singled home a run and a fielder's choice by Nate Jutte brought two runs home.
Minster had a chance to cut into the Recovery lead in the fifth as two walks and a single by Logan Kohne - the first hit allowed by the Indians - loaded the bases with no outs. Alex Schmitmeyer hit a hard shot to third base, where Homan began a 5-2-3 double play for two quick outs. After Couse walked, Leverette struck out Tyler Stueve to end the threat.
"That big play was when (Minster) was trying to get back into the ballgame," said Kaup. "We were able to turn that double play and get out of that inning."
"That double play put the nail in the coffin," said Minster coach Brett Hoelscher. "Their pitchers were really good."
In the seventh, Leverette got the first out before walking Eli Rindler and Kohne back-to-back. After a passed ball, Schmitmeyer lofted a deep enough fly to center to score Rindler and end the shutout. Couse followed with an RBI double to make it 8-2. Stueve walked and Nate Oldiges took a pitch for a ball, prompting Kaup to bring on Homan, who completed the walk to load the bases. With Zach Fortman up, Homan threw a wild pitch, but catcher Wyatt Bihn quickly got the ball and threw to Homan for the tag on Couse to end the game.
"Rex pitched very well," said Kaup. "I thought after that one pitch to Oldiges that he was out of gas."
"I thought we could have made some more plays defensively to keep us in the game," said Hoelscher. "But other than that, when you look at what we have this year from last year, we're trying to find a lot of spots right now."
Both teams are in action tonight. Minster plays host to St. Marys in an 8 p.m. game and Fort Recovery hosts Parkway in a Mercer County circuit game.