Wednesday, July 14th, 2021
Different uniform, just as dedicated
Former Ohio State star now Sister Mary Xavier
By Tom Haines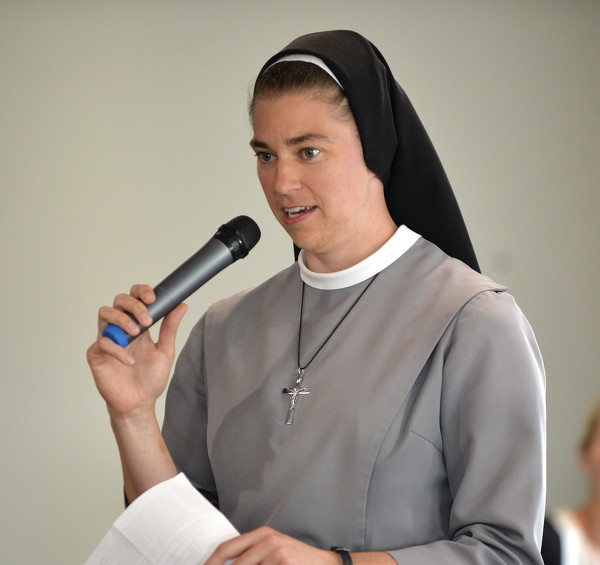 OSGOOD - For Sarah Schulze, growing up in Anna, sports were the foundation of her identity.
As she graduated from Anna and moved on to play basketball at Ohio State, she increasingly realized that she needed to found her identity on her faith instead.
After college, she became a religious sister with the Sisters of St. Francis of the Martyr St. George, taking the name Sister Mary Xavier, and got a master's in theology to learn how to teach others about God.
On Tuesday, she spoke about identity, sports, and virtue at the Do Good Restaurant and Ministry in Osgood, 20 miles from her hometown. Her brother, niece and nephew attended.
"It's a privilege, because to receive all the knowledge through studying and formation, that in itself most people don't get to do," Sister Xavier said. "But then to share it with other people, that's a gift too. And to see that you can actually help people grow closer to Jesus, that's a privilege as well."
Sister Xavier emphasized two aspects of identity: moral and ontological. The former is a matter of individual choices and the latter stems from God's creation and focuses on moral identity and forming virtues by habit.
"At the beginning, you're gritting your teeth," she said, comparing moral character to athletic training. "After a while, you say, 'That paid off.' I can run really easily, I have the freedom to do this."
In her own life, for better or worse, much of this work was done through sports, Xavier explained.
"Most of the virtues I have I've gained through sports, and I'm very grateful for that," she said. "But most of the vices and lies in my life were from sports too.
"Sports can be a perfect area to grow virtue, but you have to have good coaches and good parents. Otherwise, it's a cesspool of vice."
Considering other young athletes who were in her position, she highlighted the virtue of temperance.
"Do you play basketball all day? I did," she said. "That's not a virtue, that's a vice. Temperance requires moderation."
For young Sarah Schulze, sports became the center of her life, albeit a life full of frustration. After a loss to Fairlawn her high school freshman year, she punched out a locker room window.
Those frustrations continued even after her senior year at Anna, when a torn ACL and a particularly influential religious education teacher drove her to take a closer look at her life. By her freshman year of college, she had started to commit more to a Catholic life, insisting on making it to Sunday Mass and going to Adoration for the first time.
"I figured I'd pray a rosary and leave," she said. "Three rosaries later, we were still there. But it was the one place I found peace."
But on the court, those frustrations continued, even as Ohio State continued to win and made a deep tournament run her freshman year.
"Even though we made it to the Sweet 16, I didn't care, because I wasn't the star," she said.
Another ACL tear hampered the end of her senior year, but the trainer cleared her to play with a brace on her knee. When the season ended, a younger teammate invited the seniors to a shootaround, but Schulze knew she was done.
Instead, she moved on to a year of discernment at an inner-city school before finding the religious order with whose purpose she felt the most connection. Since then, her story has generated interest, both within her community and from the press.
"Most people think it's super cool that I went from being a DI athlete to a sister. Most people also think it's super weird," she said. "Why should it be weird for athletes to follow God's call?"
Nine years after joining the order, her year of discernment has come back to prepare her for her current role as a sixth-grade teacher in Hastings, Nebraska.
While Tuesday's audience was mostly adults, she said there were certain similarities to being in a classroom.
"It's actually a similar feeling, because I am me no matter where I am," she said with a laugh. "I love teaching the faith, and I just love giving what I have to other people. Whether you're two years old or 70 years old, I will enjoy sharing that with you."
For the 40 or 50 in attendance, Sister Xavier offered specific advice, such as examining the four cardinal virtues and using the name of Jesus to reject vices. But as a starting point, she suggested focusing on daily life and how it differs from the profession of one's faith.
"We might know sports or work is not the most important thing, but do we live a different way?" she asked. "If so, we forfeit the most important truth about ourselves."