Wednesday, July 21st, 2021
Not-So-Secret Agent Man
Cincinnati Reds salute former CIA agent during game
By William Kincaid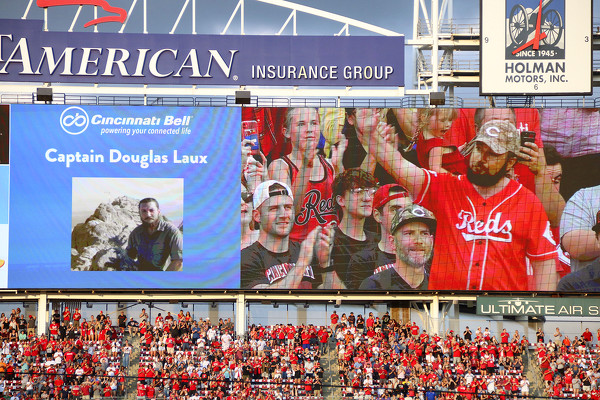 CINCINNATI - What began as warm, enthusiastic applause at the top of the third inning on Saturday night grew louder as the Great American Ball Park announcer read off a list of the Cincinnati Reds Hometown Hero's accomplishments.
Coldwater native Douglas Laux, wearing a Reds jersey and Reds camouflage-style hat, stood straight atop the home-side dugout, absorbing waves of boisterous adulation emanating from 37,204 people in attendance as his biography was read over the PA system.
As Laux glimpsed down into the dugout, he saw Reds players hooting and hollering wildly in his direction.
"Douglas Laux started his career in 2006 with the CIA and became an undercover field operative where he served multiple tours in Afghanistan and throughout the Middle East," the announcer boomed. "He is fluent in the native language of Pashto which he used to infiltrate the Taliban, Al-Qaeda and ISIS."
The cheers escalated to a full-blown roar when it was revealed that Laux took down the world's largest IED (improvised explosive device) network and played a role in Operation Neptune Spear which resulted in the death of Osama Bin Laden, the mastermind of the Sept. 11, 2001, terrorist attacks in the U.S.
"In 2013, he left the CIA and joined the elite Joint Special Operations Command serving as an instructor for Navy Seal Team Six, Delta Force and the 75th Ranger Regimental Reconnaissance Company," the announcer continued. "He has received numerous awards and decorations including U.S. Senatorial awards for valor, U.S. Congressional recognitions of service and the Gubernatorial Heroism Award."
Laux would return to a section near first base where a group of 50 friends and family members from Mercer County were seated for the special event, among them his parents, Jerry and Kathy Laux, who for years were left in the dark as to what their son was doing, and special friends Mike and Marty Luken, whom Laux credited for introducing him to so many people in the community when he returned to Coldwater five years ago.
"They're phenomenal. They've been great to me," Laux, 38, said of the Lukens. "(They) walked me around like I'm one of their own and have always treated me with so much kindness."
His parents and the Lukens all had on Reds jerseys featuring numbers of the Big Red Machine players.
"I made those (jerseys) for the people who have done so much for me," Laux said. "While I was born here and my parents lived here, I never really lived here until the last five years."
Though he was born in Coldwater, Laux and his family later moved to Bryant, Ind. His father worked at the Portland Forge and his mother at Bearcreek Farms. Their home burned down his senior year and his parents ended up moving back to Coldwater.
Marty Krieg of Thanks to Yanks, a local nonpolitical organization supporting military members, veterans and their families, was decked out in a Reds Jersey, too. She secured a charter bus to transport the Mercer County crew to Cincinnati Saturday.
Krieg, on behalf of Thanks to Yanks, had visited Laux when he initially returned to Coldwater and gave him a basket packed with coupons to Coldwater restaurants, a T-shirt and other gifts.
"No one had ever given me anything for my service because I couldn't tell anyone," Laux said of his intelligence work that he had to keep secret for years.
Apparently stirred by the tribute to Laux, Reds catcher Tucker Barnhart took off his jersey and on the back across No. 16 signed his name and inscribed a note of thanks, writing, "Forever grateful and honored to have you here! God bless you and your team members!"
Also in attendance was U.S. Rep Warren Davidson, R-Troy, whom Laux personally invited to be on hand for the big moment. Davidson on Sept, 13, 2018, on the House floor recognized Laux's bravery and service to the country. It was broadcast on C-SPAN.
Davidson reflected on the Reds' tribute to Laux in a statement.
"Receiving an invitation to watch baseball with Doug Laux is like getting an invite from Jack Ryan, except Doug is a real life American hero. I'm honored to know him, thankful for his friendship, and grateful for his incredible service - and the book he wrote about some of it, 'Left of Boom,'" Davidson wrote. "Well done Cincinnati Reds for recognizing Doug Laux!"
Laux said his moment in the limelight - one he shared with some of the most important people in his life - ranks among the top 10 best experiences of his life.
"I have been going to the Reds since I was seven years old," he said, pointing to a picture of him standing next to his dad at a game in 1990.
The day also served as a joyous going-away party as Laux in the coming weeks will depart to Los Angeles, capping a five-year respite of sorts in Coldwater, where he has kept a relatively low profile establishing a career in publishing, film and TV and occasionally working as a substitute teacher at local schools.
Laux is the author of the New York Times bestseller, "Left of Boom: How a Young CIA Case Officer Penetrated the Taliban and Al-Qaeda," which led to a deal with Paramount Pictures that has since expired, he said.
In 2017, Laux was featured prominently in Discovery Channel's six-episode series entitled "Finding Escobar's Millions." The show followed Laux and a fellow former CIA officer as they attempted to uncover notorious drug lord Pablo Escobar's legendary buried fortune.
Laux and his show partner visited places where Escobar operated and talked to people who knew and worked with the torturer, terrorist and airplane bomber.
Last year, Laux appeared as one of three judges on Bravo's "Spy Games," a reality TV show where 10 contestants vied to outwit one another in a series of cloak-and-dagger missions to become the top spy and collect a $100,000 prize.
In L.A., Laux plans to finish a documentary about his post-CIA life filmed by a production crew in 2015-2019. He has well over 100 hours of footage taken in Coldwater, Bryant and Washington, D.C. Among the recordings are his parents reacting to learning their son wasn't living in Hawaii and Washington, D.C. but training at the CIA's Langley, Va., headquarters in black ops and espionage and learning highly specialized skills before being deployed to the Middle East.
"I'm going to complete it with Loyola Marymount University which is in Los Angeles," he said, noting he signed a three-year contract with the school to produce film and attend its film school.
The documentary, if done right, will showcase to coastal folks what the often misunderstood and maligned Midwest is really like, he said.
"And if my documentary's (released), that all takes place here in Coldwater and Bryant and around the surrounding areas," Laux added.
Laux said he's excited about producing content involving locales not often featured in film or TV.
"The flyover states are so unbelievably underserved in all of media," he said. "How often do we see a movie where the background is in small town USA? Never, unless they're making fun of it. Well guess what? We have girlfriends and boyfriends and relationships and heartache and trouble and all the drama and all of that, too."