Wednesday, July 28th, 2021
Nigerian-American: Talk to people
Communication key to race relations
By William Kincaid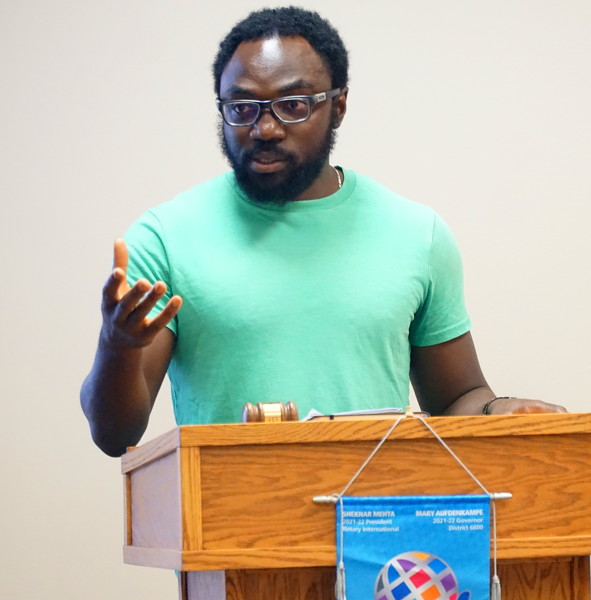 CELINA - The root of race issues in the United States is not that people don't like each other. Rather, it's that they don't talk to each other, said a Nigeria-born track and field coach who has called the area home for seven years.
Palngji Sunday spoke recently at a Grand Lake Rotary meeting in Celina.
"Let's just see each other for who we are, and just because you live in a town that you might not see that, don't think that that isn't happening. It does happen. It's a reality for a lot of people," Sunday said about issues faced in the black community.
Sunday, who lives with his family in Coldwater, said the way in which people choose to address cultural or racial differences makes all the difference.
"And for me, the best thing that I can do is just listen to people and just help people provide insight to people," he said.
Sunday repeated a challenge he had made to a local business owner while on business in Chicago about getting to know the life experiences and perspectives of others.
"Go find a group of people that don't look nothing like you. Go and sit with them and have zero agenda," he said. "Don't talk about anything of you. Just have zero agenda, and just poke their interests and see what happens."
Sunday recalled an experience when he was in Maryland with his wife, Jennifer, and others. She ran out of a van into a group of black men, women and children, to pray with a man in a wheelchair.
"I have three white friends. I'm the only black dude here. Everybody else is black here, right? My senses go up. I'm like, 'I don't think this is a good place for us to be in,'" he said. "And I realized that, the following day, they're like, 'That was the most dangerous place in Maryland.' I'm like, 'Well, it was God being there.'"
His wife inquired about how the man was doing. She asked him if he had back pain, which in fact he did. They then proceeded to converse and pray, Sunday said.
"The moment she started praying for that guy … you could see everybody that was sitting down that had this tense look on their face, they started smiling. The guy in the wheelchair started crying," Sunday said.
Touching on social problems, Sunday said people must look at the root of the issue.
"If I'm a kid that was raised in the family that has struggles of drugs and every single day that's the only thing I see, where would my mind go? Drugs. That's all I see," he said.
Sunday said he has plenty of friends who are police officers. He respects police officers, understands the struggles they're going through and makes sure to shake their hands when running a 5K race.
At the same time, he said he has to ask himself how a child would feel if every time a police officer came into their environment, someone was taken away or died.
"That's the only thing they know," he said.
He revealed to Rotarians that the first week he started living in the area, he was walking alone down a street when someone in a car shouted out the N-word.
Sunday said he never really talked to his wife about the issue of race or acknowledged his own experiences with racism until the social unrest that broke out in the wake of George Floyd's murder by police in Minneapolis.
"I don't know how to express it to my wife, and I'm like, 'I don't want to say anything that I will regret saying down the road,'" Sunday said. "This has actually completely changed my view because it's not something that I would ever talk about in the past."
Sunday would go on to have an hourlong discussion with a Coldwater police officer about race, he said.
"Where is the problem? The root of the problem is there's nobody having conversations together. We're all just poking at each other for no reason," he said. "When I sat down and talked with the officer in Coldwater for an hour, everything we were talking about was the same thing. We had the same ideas."
Sunday spoke of living in Coldwater as turmoil unfolded in Minneapolis.
"When you live in a community like around here where you don't see something on a daily basis, your perspective is just what you see," he said.
Sunday shared similar views on immigration when asked how he feels about the U.S.-Mexico border situation and people who try to circumvent the legal immigration process.
Sunday, an immigrant himself, said laws exist for a reason. After following through with a years-long, multistep process, Sunday earned his citizenship just a few years ago.
However, as a person of faith, Sunday said he also looks at the human side of the equation and the reasons that compell people to journey to the United States.
"If there's a better system in those countries, people would not be fleeing them," he said. "When they come here they try to make a … better situation for their families, which is completely understandable.
"If we can all look at the root of the cause of the problem, then we can understand what is happening on the top."
At age 11, Sunday and his mother, two brothers and sister came to the U.S. in 2000 to join their father who was pursuing a doctorate at the University of Iowa. His mother wanted her children to have an opportunity to obtain a better education. They arrived in December.
"Not a good time, especially if you were raised in 80-degree weather and then you show up and you have short sleeves," he quipped. "But, you know, it was a blessing for us to be here."
He then lived in Iowa for the next 12 years. He ran track and cross country in junior high and high school. He also ran track at Wartburg College in Waverly, Iowa, where he earned a degree in fitness management before attending graduate school at Heidelberg University in Tiffin, where he also coached.
He said he met his future wife, Jennifer, who lived in St. Henry, on the dating app Christian Mingle. After talking for eight months, the two got married, he said.
Sunday served as Coldwater High School's varsity head track coach and today is an assistant women's and men's track and field coach at Purdue University Fort Wayne.
"Faith is a huge thing in my family and I still rely on God in everything that I do," he said.