Friday, August 6th, 2021
LaRose: Ohio's 2020 election secure
Secretary of State speaks in Celina
By William Kincaid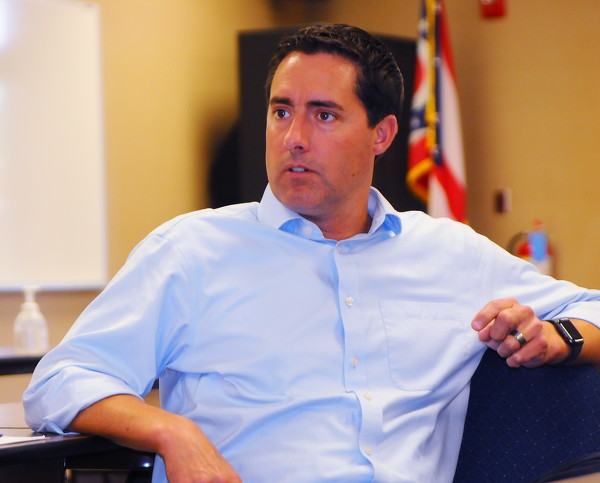 CELINA - Ohio in 2020 held the most successful election in state history, Secretary of State Frank LaRose told a small group of Mercer County agriculture and Farm Bureau officials Thursday afternoon.
"Last year's election by any metric you can look at was the highest turnout we've ever had," he said during a stop in Celina on his way to the Auglaize County Fair in Wapakoneta.
LaRose, a Republican, also assured those gathered at the Central Services Building that electors had multiple ways and ample time to vote in a secure election, saying he wants to empower Ohioans to combat election disinformation and "nonsense on the internet" with facts.
"Here in Ohio it's easy to vote and it's hard to cheat and that's the bottom line," LaRose said, noting the state removes dead people from voter rolls, requires signature verification and fights back against activist-initiated lawsuits that pop up at the last minute.
Nearly 6 million ballots were cast in the election in Ohio, reflecting a statewide record turnout of 74% of registered voters. All 88 counties saw a higher turnout percentage than 2016, and eight counties, including Mercer County, saw a turnout of more than 80%.
"And that includes some of these counties here along the western edge of Ohio. You all had some of the highest turnouts here in this region," he said.
Additionally, 58.6% of all ballots were cast early in-person or absentee, LaRose said.
"That's remarkable given that that is a lot of work," he said. "The logistics of all of that early voting and all of that absentee voting is something a lot of people underestimate. It's a ton of work for the boards of elections."
Yet the boards were ready for the heavy load because they've been carrying out absentee voting for two decades, LaRose said.
The large amount of early in-person and absentee votes, LaRose said, took the pressure off polls on Election Day.
"If everybody had to show up and vote all at one time and stand six feet apart and sanitize the machines in-between each voter and all this other stuff that they had to do, we would have had lines around the blocks, right? And it would have been a disaster," he said.
LaRose, when asked, said he is a proponent of early in-person voting and would like to see similarly high rates in elections held in non-pandemic times.
"I would, and I think Ohioans like the choice. There's no bad option," he replied. "Whether you choose to vote absentee or whether you choose to vote early by going to the board of elections or whether you choose to vote on Election Day - those are the three choices Ohio has - they're all good options."
LaRose argued that absentee voting allows for informed voting as electors can research candidates and issues while filling out their ballot at home.
He also called attention to the 56,000 poll workers secured for the 2020 election, marveling aloud at the huge mobilization of people. Initially worried about a scarcity of workers, the state ended up with an overabundance, he said.
"We had reserve forces ready to go in case a bunch of people called off on Election Day," he said, saying dedicated, patriotic people from both sides of the aisle stepped up to make sure Ohio had an honest election.
And the election was indeed secure, LaRose said Thursday.
Those with concerns about the postal service can actually track their mail-in ballot online and know when it reaches the board of elections.
"Any conspiracy theories I can help debunk for people?" he asked. "It's all pretty easily debunked if people just take the time to learn the facts."
LaRose said many conspiracies are centered on the false premise that voting machines are connected to the internet.
"Well, voting machines are not connected to the internet. They are never connected to the internet. They are not capable of being connected to the internet," he said. "There's no way to connect the voting machine to the internet and if you figured out a way to connect a voting machine to internet, you are a felon the moment you do it."
LaRose, though, is concerned about last minute lawsuits filed by activist groups attempting to change the way elections are run.
"You shouldn't be changing the rules at the last minute and you shouldn't be changing the rules at the courthouse because election law is made at the statehouse, not the courthouse," he said.
LaRose said his office's pushback on misinformation, cybersecurity work and ample number of poll workers allowed Ohio to run the best election in its nearly 220-year history. Other states took notice, and LaRose was asked to testify before Pennsylvania lawmakers on how to improve their elections, he said.
LaRose lashed out at federal efforts to regulate how states conduct elections, such as H.R.1, which he said was defeated with the help of Democrats. That bill, LaRose said, would have legalized ballot harvesting and forbid elections officials from checking IDs and verifying signatures.
"It's the arrogance of federal government to think that they can tell us how to run elections where we run the best elections in the country here in Ohio," he said.