Monday, August 23rd, 2021
Birds of Prey Strike a Pose
Fort Wayne group rescues, rehabs raptors
By William Kincaid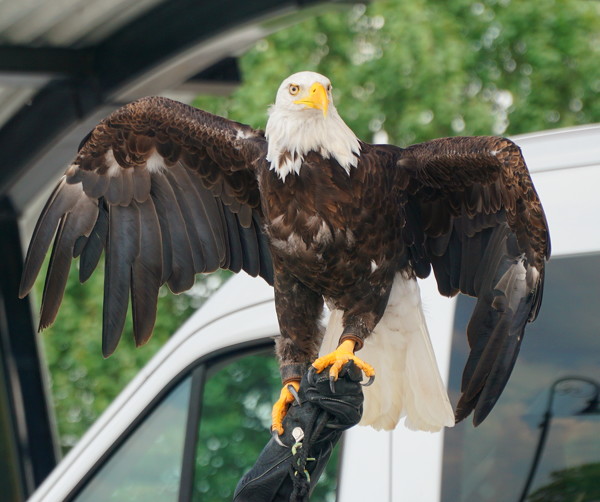 CELINA - A nonprofit organization dedicated to conserving raptors showcased numerous types of owls and a bald eagle to dozens of people on Saturday at the Harley C. Jones Memorial Rotary Amphitheater in Celina, offering a unique chance to see the beautiful birds up close.
The raptors on hand, birds of prey that primarily hunt and feed on vertebrates, were all rehabilitated but cannot be reintroduced into the wild because of injuries, said presenter Bob Walton, a volunteer with Soarin' Raptor Rehabilitation in Fort Wayne, Indiana. They now are used to help educate the public.
The program was arranged by Suzie Barnes, a naturalist with the Miami County Parks District, for the Friends of Grand Lake, a group of lake and wildlife enthusiasts. The group's Facebook page is full of photos of sunsets and diverse wildlife the lake supports, from birds such as bald eagles, ospreys and pelicans, to turtles, snakes, muskrats and other critters.
Some of the birds displayed on Saturday, such as Frankie, a gray phase eastern screech owl, and Jefferson, a bald eagle, can be seen in the Grand Lake area.
"If you were a mouse you wouldn't be saying, 'Aww,'" Walton replied to the adoring crowd's collective response on seeing the big-eyed small owl perched atop the gloved hand of a volunteer.
Eastern screech owls are common in the Midwest, Walton said. An owl and its mate typically have up to four offspring. With each bird eating a mouse a day, screech owl families help take a bite out of rodent populations.
"These guys are out there working for us," Walton said.
Eastern screech owls usually live eight to 10 years in the wild and 15 years in captivity.
"Great horn owls find these things delicious," Walton said of predators the eastern screech owl have to watch out for. "They just pop those like little bonbons."
Walton urged attendees to keep away from the nests of eastern screech owls and any other bird, for that matter. Every time a person visits a nest, they leave a trail that creatures such as raccoons, cats and dogs can find and follow, leading them to the vulnerable birds.
Skylar is a short-eared owl who found itself at Soarin' Raptor Rehabilitation after suffering a wing injury. The short-eared owl used to be prevalent in the Midwest but not anymore due to agricultural practices that wiped out the birds' nests. They now spend their
summers in Michigan and Canada.
The barn owl, such as Monet, who was born in captivity, also used to be common in the area. They largely left because of disruptive agricultural practices but can still be found in Amish areas. Amish farmers relish the barn owl and its appetite for rodents.
"Nature taking care of nature," Walton said of the barn owls which have somewhat startling, alien-like faces.
Indy is a barred owl who was admitted to the rehabilitation center in early 2016 after it was found disabled in an interstate median by Indiana Department of Transportation workers. It may have possibly collided with a vehicle.
"And this is a common owl that we have all around here, particularly on the lake. They like wet areas," Walton said.
Barred owls feed on mice, chipmunks, snakes, lizards and fish.
Fittingly named Chewbacca, is a Eurasian eagle owl, the second largest owl in the world. He has strikingly large orange eyes.
Garnering the strongest reaction of the session, though, was Jefferson, a magnificent bald eagle who was found in downtown Wabash, Indiana, on Dec. 26, 2011, according to the rehabilitation center's website. Officials believe the bird was shocked by an electric wire before falling to the ground.
Eagles have found a home near Grand Lake. Ohio Department of Natural Resources in 2020 reported the number of bald eagle nests in Ohio has skyrocketed 151% during the previous eight years. Of the 707 nests confirmed in February and March 2020, 16 are in Mercer County, compared with three in 2012. Auglaize County this year has four nests. It had none in 2012, according to an ODNR report.
` Soarin' Raptor Rehabilitation was founded in 1996 to serve Indiana, southern Michigan and northwest Ohio's inured and orphaned birds of prey, according to the website. It offers "a blend of modern veterinary science, including volunteer veterinary services, radiography, diagnostics, aggressive post surgical physical therapy and conditioning."
Eagles in particular face many dangers, such as power lines and moving vehicles.