Friday, September 10th, 2021
Flyers' comeback falls short
By Tom Haines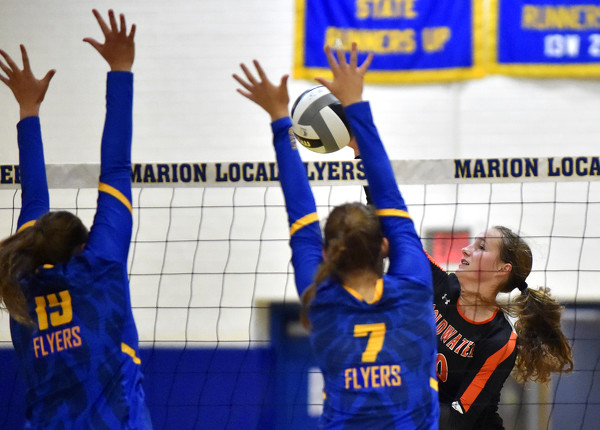 MARIA STEIN - It got late early for the Marion Local volleyball team on Thursday.
The Flyers' desperate rally at the end of the second set fell short, and despite a narrow win in the third, they had too little margin for error. Coldwater pulled away in the middle of the fourth set for a 25-14, 25-22, 24-26, 25-15 Midwest Athletic Conference win at the Hangar.
"It was too little, too late," Marion coach Anthony Chappel said. "Coldwater played a great game. It wasn't so much that we gave them anything, they earned every point over there, and we knew they were going to. We didn't come out aggressive enough to start, that's what it was."
With the Cavaliers cruising to an easy sweep, Marion (2-5, 0-2 MAC) woke up late in the second set. Trailing 20-13, the Flyers got a kill from Lindsey Koenig and a pair of Coldwater violations to stave off defeat before Koenig's four-point service run cut the deficit to 23-19.
After Morgan Blasingame got a kill to set up Coldwater (8-1, 1-1 MAC) with a 24-20 lead, her serve on set point went just left, and the Flyers got another point before Nora Eckstein's service error ended the set and the comeback fell short.
"The girls flipped a switch at some point, started playing more aggressively and made that decision," Chappel said. "But that's a good team over there. You can't spot them points."
But the rally gave the Flyers momentum heading into the third, even with a two-set deficit, and they erased an early 5-2 Cavs lead to go ahead 6-5.
The two teams traded points until Olivia Winner went on a four-point service-run to give Marion a small edge, and the Flyers led 19-15 before Coldwater got going. The Cavaliers went on a 7-1 run to take a 22-20 lead, but Marion responded with four straight points to get to set point.
Riley Rismiller tied the game at 24 with a kill, but Spencer Etzler's serve went into the net and the Cavaliers were whistled for a violation to give the Flyers a 26-24 set win.
"We were passing once, we weren't running our full offense, so their block was able to see where we were going offensively," Coldwater coach Nikki Etzler said about the third set. "They were able to touch a lot of shots."
In the fourth, the two teams battled to a 10-10 tie before Coldwater found a groove. Aided by a six-point service run from Etzler, the Cavaliers rattled off an 8-1 run to pull away.
After the Flyers got back within five, Madison Wendel got three straight kills to ice the game.
"Just hitting some shots that we talked about in the timeouts," coach Etzler said. "We were able to capitalize on those, and I think that was the game-changer."
Etzler also helped the Cavaliers take control of the first set, first with a six-point service run that turned a 2-1 deficit into a 6-2 lead, then with a five-point run that stretched the lead from six to 10.
In the second set, Coldwater scored the first six points before Marion cut the lead to 6-5, and Etzler served up four more points to keep the Flyers at bay.
"Tonight, I think she just did a great job staying focused," coach Etzler said. "Really serving where she was told to serve, being confident in herself, and then just letting our block take care of it after that."
Jenna Leugers led the Cavaliers with 14 kills and 20 digs, while Etzler had 13 kills and notched six aces. Harlamert finished with 41 assists.
Reagan Kremer finished with 10 kills for the Flyers and Eckstein added 16 digs. Natalie Evers chipped in 16 assists.
Marion gets a chance to get back in the win column when it hosts Anna on Saturday. Coldwater travels to Van Wert on Monday.