Wednesday, September 15th, 2021
Half-time show dedicated to Lehman
By Erin Gardner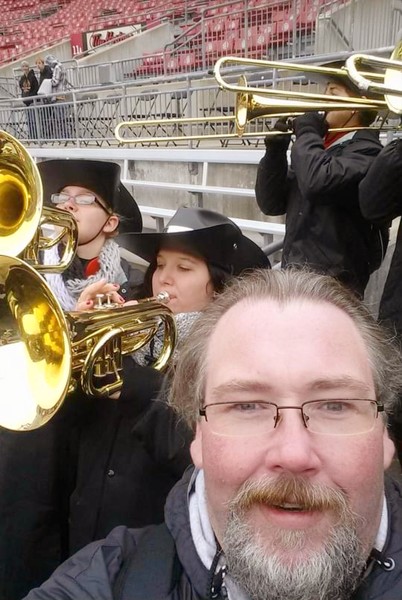 COLDWATER - The Coldwater Cavalier Marching Band will dedicate Friday's half-time show to the late Jud Lehman.
Lehman, a teacher and drama director at Coldwater and longtime assistant with the marching band, died March 4 at 50.
"He was that safe place," said band director Dan Ruckman. "I remember being with him at Disney (because) we would take the band to Florida and there was a kid (who) came up in line and tugged on his shirt. Jud looked down and said 'Hey, what's up bud?' (The kid) looked up and said 'I'm scared of roller coasters' and then just walked back to his parents. That was the kind of guy Jud was. Kids were drawn to him and they could tell he was a kind soul."
The band is playing three songs during half-time, all dedicated to Lehman. The opener is "Semper Aurum," then Andra Day's "Rise Up" and Stone Temple Pilot's "Wicked Garden."
Semper Aurum is Latin for forever gold, a nod to Lehman's favorite book, "The Outsiders," Ruckman said.
Lehman had "stay gold," a principal quote in the book, tattooed on his arm, Ruckman said.
"That was his mantra with kids," said Ruckman. "He always saw the good in everybody. There were no strangers in his life. He found the thing that made every person special and he made sure that they knew that he saw that. That book really spoke to him."
"Mr. Lehman was a very special man," said band assistant Angie Klosterman, from the Coldwater class of 2014. "I was fortunate enough to have him as my English teacher, drama director and assistant marching band director back when I was still at school. I'll always remember him not only for his passion for performing but for his dedication to his students and his community. Stay Gold Jud."
"We decided to focus the show around '90s grunge rock because he really liked intense heavy music," Ruckman said. "When the band would play, he would get so excited."
Ruckman called Robert Sloan, a marching band arranger and Van Wert's band director, to help with the show. Sloan arranged the opener and bought the rights to the other two songs to arrange.
The opener is based on Ohio University because Lehman was an alumnus.
"He was a huge Ohio University fan," Ruckman said. "There are snippets throughout of 'Stand Up and Cheer,' but instead of being a real happy fight song, college sound, it's thrown inside this grunge rock background. It's super intense and kind of in your face. I think he would have loved it because it took something that was really special to him and it showcases the style that our band was. He always liked when we played music that was that type of a style."
Ruckman chose "Rise Up" because Lehman made sure every kid felt special.
"He had a knack for finding that kid (who) was struggling or feeling like an outcast or feeling like they weren't good enough and lifting them up," Ruckman said.
Ruckman chose "Wicked Garden" because the song is about the loss of innocence and he thinks Lehman was good with helping kids navigate their struggles.
"(Lehman) would have loved all of those (songs)," Ruckman said. "It fits who he was as a person. That show is gonna hit a bunch of different emotions."
Ruckman met Lehman in 2003 when Ruckman first started at Coldwater. Lehman was Coldwater's home game announcer and the marching band assistant.
"He was like my best friend," Ruckman said. "I can't think of a trip that I've taken since I started or a game that he wasn't a part of. We were pretty much side-by-side. He was my right-hand man for most of that."
Ruckman and Mary Lehman, Jud's mom, chose Friday's date for the memorial show because it's homecoming week.
"That's typically when a lot of (former students) come back to see a game," Ruckman said. "We thought that would be our opportunity to get as many of our alumni to be around and be able to see the band show and honor him."
A celebration of life for Lehman is Saturday from 1-4 p.m. at Coldwater Memorial Park in shelterhouse No. 1, so they decided to tie the halftime show to that.
The 77-member band has been practicing the show for three weeks. Because Lehman was the marching band assistant up until his death, most students had him as a middle school language arts teacher and the older kids were familiar with him assisting with the band, Ruckman said.
A former student of Lehman, Katie Klosterman is a current band assistant.
"Mr. Lehman began as my English teacher, then I knew him as my assistant band director, then my play and musical director, then coworker, and through the last experience, my friend," said Klosterman from the class of 2012. "Mr. Lehman was a man who I enjoyed tremendously as a teacher and fellow coworker. I remember him helping us chart our shows and yelling "feeties!" to help keep us looking the marching band way. Most recently I remember spending bus rides to Florida and away football games talking about music and fun trips we've been on. I remember going to the DCI (Drum Corps International) shows in Indianapolis and deciding what foods and desserts we were going to eat at Shapiro's Deli. We had a lot of fun adventures while coworkers and I will always remember them. He is someone I will forever admire for his love of teaching and life."
Ruckman thinks of Friday's band show as a gift.
"This was our way to make a piece of art for him," he said.