Wednesday, September 22nd, 2021
Crowd wants to ban Airbnbs
Zoning commission votes to table issue
By William Kincaid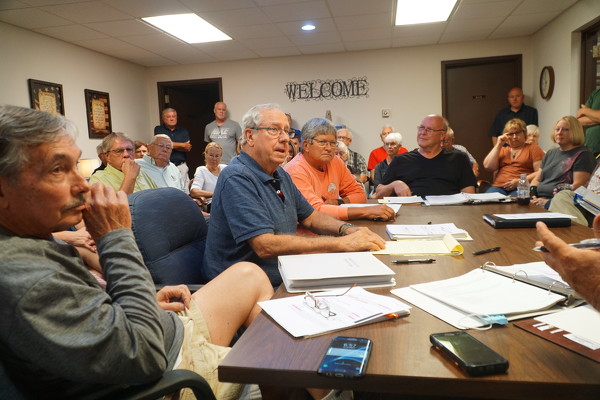 CELINA - A debate on whether to ban the practice of turning private residences into short-term vacation rentals in East Jefferson Township was tabled on Tuesday night, with officials moving to hold another hearing in a few weeks.
Roughly 50 people packed the small Jefferson Township House for a county zoning commission meeting. Most attendees voiced opposition to short-term vacation rentals in residential neighborhoods, pointing to alleged incidents of trespassing on private property, excessive noise and other nuisances caused by transient renters.
The county zoning commission only regulates East Jefferson Township because it is the only township in the county that more than 40 years ago voted to be governed by them. Any recommendation made by zoning commissioners would then be voted on by county commissioners and subject to a voter referendum, explained assistant county prosecutor Andy Hinders.
After about an hour-and-a-half of animated but civil discussion, zoning commissioners voted to table the matter to give themselves more time to research the issue and allow for Hinders to draft possible zoning amendment language. The next public hearing is set for 7 p.m. Oct. 5 in the larger Central Services Building in Celina.
Milt Miller, president of the Northwood Homeowners Association, first addressed zoning commissioners.
"What we see is a trend that is problematic in some of our neighborhoods," he said. "Specifically what we're talking about is short-term rentals in residential areas."
These short term rentals are typically owned by limited liability companies or other similar entities consisting of people who don't live in the community where the properties are being used, Miller said. Transient vacationers have demonstrated a disregard for property lines, created noise after hours, fished on other people's properties and responded to complaints with indifference, Miller claimed.
The situation, he argued, could be remedied with a zoning amendment barring single family residences from being used as short term rental facilities for any period less than 180 consecutive days. This amendment would apply to dwellings in areas zoned residential - R1, R2 and R3.
Deb Borns, a longtime area real estate agent, insisted short-term rentals diminish the property values of neighboring homes.
"This particular use of property definitely does not fit into a typical single family residential home and it will affect property values," she said.
Beth Hoffman, who lives on Stearns Lane, said she now lives next door to a short-term rental home. Renters routinely stay for four to seven days before a new group arrives, she said. They often come with multiples vehicles, trespass on private property and make excessive noise.
"We've had to install triple pane windows to try to cut down on the noise level," she said. "They're there to vacation. They don't care that we live and work there."
Borns said there are other local areas that would be a better fit for short-term rentals than residential neighborhoods.
The only attendee to defend short-term rentals was local real estate agent Shawn Dues. She said she owns a short-term rental home in Northwood.
She believes there's no way to prove short-term rentals drive down property values. Moreover, she believes short-term rentals draw people into the area and drive local commerce.
"We've had people come in from all over the nation but mostly we have people come in from surrounding cities and towns," she said. "I think the responsibility lies on the homeowner or the homeowners associations. A lot of these subdivisions in the areas have homeowners associations that restrict short-term vacation rentals. Well if you don't have one, then form one or implement that. Don't restrict an entire township because of one or two bad eggs. It's not fair."
Dues said she restricts parties and doesn't allow anyone under 26 or pets to use the premises.
Hinders also brought up the issue of property owner rights, saying the suggested proposal would restrict someone's property rights.
Others also questioned whether homes currently being used as short-term rentals would be grandfathered should a zoning amendment be enacted.
"What we're looking at is a balance here, just like every other balance we strike in our laws," Hinders said. "If we're going to do this, strike a balance that's enforceable."
When the subject first came up before county commissioners in June, commissioner Rick Muhlenkamp, when asked said there's two sides: That of the property owners looking to earn rental income and that of the property owners who don't want short-term rentals.
Commissioner Jerry Laffin had issued a similarly terse statement, refusing to comment until the proposed amendment works its way through public hearings.