Friday, September 24th, 2021
Plan: How to handle disasters
Report details steps county can take
By William Kincaid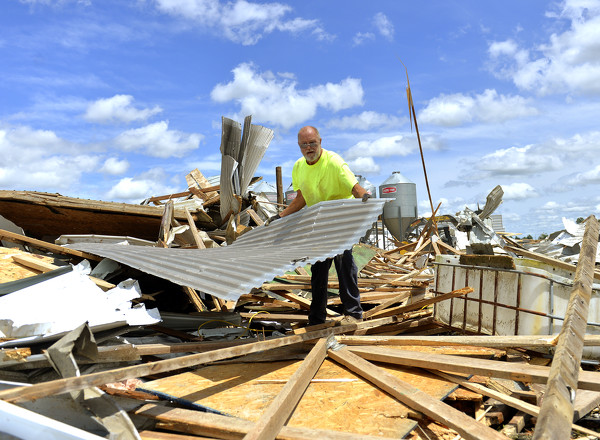 CELINA - The top hazards threatening the stability of Mercer County are tornados/windstorms, followed by floods, winter storms, utility system outages and severe thunderstorms, an initial survey completed by community stakeholders shows.
Consultant Resource Solutions Associates of Norwalk is helping county officials complete a five-year update of the county's mitigation plan, as required by the Federal Emergency Management Agency.
The plan documents proactive mitigation steps taken by county officials over the years and outlines strategies to prevent disasters. It also can help local governments qualify for federal funds to pursue mitigation activities before disasters strike.
Resource Solutions Associates President Sandy Hovest, Planner Lauren Yeagle and county EMA director Mike Robbins met with officials this week to evaluate and rank risks posed by natural disasters and inadequate infrastructure.
"A lot can happen in a few short years. We've had tornados, we've had floods here locally," Yeagle told county government officials on Thursday. "And also then looking forward for the next five years, things that you see on the horizon that might connect to disaster or be something that needs to be mitigated in someway."
New to the planning process is the inclusion of infrastructure as a hazard, said Yeagle.
"The biggest change here is infrastructure," Yeagle said. "As we look nationwide at the challenges we have with maintaining our infrastructure, whether that's water, wastewater, storm sewer and electric grid, all of those types of systems, communications, we recognize that there's a lot of need there and particularly for small communities, that can be very costly and difficult to manage."
Robbins and Yeagle said tornadoes occur more often and are stronger. Tornados struck Mercer County in 2017, 2019 and 2021.
On Memorial Day in 2019, a twister tore up northwestern Celina and adjacent areas and left one person dead. The EF3 tornado, with top wind speeds of 150 mph, followed an 11-mile path, according to the National Weather Service.
An EF2 tornado that touched down near Fort Recovery on June 18 caused structural damage, but was not as strong as the 2017 and 2019 tornadoes, Robbins had said.
Flooding is another persistent local hazard, Robbins said during a roundtable discussion Thursday.
"The flooding, the occurrences are about the same. The damage has changed a little bit only because of mitigation done by property owners or businesses," he said.
Local officials, Yeager said, indicated they can't keep up with heavy rainfalls that come in intense bursts.
Robbins agreed.
"Flash flooding is more of a problem," he said, pointing to a home on St. Anthony Road outside Celina that with a federal EMA flood mitigation grant was razed and turned into county-owned green space.
"But otherwise I don't know of any big new threats we've had on the horizon," Robbins said. "Cybersecurity, that's come up a couple times. That's a difficult one. That's on everybody's front porch."
On flooding issues, county commissioners Jerry Laffin said excessive rains infiltrate facilities such as the lagoons at the Montezuma Club Island wastewater treatment plant. Current permit restraints on discharge times require plant officials to have ample storage to hold the treated waters between May 30 to Oct. 31. However, plant staff are conducting a pilot study of a biofilter designed to reduce the pollutants to a level where the Ohio Environmental Protection Agency would allow plant officials to discharge treated water during summer months.
The county has three primary electricity providers - AES Ohio (formerly Dayton Power & Light), Midwest Electric and the city of Celina. Robbins said AES, though it's made improvements, is the most aging system.
Laffin said power outages in the county typically last two to three hours.
Ag-producers, chiefly operators of livestock facilities, had previously expressed difficulty in getting products in and out when power is down, Hovest said.
Not much has changed on that front but most farmers who work on contract for companies have generators to provide backup power during outages, county commissioner Jerry Laffin said.
Homan noted the abundance of livestock producers makes the area unique. Bio-terrorism is a concern as the intentional introduction of a pathogen to livestock would cause problems.
"You could probably walk into a bank vault easier than you can walk into some of these agricultural animal buildings - and rightfully so," Robbins said about biosecurity.
Other changes since the county last updated its plan is population growth, Homan said.
"In the last 10 years our county populations's increased 4.2%. We're one of the fastest growing rural counties in Ohio," he said. "A majority of that population growth is in the southern part of the county."
Yet housing demand is going unmet, Yeagle added.
"We've talked in those different communities in which we met yesterday," she said. "They talked a lot about housing and just not having enough and that the challenge of housing and the connection to jobs and all of those issues being interconnected."
Some officials said their communities have seen an uptick in younger residents, Hovest said.
"We're one of the top five counties in terms of populations under 18," Homan replied. "So we have larger families and younger families but not necessarily people moving in."
On the issue of hazardous material spills, Yeagle pointed to the number of industries, ag-businesses and state routes, with much traffic moving in and out of the area.
"Most of our hazmat incidents are transportation, truck wrecks," Robbin responded. "And most of that is leaking diesel fuel."
Ag facilities such as Mercer Landmark employ practices that are far ahead of regulations and promptly responds to problems, Robbins noted.
One area Robbins did express concern about is the West Bank, an earthen class I damn, which includes the spillway on Grand Lake. He said the state has no emergency action plan for the dam.
A failure of the earthen West Back dam likely would result in limited damage to life but potentially could devastate property, especially agricultural assets, some county officials said. Personnel from the Ohio Department of Natural Resources and other state agencies in recent years removed brush and trees from Grand Lake's earthen dams to prevent potentially dangerous conditions.
The work was part of a statewide effort to protect the integrity of ODNR's dams.