Tuesday, October 12th, 2021
A scrappy Wolverine
New Bremen's Jones plays well in loss to Ohio State
By Gary R. Rasberry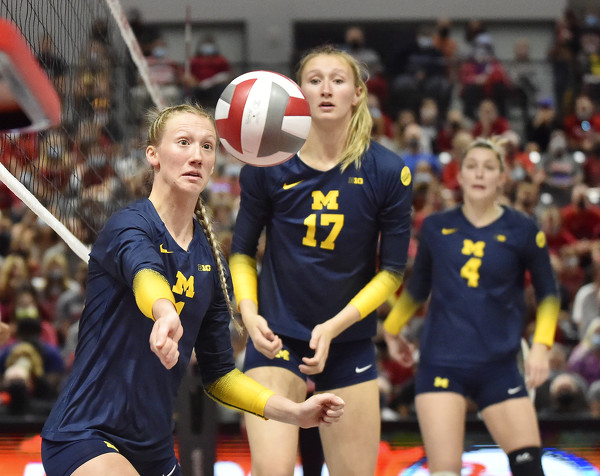 COLUMBUS - As Paige Jones walked back onto the playing court at the Covelli Center on Sunday after her University of Michigan volleyball team battled Big Ten rival Ohio State, a group of around 30 family and friends from New Bremen was there to greet her.
The New Bremen graduate took time for pictures and hugs after dropping a tough 22-25, 17-25, 15-25 decision against a Buckeye team that's ranked seventh in the latest American Volleyball Coaches Association's poll.
The Wolverines are 10-5 this season and 3-3 in the Big Ten, which has six schools ranked in the top 25 in the American Volleyball Coaches Association poll. Michigan beat eighth-ranked Minnesota in five sets last Friday before traveling to Columbus and still has games against third-ranked Wisconsin, sixth-ranked Purdue and 15th-ranked Penn State along with a rematch with the Buckeyes in Ann Arbor later this month.
Jones has been a dominant player for the Wolverines on the net. Jones leads the team in kills with 179 (3.58 per set) and is third on the team in digs with 123 (2.45 per set).
"I think we're playing well," said Jones, who had seven kills, six digs and an ace against the Buckeyes. "This team has a lot of fight in it and has a ton of upside. We have to keep improving and move on to the next game."
The offseason was far from usual for Jones and her Michigan teammates. The 2020 fall season was moved to a truncated conference-only schedule scheduled earlier this year. Ten matches, including the first six of the season, were postponed or cancelled due to COVID-19 issues on campus and the Wolverines finished just 4-9.
"We didn't get to do as much strength and conditioning as we usually do," said Jones. "We had to push that off until summer, then had to push it on ourselves. It feels good to get back to normal."
The 2021 season also meant a return to having fans in the stands after playing to empty seats - save for team personnel - earlier this year. For Sunday's game at the Covelli Center, 4,098 fans were in attendance.
That's something Jones loves to see at Michigan's usual venue of Cliff Keen Arena or with bigger matches going to the Crisler Center.
It felt good just to see fans in general," said Jones. "Not having any in the spring, it was nice to see volleyball as it used to be.
"It's different at home rather than being away. We embrace it because we know it can be taken away from us. Every place we go, we look up (at the crowd) and say 'Wow! This is cool to be in that kind of atmosphere.' We try and take advantage of it."
On Sunday Jones was the only senior to play as Michigan deployed two juniors, a redshirt sophomore, four true sophomores and a freshman.
"We're still a young team," said Jones. "But everybody on this team is very good. So we hold each other to high expectations and hold everybody accountable at all times."
Michigan returns to action on Friday for a pair of conference matches this weekend. Maryland comes to Cliff Keen Arena on Friday with Saturday's match with Wisconsin moving to Crisler Center.