Wednesday, October 13th, 2021
Running the table
Celina beats St. Marys for outright WBL title
By Gary R. Rasberry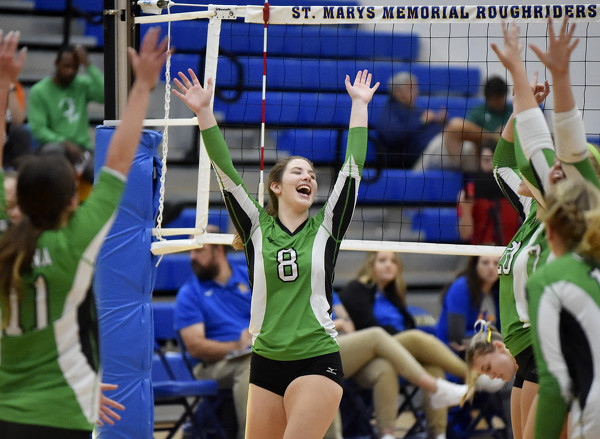 ST. MARYS - After Celina took the first two sets, St. Marys denied the Bulldogs a sweep with a win in the third set.
That just seemed to make the Bulldogs a bit angry.
Celina rolled in the fourth set for a 25-13, 25-15, 17-25, 25-11 victory in the Western Buckeye League season finale.
The Bulldogs complete an undefeated WBL season - the 21st time the program won an outright title out of 27 total titles - at 9-0 and 18-4 overall heading into the postseason. St. Marys wraps up the regular season at 7-15 and 4-5.
"It feels amazing. It's an accomplishment we've been working so hard for," said senior libero Summer Wilson after taking photos wearing their championship shirts. "We feel like a family. It's the closest team we've had since I've been playing high school ball. I love my team and what we accomplished."
Celina wasted no time trying to secure overall title No. 27. Allison Schwieterman and Wilson had long service runs that put the Bulldogs in front 11-4. Later, Payton Knapke helped serve the Bulldogs into a 22-10 lead before they took the opening set with ease.
In set two, Brooklyn Bourne put on a serving clinic, serving up five aces, including four in a row, during a six-point run that gave Celina an 11-3 lead. St. Marys, missing several key players to injuries, managed to cut the margin to 17-14 as Gracelyn Johns served up two aces during a three-point run, but Bourne followed her first service run with three more points in her second to put the game out of reach.
St. Marys, coached by Celina grad Caley Yoder, was not ready to be swept on its home floor. After the Bulldogs led 6-3 early, the Roughriders went to work with a six-point service run by Halle Huston. Syerra Greber had two kills and Darcie Liming had a block as the Roughriders took the lead 9-6. Celina back back to take a brief 12-11 lead and tied the set at 13-all before Greber served up four straight points to make it 17-13. Celina got as close as 17-16. but Addison Lauth and Johns served out the set.
"(St. Marys) came out with a lot of fire for that third set," said Celina coach Phil Bange, who earns the league's Coach of the Year accolades. "Our girls were maybe a little cavalier. St. Marys capitalized on that and played with a lot of passion. They just wanted it more."
That proved to be a wake-up call for the Bulldogs. Wilson had two aces during a three-point run to help the Bulldogs take a 5-1 lead early in the fourth and Bourne followed with a four-point run before Emily Schwieterman served up five straight to push the Celina lead to 16-4. After that, it was down to getting the final points.
"Proud of the girls with the season we've had in the league," said Bange. "We've got our work cut out for the postseason. We're going to enjoy it for a day or two, then got to be thinking about the next stage. Looking forward to that."
Evie Holstad had a big night for Celina with 11 kills and Amelia Lutz tallying 10 kills. Bourne had seven aces. Bertke had 30 assists and Wilson tallied 10 digs.
Huston had eight kills for St. Marys with Greber adding seven kills. Johns had 16 assists and three aces.
The postseason gets underway next week for both teams in the Division II Leipsic district. St. Marys hosts Bath on Tuesday while Celina, as the top seed, hosts two games next Thursday. Celina will play the winner of Toledo Scott and Rossford at 5 p.m.