Saturday, October 16th, 2021
Down to the wire
Flyers beat Cavs on last-second field goal
By Tom Haines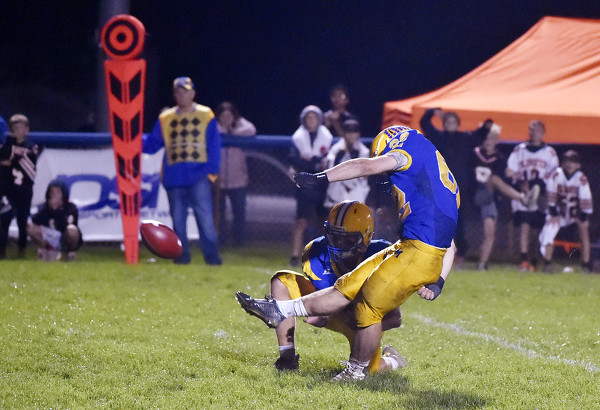 MARIA STEIN - After both defenses stepped up in the second half, Coldwater and Marion Local were both vying to get the ball last.
The Flyers got the ball with 2:18 remaining and drove 62 yards down the field to set up senior Kevin Partington for a 26-yard field goal, and Partington knocked it through as time expired to give Marion a 24-21 Midwest Athletic Conference win over the Cavaliers at Booster Stadium on Friday.
"We've got a good senior kicker, and it's an extra-long extra point," Marion coach Tim Goodwin said. "We've got a better chance at that than pretty much anything else we were going to draw up."
With the win, Marion (9-0, 7-0 MAC), which came into the game No. 1 in Division VII, secures at least a share of the MAC title, with a chance to wrap up an outright title next week against Anna.
Brady Ronnebaum made a big catch down the left seam with 2:08 on the clock to get the Flyers into Coldwater territory, and after three short runs and another first down, a snap infraction set Marion back five yards to the Cavaliers 32. On the next play, quarterback Peyton Otte went back to the left seam, this time finding Aidan Eifert for 18 yards with 48 seconds left and pushing the ball to the Coldwater 14.
"Their tight ends made some great plays in the middle of the field to beat us," Coldwater coach Chip Otten said. "And then, we were gambling that they wouldn't be able to make those plays."
Two run plays later, Goodwin called timeout with two seconds left to set up the field goal. Right before the snap, Otten called timeout to ice the kicker.
It didn't help. Partington guided it inside the left upright.
"That kid has put in countless hours kicking," Goodwin said. "And that's what you dream of, right? A field goal to beat your biggest rival, score's tied."
Three minutes earlier, Coldwater had its own shot to win the game after a shanked punt gave the Cavaliers the ball at the Marion 43 with 4:13 to play. Quarterback Reece Dellinger found Jesse Meyer on the right side for 17 yards, but that turned out to be the high-water mark.
Luke Sudhoff was hit behind the line by Partington for a two-yard loss on the next play, and Partington broke through again for a strip-sack of Dellinger on second down, though the ball flew right into the hands of Coldwater's Josh Kaup. On third down, Dellinger was out of sync with Tanner Muhlenkamp on the left sideline, and with plenty of time to throw on fourth down, he couldn't find an open target. His throw to Meyer in double coverage in the end zone fell short.
"They got the sack, that hurt us," Otten said. "Maybe the play-calling could've been better. In the end, they made more plays than we did."
The last-second field goal overshadowed a 14-point Coldwater comeback after the Flyers took a 21-7 lead with 2:21 left in the first half. Dellinger promptly directed a 12-play, 77-yard drive, going 8-of-12 for 77 yards before finding Meyer on a crossing route in the end zone to cut the lead to seven.
"We had a great drive before halftime to even be in that position," Otten said.
Neither team scored in the fourth quarter, with Coldwater's only drive a three-and-out and Marion holding the ball for 9:52 and coming up empty on a pair of fourth downs. Kaup brought down Otte at the Coldwater 21 with 7:15 left in the third, and then the Cavaliers defense snuffed out another Otte run on the first play of the fourth quarter to get the ball back at their own 28.
"We did gain some yards, but it was tough sledding at some points," Goodwin said. "It's just good MAC football."
With a chance to tie the game, Dellinger didn't disappoint, going 6-of-9 and finishing the drive with a 16-yard pass to Meyer, who survived a big hit in the end zone for the score.
Otte finished with 159 yards rushing and 100 yards passing in addition to covering Schwieterman most of the game in the Flyers secondary. He went down briefly after the second fourth-down stop and came off clutching his right side, but came back four plays later and battled through the rest of the game.
"It's pretty incredible what that kid has done for us," Goodwin said. "I don't like doing that (sending him back in), I really don't, but you've got to do what you've got to do. But every week, the whole offensive load's on his shoulders, and he's covering the opponent's best receiver. That's just a big load."
Otte ripped off a pair of big runs, with the highlight a 39-yard touchdown run on 4th-and-1 late in the second quarter to give the Flyers a 14-point lead. He also raced 34 yards down the left sideline in the first quarter before Tyler Schwieterman dragged him out of bounds, but it set up a six-yard touchdown run two plays later for the first score of the game.
As the Cavaliers looked to respond with 20 seconds left in the first, the ball popped free from Dellinger on a designed run on the first play of the drive and Marion's Josh Kuether fell on it to set the Flyers up from the Coldwater 20. Dylan Fleck finished the short drive with a four-yard run to make it 14-0.
"We can go 30 yards consistently, we can figure that out," Goodwin said. "But their kicking game's pretty amazing too, with Jesse Meyer punting and kicking for them. That's a long field all night."
Facing the early two-touchdown deficit, Dellinger hit Schwieterman for 13 yards, Meyer for 14, and got a 12-yard run by Marcel Blasingame before connecting with Tanner Muhlenkamp down the left sideline for a 19-yard touchdown.
Coldwater, which came in ranked third in Division VI, took its second loss in three weeks, the other a 21-14 defeat in St. Henry on Oct. 1. The Cavaliers get a chance to bounce back when they return to Cavalier Stadium to face Parkway before tournament starts.
"I just don't want them to think our season's over," Otten said. "Our two biggest games are St. Henry and Marion, and we lost both of them. But I don't want them to think that that's it."