Monday, October 25th, 2021
Museum of the Soldier
'Everything related to veterans'
By William Kincaid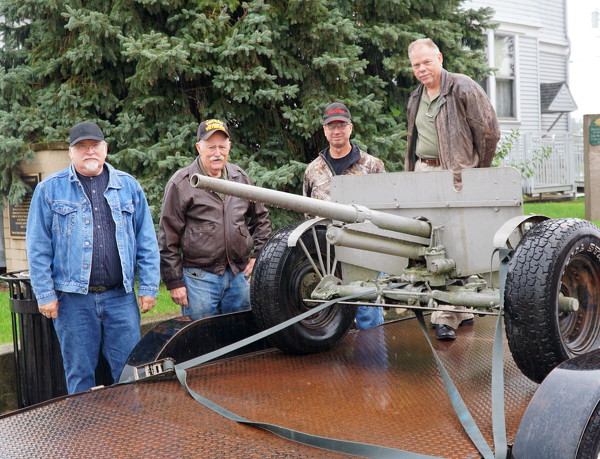 CELINA - It's been said the Museum of the Soldier is more a ministry than an actual museum because of the way in which veterans tend to open up about their experiences when they enter the former Coca Cola bottling plant in Portland, Indiana.
"I think that in a lot of ways because of the opportunities we get to talk to veterans, to get them to tell their stories and also to education," said museum volunteer and military historian Jim Waechter. "I do a lot of talks to schools, to organizations and places like that and you get the opportunity to at least give them a little bit of a thought about maybe looking into their family histories of military service."
Waechter and other museum volunteers made their annual trip to Mercer County Historical Museum in Celina on Sunday to share with the public a display of military-issued training rifles. Outside the museum they had brought one of two U.S. WWII 37 mm M3 anti-tank guns that they plan to restore.
The men also talked about the Museum of the Solider, a privately owned and operated non-profit gallery of military artifacts. Volunteers look to acquire and preserve pieces of military history and honor the memories of soldiers who gave their lives in service to their country.
"We try to do everything related to veterans," said Waechter, a Vietnam War veteran. "We try to put names and faces with things and talk about their stories, and we use the artifacts to tell the story."
Waechter and founding volunteers Brian Williamson and Michael McBride for many years operated what Waechter called a suitcase museum, going from place to place with traveling displays. In 1997, they found a home in the former Coca Cola bottling plant where they exhibit a world-class collection of military artifacts.
Many of the items are donated, said Williamson, who spent 31 years in the Indiana National Guard and completed a tour in Afghanistan.
"A lot of times (an artifact) comes in with a name or just bare information and we end up doing a lot of research and plugging the information into it," Waechter explained.
Through their research, which greatly expanded with the advent of the internet, the volunteers have been able to fill in the missing details of a deceased veteran's military experiences, at once offering family members peace of mind and documenting history for posterity.
The museum's collection dates back to the Civil War, Waechter said, before pointing out an interesting fact.
"The last soldier killed in the Civil War was from Portland, Indiana, and he's buried just north of town. It was a family cemetery and now it's part of the county retirement center," he said of John J. Williams who died in the Battle of Palmetto Ranch near Brownsville, Texas.
Some items of note displayed in the museum are one of the phones used by then President George W. Bush on Sept. 11, 2001, at Offut Air Force Base in Nebraska, and a M-16 magazine carried by U.S. Army soldier Salvatore Augustine Giunta during combat in Afghanistan for which he was bestowed the Medal of Honor. The magazine was struck by a bullet from Taliban fighters.
"This is one of those incredible pieces of history. A local guy was in the same unit as Salvador Giunta. He is the first living Medal of Honor recipient since the Vietnam War. He was in a fight with the Taliban and they got ambushed,"Williamson said. "This is an artifact from somebody that earned a Medal of Honor, that's got combat damage from the fight where he earned the Medal of Honor."
In addition to donations, museum officials seek out items elsewhere. Waechter and Williams said they have found service uniforms on the side of roads, in dumpsters and at junk shops and flea markets. They're able to properly display and honor the memories of the people who once proudly donned the uniforms.
"I hear people say, 'We don't know what to do with it and our kids don't care,'" Waechter said dejectedly.
The museum's ultimate aim, Waechter said, is to preserve history and keep alive the stories of servicemen and women.
"It's trying to get people to remember and also to try to get veterans to tell their stories," he said. "So many times we do a display and somebody will tell us something and the family will say, 'We've never heard that story before,'" Waechter said.
He also urges children who attend presentations to inquire into their own family's military service history.
In many instances, veterans are reluctant to tell their stories. But at places such as the museum or Veterans of Foreign Wars or American Legions, among fellow veterans with shared experiences, they are more likely to divulge their memories of war, the two men said.
For more information on Museum of the Soldier visit museumofthesoldier.info.