Tuesday, November 23rd, 2021
Council votes down anti-abortion ordinance
By William Kincaid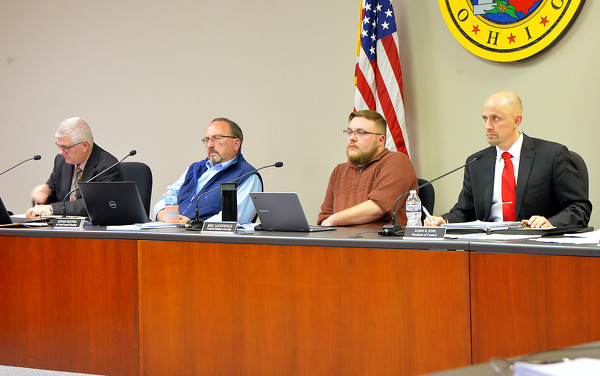 CELINA - City council members on Tuesday night voted 4-3 against legislation that would have made Celina a sanctuary city for the unborn and effectively outlawed abortion in the city.
The ordinance is now officially defeated after three public readings that brought out massive crowds of people who gave hours of impassioned testimony in support of and against the legislation.
The vote remained unchanged from the last regular council meeting, with councilors June Scott, Eric Lochtefeld, Myron Buxton and Mike Sovinski all voting against the legislation and councilors Mark Fleck, Eric Baltzell and Eric Clausen voting in favor of it.
Prior to giving the ordinance a final vote on Tuesday night, councilors opened the floor to city residents whom had not already voiced their thoughts on the legislation at the previous two meetings.
Emotionally charged commentary ensued, with the vast majority of speakers taking stances in favor of making Celina a sanctuary city for the unborn. A handful of objectors argued that the legislation would contravene established rights.
Clausen said the ordinance would prohibit abortion facilities from coming to Celina.
"We want to establish that we are a city that cares," Clausen said. "We care about not only people's homes, properties, businesses but we care about the citizen that doesn't have a voice and that is the unborn citizen."
Kelly Freeman, statewide field manager for NARAL Pro-Choice Ohio, said there are no plans to bring an abortion clinic to Celina. She was one of two speakers from outside the area that council president Jason King allowed to address council.
"Over half of our clinics have closed since 2011 and while it would be great to expand, there are no plans to bring an abortion facility to Celina, Ohio," she said.
Freeman said nine abortion facilities are in Ohio.
Also addressing council was Mark Lee Dickson, director of Right to Life of East Texas and founder of the sanctuary cities for the unborn initiative that has been approved in 42 cities across the nation. He is also the author of Celina's sanctuary city for the unborn ordinance.
Dickson said city residents reached out to him via an online petition.
Engaging Scott, Dickson said by approving the ordinance councilors would send the message that while abortion may happen in places like Dayton, innocent children would not be murdered in Celina.
Scott replied that people would still be able to get an abortion outside city limits.
"You don't have the authority to take care of what's outside the city of Celina. All you can do is within the city of Celina," Dickson said.
Before casting a vote, Scott noted that many in the audience had at one time been his students and he appreciated them getting up and letting their voices be heard.
He also said that since Friday he has received more than 200 emails and text messages from all over the country telling him to "vote for caring for children."
"Ladies and gentlemen, after 42 years of teaching if I don't care for children now I never the hell will so I'm just telling you that, please don't put that on me," he said. "You can blame me for a lot of different things but do not blame me for not caring for children."
Sovinski, too, gave a brief monologue before casting his vote. After being involved with the city for many years, his viewpoint is pragmatic, he said. The topic at hand is a broad and national issue, he argued.
Council's decisions, he continued, are limited in terms of the type of laws that can enact.
A vote against the ordinance is not a vote against the pro-life stance. Nor does it reflect a personal choice on the issue, he said.
City law director George Moore did not weigh in on the ordinance on Monday night but during its first reading in late October pointed to an email correspondence he had with Garry Hunter, executive director/general counsel of the Ohio Municipal Attorneys Association, about the prospect of council banning abortion clinics in Celina. The city of Lebanon took similar action earlier this year, he said.
Hunter in the email, which Moore had read aloud, wrote that in his opinion, "the legislation is unenforceable and could result in lawsuits against the city that would be expensive to defend. If you are sued and lose, a bad precedent could be set at least in Ohio and maybe the Federal 6th circuit."
Moore at the time said he believes the issue of abortion needs to be addressed at the federal level, not by local government.
The city, though, had been offered legal representation on the matter if needed by Mitchell Law of Austin Texas, according to a letter written from Jonathan F. Mitchell to mayor Jeff Hazel and city council members.
Mitchell offered to represent the city "at no cost to the city or taxpayers, in any litigation that results from a decision to enact the updated ordinance which has been provided by Mark lee Dickson."
"Mitchell Law PLLC will also retain local counsel licensed in the Ohio courts to assist the endeavor," he had written.